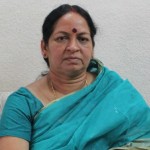 Datta Kalpana Krishna, Hyderabad
I was thinking death is inevitable for me, but my brother insisted that if anyone in this world can save me, that would be only Sri Swamiji. So that trust and faith had started developing in me.
I have been a homeopathy medicine practitioner in Hyderabad since 1983. I came from a communist family that believed in the ideology of serving the poor and needy people. It was my father's wish that all of his children become medical doctors and serve poor families. We are two brothers and three sisters. I have always been service oriented, worked with many community parties and provided services.
In September of 1996, I suddenly fainted, had a head injury and had two bone fractures in my face. After a major surgery I had several complications. I used to vomit continuously. I could not even take a spoonful of food. I was living just on the IV fluid. Numerous medical tests were done and all results came out normal. I was not responding to any medicines. Several psychiatrics were also consulted to determine if the problem was psychological rather that medical. All the doctors had given up the hopes that I would survive. After more than three months, my brother Dr. Sudhir Gurram, from Indiana, US called and asked to take me to his Guru, Sri Ganapati Sachchidananda Swamiji in Mysore. He said that no one else other than Sri Swamiji can save me. He would call repeatedly throughout the day telling us to go to Mysore and seek Sri Swamiji's blessing.
We called Mysore an d were told that Sri Swamiji was coming to Vijayawada, and that a photograph of me should be sent to Vijayawada if I cannot travel. But my brother, Sudhir insisted that I should be taken to Vijayawada physically and should have Swamiji's darshan, even if I was to die during the journey, the body should then be taken back. He was so confident that Sri Swamiji will save me and nothing would happen.
On January 2, 1997 I was taken to Vijayawada by car. I lay down in the car for eight hours without IV fluid. My brother had asked me to continuously chant the mantra "Om Dram Dattatreyaya Namaha" that was given to him by Sri Swamiji, throughout my journey. I chanted the mantra all the way to Vijayawada. To my surprise, I did not even feel the vomiting sensation in the car during this long journey, even though I forgot to take my daily medicines as well.
We made a reservation in a hotel for our stay in Vijayawada and when we reached the hotel, we came to know that the elevator was not working. I climb the stairs and walk to the room without any trouble. Prior to that day, I was unable to take even two steps by myself. I was already experiencing all these miracles, even prior to meeting Sri Swamiji. Despite the long journey, I woke up at 4.00am the following morning, took a shower and dressed myself. Later we went for Sri Swamiji's darshan.
We waited for over two hours as His Holiness was in a Kriya yoga class. While we were waiting I saw some devotees going and doing namaskaram, and I asked what was there. I was told that Sri Swamiji's padukas were placed there and devotees were paying their respects. She mentioned I could also go, touch them and get His blessings. I went and as I touched His padukas, I started crying incessantly.
After about another two hours, we were told that it would not be possible to meet Sri Swamiji that day, but within five minutes, Sri Swamiji called us inside. In the room with Him, He asked what the problem was. My husband told Him about my head injury and the surgery. I was thinking death is inevitable for me, but my brother insisted that if anyone in this world can save me, that would be only Sri Swamiji. So that trust and faith had started developing in me. I saw His padukas in front of Him, and I immediately touched them and started crying.
One devotee, who was nearby, told me afterwards that I had been on His padukas crying for more than seven minutes. After that, Sri Swamiji asked me what had happened. I said that I had been without food and sleep for over three months by then. He looked at me from head to toe and said that I did not have any sickness; it was just a means to come near to Sri Swamiji, and that I will be alright. He asked that someone should be sent to collect the Sri Chakra teertham the following day after puja and asked me to take that teertham every day. He gave me a raksha.
It was all surprising to me. I was in His presence for just ten minutes, but right after coming out I could eat half an apple, some rice and milk as well. I felt very happy and went on a trip on the river Krishna. Next morning again at 4:30 am, I went to the ashrama by myself, took the Homa ticket and sat for almost four hours waiting for His arrival. Sri Swamiji came, looked at me again and smiled a little. When I went to Him for darshan, in the line, He again gave me a raksha and said that I will be alright.
We went back to Hyderabad, called my brother and told him that I was feeling very happy and I had no vomiting sensation, or nausea. However, within an hour I started vomiting again. I was feeling nervous and called my brother again. He said it was all my Karma and I have to go through it, but He will give to me the Shakti and I will definitely survive, as He said that I will be alright. With these comforting words, I gained some confidence that I would live. I started taking about half a cup of rice with milk and each time I considered that as the Bhiksha from Sri Swamiji, as He was giving me another life. Gradually the severity and the frequency of the vomiting reduced.
While we were in Vijayawada, we found out that there is also an information center in the Begumpet area, in Hyderabad. I asked my husband to take me there. I saw His photograph and padukas there and I felt His presence. When I had my first darshan He was in white clothes. Again I saw Him in those white clothes in that picture. I was not able to stand and I started crying uncontrollably. Afterwards we started going there daily.
After about ten days, we found that the ashrama runs two charitable clinics, Homeopathy and Ayurveda, providing medical services to the poor locals. We heard that the homeopathic doctor had recently left the position and they were looking for a replacement. My husband and I then decided that we would come and do some service in this charitable hospital. On February 12th, the following year I started going to the clinic. Prior to my determination to do service in the clinic, I could not even wear a sari, such was my physical condition. Now I was able to go and see the clients for an hour. Gradually I was able to recover about fifty percent.
Later in March, Sri Swamiji came to the Begumpet information center. We were told that He was busy with some German devotees and Sri Vamshi Krishna Ganapati would be leading the Pradhana Anaghastami Vratam puja. However, to everyone's surprise, His Holiness came and stood right beside me. I started crying. I listened to His entire discourse and went in the line for darshan. When I reached Sri Swamiji, I thanked Him for giving me the life and started crying. While I was doing namaskaram with my hands folded, Sri Swamiji touched my ring and my forehead saying that nothing will happen to me and that Sri Swamiji is with me.
I did not know what happened, for that one second when Swamiji touched me, I felt very energetic. I went right to the clinic after having His darshan, I started feeling very hungry, and had been drinking cool drinks, eating fruits, ice creams etc. I was eating even while seeing patients. Within one month I gained normal health. Prior to Swamiji's darshan I had been a diabetic and had hypertension for two years. But since Swamiji said that I did not have any sickness during my first darshan my blood sugar levels and blood pressure levels all went under control without any medications. After three months, everything came to normal. I recovered and continued to serve in the Begumpet Ashrama.
I read His life history. It was mentioned that any type of problems can be overcome by chanting a mantra with Swamiji's beeja akshatas. I believed in that very much. I used to get severe headaches. Whenever I had any suffering, I used to sit and chant the mantra 'Om Dram Dattatreyaya Namaha' for thirty minutes, and all suffering used to subside. My husband used to say that I should not waste Sri Swamiji's yoga Shakti for simple matters like that. I have experienced His energy so many times.
My son was preparing for IIT exams while he was in 12th grade and during this time Sri Swamiji blessed us with a house visit. When we asked for His blessing in regards to my son's education, He called him, touched and asked him to chant Datta Stavam nine times a day. On his Chemistry exam day, he was having very severe abdominal colic pain and could not move much. He also had to go for IIT entrance exam the following day. We had no idea what to do. I was just chanting Datta Stavam throughout the night. Miraculously, the next morning, he got up and we took him to the examination center.
I waited outside chanting Datta Stavam for the whole period that he was in the room taking the exam. My husband had left for the ashrama clinic saying that Sri Swamiji was taking care of the boy and he would go and serve in the clinic. My son came out after completing the exam and said he did well on the exam.
However, he got the pains again and we took him for the scanning. It was diagnosed as Acute Appendicitis and should be operated immediately. We sent a message to Swamiji and He had sent blessing for the surgery. After the third day he started sitting for all the other exams. We were under constant pressure and tension each day, as he used to vomit and was not well throughout period. I used to chant Datta Stavam continuously. He was able to write all his exams, get into IIT, won the best student award from Benares Hindu University and is currently doing his fourth year of PhD studies at Carnegie Mellon University in Pittsburg, US.
My daughter also prepared for IIT. When she asked Sri Swamiji if she should go for IIT, He told her to go ahead and fulfill her father's and Sri Swamiji's wish as well. But she did not get the admission into IIT. We had no idea why or how she missed that. But then she just went for the BITSAT exam (admissions test for BITS Palani University) without any prior preparation. She did not get admission into that either. I was praying to Sri Swamiji to give strength to her so that she would not go into depression.
Exactly after forty days it was announced by BITS that there were some sort of inaccuracy with three of the questions and whoever had attempted to answer those questions would get the full ten points. My daughter had attempted one of the questions and therefore she got ten points added to her overall previous score; that helped her to get accepted into the BITS.
She sent an email to Sri Swamiji notifying of her admission and received a response within twelve hours from Prasadanna conveying Sri Swamiji's blessings and informed her that Sri Swamiji said "Patience is the greatest penance". We felt very happy. We thought that maybe Sri Swamiji was cleansing my daughter's ego; over confidence, and teaching her patience.
I always get answers to all of my questions through Bhakti mala or Sri Swamiji's discourses broadcasted in various TV channels. One time, I was feeling bad that we were not able to go to Mysore that frequently like many other devotees do, due to our financial or health reasons. The very next day, on the TV channel Sri Swamiji was saying "Why do you feel bad that you are not coming to Mysore, I am there with you in your house." I have had various experiences where He would give answers to my questions.
After being in His association for a while, I stopped looking at any external things. I believe in doing service. I have been serving in the ashrama clinic since 1994. It is His blessings that I am living now and able to do seva. My life itself is a miracle. Now my children are grown up and I am free of any family responsibilities. I am now mentally ready for Him to take my physical body anytime. Sri Swamiji is everything for me! Om Dram Dattatreyaya Namaha!
Jaya Guru Datta