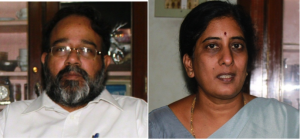 K E V Rajendra Prasad and Kolli Ramadevi, Vijayawada.
 "You can be happy like this, but never in your life, not even for a second, should you think that had you missed something. Even for one second must the thought arise that I should have gotten married; if it is not possible, then you should get married."
The ways of the Guru is inexplicable; He takes care of you from the beginning, from birth. That's how I feel now. My earliest experience, as I was told; when I was about two years old, I was crawling behind my grand-father and I fell into a side drain. At that time, we did not have any ICUs, ventilators or any other proper equipment in the hospitals in Andhra Pradesh. Because of this, I stayed in a coma for ten days. After becoming conscious, I was given an injection, but before the needle was removed, I fell into coma for another ten days.
In December 1969, when I was about nine years old, I met Sri Ganapati Sachchidananda Swamiji with my parents. After that I was attracted to Him and I was inspired that He was the source of all flow of mantras. Because of this I began continuously chanting 'Om Namaha Shiva', even from that youthful age. As time progressed, I began spending more and more time with Him; anywhere and anytime I could be see Him. My days with Him were wonderful.
When I was about thirteen years old and we visited the Mysore Ashrama, Sri Swamiji used to teach me to drive, as He did with the other children, in the open spaces of the Ashrama. At times, when He took us out of the Ashrama compounds, I will fall asleep and on our return He would casually say, "You have slept very nicely." He did whatsoever He had to do, without either of us speaking.
Sometimes, just the two of us would go up to the Chamundi Hill and He would stop in front of the main entry and tell me to go and have the darsan of the Mother Goddess and come back. I would ask Him to come with me and once He said, "As a Yogi, I have to be invited into a Temple. Sages have different principles to follow. You go and hurry back." I would go and have a quick darsan and He will wait for me, thereafter we would leave. Much later, I wrote the entrance examinations to join the 'Mysore Medical College', but I wasn't sure that I would get a seat. I did get a seat, so I was the first boy from the Ashrama to join in a medical college.
When I was about sixteen years old, one day I was running a high fever and had fits on one side of my body. I was diagnosed with malaria. My parents were not at home and I did not know what to do. I tried to get up, but I was in so much pain. Then after a few seconds, something changed. I was at a height looking down at my body; I did not understand what was happening to me. Sometime later, I was back in my body and it was convulsing. I saw my parents and my father was speaking on the phone; I realized that he had called Sri Swamiji informing Him about my condition.
He told Him about my situation and the prognosis and Sri Swamiji told him that he should not worry since He was there all along. A doctor was called and he treated me, a little while later the convulsions stopped. A few months later, we went to the Ashrama and we were told that when Sri Swamiji received words of my illness He asked a few devotees to do bhajans while He went in to meditation. After becoming a doctor, I realized that I had contracted cerebral malaria, a disease that hadn't been tested then.
During my three year at medical school, I contested in faculty elections. In 1977-78, I would go to the ashrama and ask Sri Swamiji to perform Shiva Abhishekam for me. I knew that even you want a desire fulfilled you must ask for it at an auspicious time. My wish was to win the elections and so by performing the abhishekam, I used to win with unanimous consent. In my final year, I was again running and one day I noticed a bunch of students, who I didn't know, surrounding me and asking questions about the elections. Just then the Principal and the Superintendent of Police arrived on the scene to monitor the campaign. Later I learnt that those men were paid thugs who came to stab me, but the timely appearance of the police thwarted their plan.
Then I realized the Guru – Shishya relationship; whosoever is connected with the Guru, he will always be under His protection; not only in this life, but in past and future as well. His attention will always be on His devotees and He always protects them even though they are not in close proximity to Him. His ways are always unexpected and unpredictable. He even takes care of our frivolous shopping and our wanton travels.
From 1986, for three years, I had the privilege and honor of managing the Hospital and the museum. Actually, the idea of the museum came from another devotee and me. Sri Swamiji had collected many items and artifacts from His travels and we thought that we should display it for all the devotees to see. He used to give some explanations on the pieces and we explained them to those who came by.
As a youth He taught me in many ways; through direct and indirect speech, through mental association and even through traveling with Him from Kashmir to Kanyakumari. Some relatives insinuated that those trips were established for devotees who were sixty years or older, but He said that this should be done while your body is young and healthy. We should not wait for the body to get old and diseased ridden. He said that 'sadhana and spiritual practise are to be done while you were young'.
During my ashrama life, I told Sri Swamiji that I didn't want to get married, I was happy, just being like this. His response was. "You can be happy like this, but never in your life, not even for a second, should you think that had you missed something. Even for one second must the thought arise that I should have gotten married; if it is not possible, then you should get married." One has to be as pure as a crystal in his thought, words and deeds.
My parents had given Sri Swamiji a photo of a girl, Ramadevi, whom they selected for an alliance for me and He kept that photo for a whole year in His pooja box. One day, He pulled out the photo and asked, "Who is this girl." My mother responded that she was the girl that was selected for me. He approved of the alliance and He asked for the girl to come to Him. He told her, "If you think that you will ever stop the activities of Guji connected to the ashrama then think again, or we will keep searching."
Ramadevi was also a medical doctor specializing in Obstetrics and Gynecology. After marriage, we set up our own practise where I attended to diabetic patients and she attended to infertile women. Our thoughts were how we can relieve people from their sufferings. We worked sometimes for sixteen hours, seven days a week. For four years we worked like this, by which time we had two children.
In 1992, one day while we at the Ashrama, Sri Swamiji called us and advised us that we should leave Vijayawada as soon as possible and go somewhere else. We were taken aback, since we had a good practise with good earnings. I protested to Him saying, "Swamiji, this is where we established ourselves and earning well, how we can do that? It will take at least five years to re-establish ourselves amidst uncertainties and be comfortable." Then He said, "If you cannot do that, then move out from your present home and find a new one." Again I protested, "No Swamiji, it is difficult." I was thinking about my elderly parents and their dependence on us.
Finally, He said, "Okay, at least change your hospital." I was so stubborn that I told Him that too was difficult. Then very casually, He said, "You do not know half of what is happening, one day you will come to me and beg; you will say that you have been left out of society, within ninety-eight you will come and ask Sri Swamiji for help." I curtly replied, "Swamiji, I always have the liberty to ask you anything."
At that time a large number of people with infertility problems were coming to us for treatment. Our records indicated a large percentage success rate for Ramadevi's treatment. Her name was established Vijayawada and surrounding districts. Many successful ex-patients were sending the friends and family saying to go to Kularama Devi, she is very good.
One day, two women patients came for treatment. They were successfully treated and later their pregnancy was confirmed. Both these ladies later aborted their fetuses. Much later we learnt that their intentions were to defame us with the help of other doctors in the city. There was no evidence that abortions had taken place and they claim that our practise was bogus, so they filed a malpractice suit against us.
We lost our case in the Lower Courts and then again in the High Court. In 2004, we filed in the Appeals Court in Hyderabad for justice. During the hearing, Sri Appaji cut short His tour and came to Hyderabad. He seemed to be fasting, because He was not taking food, He also seemed to be annoyed. He said, "Okay, it has happened already, forget about it." It was a difficult case; even the police knew that abortions were involved, but couldn't prove it.
During the appeals, Ramadevi was observing Sri Swamiji sitting on a chair in court chambers. Even Sri Balaswamiji had given the assurance that we will win this time. Ramadevi was in perfect composure and with conviction she was listening to the arguments from both sides. She was convinced that these patients had done a great injustice to us. She sat motionless and when the verdict came in our favor, she was un-nerved. She knew that the words of her Guru and His cosmic presence represented her retribution. There were no assurances for us in first two courts, but this time everything went in our favor and we were acquitted.
In this way, the Guru allows you to face your karma, and we had to face it. He knew that petty jealously and political interference would try to malign our reputation, so He made us go through that twelve year period of uncertainty and degradation. In the end, He lifted us from the abyss of our predicament and set us right. We had lost; emotionally, socially and economically, but spiritually we have gained so much more.
When He told me to give up; place, home and hospital, I objected at every turn. He did not scold me or chased me away, He held on to my hands more firmly. Maybe, He saw my rate of success as an impediment to my spiritual growth, so He harnessed it. Now, I see myself as being more contented having a normal way of life and still serving the public as I wanted to.
In retrospect, He has taken care of me since childhood and He has been guiding me in different ways. Even though I made a foolish mistake and wasted twelve years in trying to clean it up, He never left me. As a matter of fact, He stood there with me. He took care of all aspects of my life. I cannot explain the quality of this Mahatma and even though I have been in His direct presence since 1970, I am still trying to find Him.
The near death experience taught me that body and soul are different. Spiritually, He silently taught me through the flow on thoughts, because as a child I constantly chanted "Om Namaha Shivaya" impulsively. If I have gained things spiritually, I cannot express them now for I am not in authority to say that. I never divulged these experiences to wife, children or parents before, but now, if someone can learn from this, I believe that my purpose will be served. We don't know which way He will use for guiding His devotees; only He knows. Sree Guru Datta