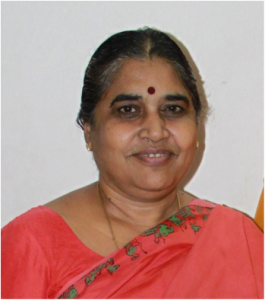 Nimmagadda Shyamala Devi, Vijayawada
"You are also experiencing Maya. That way you could not overcome Maya, I too could not bypass Maya. That is the reason why I could not tell you before hand about this". It looked very strange to me, when He said so. I told everyone that even Sri Swamiji could not overcome maya
I first came to know about His Holiness Sri Ganapati Sachchidananda Swamiji, in the early 1970s. My in-laws and my husband went to meet Him, at the Lord Venkateshwara Temple, seeking His help in locating my brother-in-law who was missing. They went with a hope that He would tell them about the whereabouts of the missing person. When they returned home, they brought a taped copy of a bhajan "Amba Bhavani Sarade", which they heard Him singing. As I was interested in songs, I learnt this bhajan and I used to sing this song to my mother in law.
Later, when I was carrying Kalyani, I got the cassette and would listen to it constantly. During this time, the family formed a relationship with Sri Swamiji and we were having His darsan whenever we could.  Because I was pregnant I was unable to visit Him, but I was longing to see Him. How can I have His darsan? The property behind our house belonged to the Reddamma's family and we were told that Sri Swamiji would be visiting their home. I was stunned, I was begging to see Him and He is coming here. Then, looking out towards our compounds wall I saw Him standing with His back towards me, holding a banana tree. I felt extremely happy.
The next time I saw Him was when Kalyani was about nine years old. In those days Sri Swamiji would stay for more than forty days in the Vijayawada Ashram and as it was a Sunday, Ganapati Homam was being conducted. Later during the bhajan session, Sri Swamiji sang Pahi Pahi Gajanana using Tambura. I felt as if Saint Narada came down to earth and sang it. Ganapati was yet to be consecrated, and Swamiji announced that Ganapati temple was going to be constructed there.
After visiting a couple of times, Sri Swamiji was giving Datta kankanas to the devotees; When I went to receive mine, He smiled at me though we had known each other for a long time. I was thinking how does He know me? At that very moment, Sri Swamiji spoke into the mike and said, "You are thinking that I do not know you, but I know you since many births. You came here because I know you" After that day He spoke to us like a family member; a friend rather than a Guru.
When I went to the Ashram He would say about the things that I did in the house. He knew when I spanked the children to make them study. Once He said, "Children are the form of Lakshmi and Saraswathi; you are not supposed to hit them". After that I could never hit them, because I was afraid that Sri Appaji will be watching. Even when I spoke to my husband, He would correct me saying that you are not supposed to speak like that. I was so surprised that He was watching everything happening in my house. I was wondering if it's just me or my friends, family and others were experiencing the same. Sometimes He would speak of each and every incident occurring in my house and made me correct it. From this I understood that Sri Swamiji is all pervading.
Once, Sri Swamiji had a program at the Tummala Palli Kalakshetra. The autos were not too expensive those days, but I was bargaining with the operators. Later Sri Swamiji told me I was not supposed to be so stingy making the female children stand on the road in the night. He said our money was being eaten away in big amounts in business, by others, while I was bargaining for a rupee, is it right? He said. He scolded me in a loud voice. He was removing my stinginess thus, teaching me how to be generous. From a stage where I was stingy to spend even a rupee, He brought me to a stage where I could spend thousands and lakhs for Appaji.
I used to note His discourses when He sat with a small gathering teaching spirituality in simple conversations. He encouraged me to write His discourses so that my later generations would read them and come to know about Him. He touched the book I was writing in and blessed it. After that I could easily write, Guru Geeta, Avadhoota Geeta etc.
We performed the marriage of Kalyani with Swamiji's approval and blessings, but she was not interested in getting married; she would like to pursue higher education. He even materialized the mangalyam for this marriage and gave us. After three days of the marriage we observed the bride groom to be a little depressed, even though he was well educated and preparing for IAS. At that time Sri Appaji was in Trinidad and we telephoned Him there. He seemed concerned about the marriage and said that He was worried about the girl every since He saw her in the marriage dress. He requested that we file for divorce immediately. Her father also felt very bad about it, and though it was very difficult, we finalized the divorce within a few months. Swamiji said you may have fed her food, but she is my child.
I spoke to a friend stating that if we had known about this before the marriage, we would have stopped it. Such a maya this whole thing is. Next day evening Swamiji called me from Trinidad and said "You are also experiencing Maya. That way you could not overcome Maya, I too could not bypass Maya. That is the reason why I could not tell you before hand about this". It looked very strange to me, when He said so. I told everyone that even Sri Swamiji could not overcome maya. For twelve years before the marriage I listened to Sri Swamiji's discourses, and then He said, "For the past twelve years you have been listening to my discourses, now I will put a test to you observing you daily. It's up to you now if you are going to cry, or think it's your destiny and how you are going to answer people".
After Navarathri we went to Sri Swamiji to return the mangalyam and we asked Him, why did He said those things, when He is capable of overcoming maya and can also make the devotees overcome it. Is it not putting me in maya?  He laughed and said, "you informed every one that not even Sri Swamiji could overcome maya".
He gave me all this kind of experiences, and even if He is not here, all that happens are known to Him. He used to say in His discourses also, that Swamiji does not mean just the body, beard or the dress etc. He proved that to me. His body is not here, but He would mention the whole scene, discussing it as it is. I would tell everyone that; Saffron robes are not Swamiji, beard is not Swamiji", Swamiji is the great all pervading energy, and the whole universe is under His control. He just took this form and came to us.
Sri Swamiji told me that He wanted to print His autobiography and He wanted me to sponsor it. He asked me to read it to the children in the ashrama on every Thursday, as I was a member of the Matru Mandali. I read it once at home and then I started reading it to the children in the Ashrama. When I read I would get different kind of experiences, and I would say things that are unknown to me; I was learning from what I spoke unknowingly. It was very strange to me how could I explain so concise, the contents of the book without my knowledge. You can understand this only when you experience it. I get this experience every time I read the book even till today.
In 1995 I conducted Kriya Yoga classes. I taught the breathing techniques; Amritha Bindu Pranayamam and Surya Chandra Nadi Bheda Pranayamam in Teertham, which I was taught by Sri Kuppa Krishna Murthy. Those who practice Amritha Bindu Pranayama, for them words flow automatically. Then I asked Swamiji, I had this experience even while reading the Auto Biography in the ashrama, much before learning Amritha Bindu Pranayama. He said that is the greatness of Lord Dattatreya; He does the Sakthi Patham first and He will make you realize the cause of it later. By knowing this I got astonished. Amritha Bindu Pranayamam is one of the twelve pranayama practiced in Kriya Yoga and when performed for twelve years, it is said that the practitioner gets Siddhi and speaks about spiritually, by himself, without much personal interference. Swamiji gives energy to a devotee without his knowledge. They cannot see the energy passing from Swamiji, but will experience it. Swamiji used to say "I am giving lot of experiences to Shyamala, try to listen from her". Devotees used to ask me to explain about my experiences. Swamiji's incarnation is a special and complete one, a Poorna Avatara. That is why He imparts energy to any devotee whenever He intends to. Swamiji can do Sakthi Patham just through a glance of His eyes through His Darshan.
The people around me used to ask me why Swamiji asked us to get my daughter married and after that why Swamiji asked us to apply for the divorce? Swamiji used to explain how the unmarried individuals have a higher state of divinity. Unless one has a balance of lot of punyam one does not get that state of divinity. Even those who are married and do not have children are also blessed ones. Swamiji said "even after getting married I gave that state of divinity to your daughter, now you understand how blessed she is". To the mundane world it looks very awkward why Swamiji got my daughter married, divorced and she's not getting married again. She is still single and living in Boston, USA, attending Swamiji's satsanghas and in a better position to help others.
Once, we were at the Vijayawada Ashram discussing Sri Swamiji's health and the Ashram on a Hanuman Jayanthi day. He came to our room and said, "You can not even solve your own family problems, why do you discuss Swamiji's problems, do you have capacity to solve Swamiji's problems?  I am seeing you and hearing your discussions, is that what you are supposed to do?" and He scolded us for fifteen minutes. Then I slapped my cheeks accepting my mistake, in front of Swamiji. Then He said, "if you accept the mistakes you committed what else can I do other than forgive you".
I had been asking Swamiji for a discourse on Bhagavatham for a long time. I used to ask Swamiji to arrange for a discourse by Sri Chandra Sekhara Sarma in Vijayawada Ashram. And one day Swamiji called me when I was speaking with someone about the Bhagavatham discourse and said"  before I leave my body & before you leave your body I only will discourse on Bhagavatham, stop asking others ". After fifteen years Swamiji recorded Bhagavatham discourses and I felt very happy about it. Then I approached Swamiji and reminded him of my request I made to him fifteen years ago and expressed my happiness for granting it now. While I was still saying so He said "all that I scolded you last night, that is also Bhagavatham, don't think Bhagavatham is just what Lord Krishna did, all that is uttered from god's mouth is Bhagavatham, that means all that you have experienced in the past thirty years, the preaching you received in this incarnation with Sri Swamiji's association is nothing but Bhagavatham only". Swamiji's tattvam is not limited to miracles like curing cancer, heart attack, fever etc but it is much above all of above the mundane issues as it is all pervading, omni-present, universal. He is able to cure the diseases and do so many miracles with just one of His eight Siddhis, namely Anima Siddhi.
In those days He composed most of the bhajans in Vijayawada Ashram. He would compose them upstairs and then come down and sing them. We used to learn them easily and sing them ourselves. I would finishing the cooking and other household tasks, and hastily run to the Ashram. One day while bathing I was singing a bhajan. When I went to Ashram Sri Swamiji said "it was nice singing in the bathroom with Ekantha Bhakthi". I felt extremely shy. There is no secret in front of Him. Wherever there is a mistake either in the mind, in the speech or in the deed He would correct it. Its not only to me, He does this to everyone; thousands and thousands of people throughout the world. What is more powerful than this? We need a powerful vision to be able to see such a powerful energy. It is something to be experienced, beyond words, not visible to the eye. But if you are able to experience that Divinity, that is the real happiness, Sachchhidanandam.
His Holiness used to give Datta rakshas and ask us to give to those who are in trouble. I would put them in a box and never thought that they were powerful and only I should use them. However, when our dhobi was worried, being childless I gave her a Rakshas. Miraculous she got pregnant that very month. The whole family was extremely happy that I gave Swamiji's raksha to her. Even I was surprised that they have been given by Sri Swamiji so long ago and after I gave that raksha to that lady, it worked. I would give those rakshas to those who are in troubles and they would get cured. It has got the same kind of effect as if Sri Swamiji Himself gave them.
When Kalyani's divorced was finalized, He asked me to make a promise that, "you will help for Sri Swamiji's incarnation". I said I am not sure what you are saying, how can I help? Then He said, I will say it, and you repeat. "I", I, "will help", will help, "for Swamiji's mission", for Swamiji's mission. He put His right hand in mine and closed it with His left. That means I will try to help those who are in grief. I was not aware of the actual meaning of what happened, but I just repeated what He said. Then He said the oath is done. Now go and console those in trouble. Tell them how you are able to face troubles and how you got your grief ridden off, tell them not to be sad. This way their sorrow can get answered.
After this incident I started consoling some people; people like Gauri whose husband pass away, and later went to Sri Swamiji. When she came to Him, Sri Swamiji told her the exact words that I did to console her.  Later when Nellore Pramila's son in law passed away, the daughter was so upset that she didn't want to live any more. I went to Nellore and spoke to the girl consoling her for all most an hour after Sri Swamiji's program and said: "why do you want to give up your life, if you do so your mother will do the same and then your father. That is not a solution. There are so many girls, some even younger than you, who lost their husbands. What you are doing is not good."
Next day morning Sri Swamiji was doing house visits and He said "Let us go to Pramila's house". At that time the girl was still in bed. I was trying to get her up so I could set her bed. while I was still doing this Sri Swamiji quickly climbed up the stairs, came to the girl's bed saying, I will talk to her myself, not anybody else. The bed was not set right; the bed sheet was all crumbled. I wanted to put a washed, ironed bed sheet, but didn't get a chance. Swamiji came straight to the bed and sat next to the girl and said: "what is this, I heard you want to die, so I came. You are saying you want to die, so after you die, your mother will die, and after your mother dies, your father will. Then all of you will die. Why do you need so much effort for that? Simply die." He simply repeated all that I said last night to the girl.
None in that family took bath till then; they were still getting up from their beds. Meanwhile I went to their altar, lit the lamp and performed Aarthi to Sri Swamiji. Then Swamiji told me to bring the girl to Ashrama. When we arrived, Sri Swamiji said, "Even Shyamala used to say everyday that she wants to die. I have saved her. Who knows what is in store for you in the future? Troubles strike only human beings." He called me near and told me "while consoling her, you should have added that you also thought of dying when you were in troubles,. I am giving you permission to tell small lies like this to console others in grief".  I said "what is this Swamiji, you are asking me to lie", He said "it is not a lie, tell me the truth, and did you not think like this once?"
Sometime ago, I thought like that, is that how it is, He said He was giving me the permission to lie to save a life. When I consoled Gauri, she said it was as if Sri Swamiji was talking to her. I then I recalled the oath that Sri Swamiji had me taken. He made me an instrument to do certain things. Gauri's husband was a bank manager, and she has three sons. After her husband's demise, she would like one of her sons to get her husband's job. I told her to get all three of her sons educated and join the job herself. After one month when Gauri visited Him in Mysore, He said the same thing. She said, Swamiji said exactly what you said.
It is not just me, He has lot of instruments like me and He skillfully manages them. He said, "For my incarnation, I have placed these instruments here and there as parts of my body." Even we don't know why we speak. We are just regular house wives, not scholars or researchers. When I talk about my experiences and people listen, I feel satisfied. It's not a story. I know Sri Swamiji to be a universal Soul. He says that in the coming sessions you will have His Vishwa Roopa Darshan. That does not mean as it is described in Puranas; the huge magnified image of Krishna, Ganapati or Durga with ten heads or ten hands. That which is universally pervading is Vishwa Roopam. Making you understand that I am omni-present is nothing but Vishwa Roopa Darshan of Sri Swamiji. So we had the Vishwa Roopa Darshan of Swamiji.  He is Lord Krishna who preaches Bhagavad-Gita and we are like Arjuna who received it.
When the new schools were opened in Mysore, I bought thirty sarees for the sake of giving them to the people from the bride groom side during my daughter's marriage. Swamiji called me in the satsangha session in Vijayawada and said" there are thirty teachers in school, could you please give them thirty sarees." I was thinking that they are meant for the marriage ceremony and said "oh my god, thirty!" Sri swamiji then called Kalyani and said teasingly, "see how your mother is saying oh my god, thirty?" I felt insulted in front of all and came out of the session. Next morning I took all the sarees to Swamiji and asked Him, was it nice on your part to tease me like that in front of my daughter and others.
One Prayer Hall was built in Vijayawada, and they wanted to build another so they were collecting donations. Everybody contributed as per their capability to the cause, even though they are normal middle class people. Those days there were only middle class families, now there are lakhs of millionaires. Contributions of tens, twenties and hundreds rupees were made. In Bhagavatham it is said that Lord Krishna used to steal butter from everyone's house. Every house wife would say Krishna came to my house and stole butter. Our experience was just like that of those house wives; He asked me for sarees and He teased me. He called Lallithamma, Savithramma and others and said see how she is comparing Me with Lord Krishna. Even they used to say Krishna ate away butter just yesterday, just the day before yesterday so on.  And Swamiji was asking us to contribute in a similar fashion. I said Lord Krishna was teasing a small village; but Sri Swamiji is teasing the whole city.
Listening to all this, Sri Swamiji laughed out aloud for a long time; I have never seen Him laugh so much. All people gathered around Swamiji wondering why He was laughing so much. He treated us like a brother, a father and a friend. Sri Swamiji had a sister named Varalakshmi who passed away some time ago. It seems that He told her that "I have a sister in Vijayawada, just like you," and He told me "I have a sister just like you so you should listen to me just the way she does."
If my husband didn't come with me, Sri Swamiji would ask "why didn't the son-in-law come?" Then am I the sister or daughter? I would wonder. Some times, in the evening, when we went for Aarthi, He would say to His assistants "My mothers have come, so you can leave." He called us sisters, daughters and mothers. He would give us advice as a best friend, when in need, even without our asking for it. For many devotees unless asked for He would not give advice. But for me He would advise without my asking for it.
The vedantic teachings of Swamiji are all in simple words, colloquial language, not in any Vedic language. Swamiji does not teach philosophy like Bala Swamiji, who goes sloka by sloka, explaining the meaning.  Sri Swamiji revealed the essence of Ramayana, Bhagavatham, Upanishads and Vedas in very simple words like a friend to us. Similarly He taught us Avadhoota Geetha, Guru Geetha, and even Adhyathma Ramayana. When Lord Rama was entering into Sarayu River at the end of Ramayana, all the souls including the cows, birds, human beings and animals also entered along with Him. Thus, He gave salvation to all those souls who accompanied Him. During the explanation of this episode Swamiji asked us to close our eyes and perceive the above incident. We also felt as if we were going into the Sarayu River. When He asked us to open our eyes, we felt as if we came back to Ashram. Next morning Swamiji explained Ramayana to us and again blessed us with the same kind of experience. Then even though I did not tell Him of my last night's experience, He said, "You felt as though you were also accompanying Lord Rama along with all the other souls into Sarayu River, right?
This way, every day we have experiences, the very words that He speaks are themselves a great miracle. To me all the physical cures like; cancer and heart attack look very small. Swamiji is much more, above these mundane things. He is all pervading in the universe, so He is the Universal Guru, Jagath Guru like Sri Krishna. There are many incarnations, many Holy gurus, but they are only part of God, a small part. Swamiji alone is the complete incarnation of God. He appears to be a human being, but He is not. He is a great energy, incarnation and Universal Guru. All these words suit Him only. Only when one experiences Him, can they understand the true sweetness of His existence. There is so much more to say about Him. Jaya Guru Datta