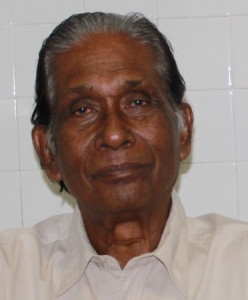 S Rajasingam, Malaysia
What an incredible thing to grasp. Sri Ganapati Sachchidananda Swamiji was in Malaysia in the 1930s, yet He was born in 1942 in India. He is truly 'Kalateetaya.'
In 1979 I was making my first trip outside Malaysia, to Bangalore, India, so I went to apply for a passport at the immigration department. At the department, I met my wife's nephew who was a senior immigration officer, and he was excited that I was visiting India. He gave me a small photo of Sri Sathya Sai Baba and told me that it was his Guru, and I should have His darshan once I am in India. I got all my documents and left, and I started making arrangements for the trip..
My mission on this trip was to take my younger son, Arun Raja to the Baldwin Boys' High School (BBHS) in Bangalore. We met his cousin there who was already a student at the school. The next morning, after arriving in Bangalore, I went to the school and had my son admitted. I had the rest of the day free so I decided to visit Sri Sathya Sai Baba as suggested by my wife's nephew. I found out that His ashram was in Whitefield, a suburb of Bangalore. I took a bus and went there. When I got there I was told that Sri Sathya Sai Baba was in His other Ashrama in Puttaparthi. I took some photos and left.
The next morning I went to the Bangalore Airport for my return trip to Malaysia. I sat waiting for my flight when I heard a little disturbance; I stood up and saw a man walking, into the airport, surrounded by a group of people chanting very softly. The man looked like a Swami; He had a long black beard and wore long orange clothes. I thought that I did not get to have the darshan of Sri Sathya Sai Baba so I should take advantage of this opportunity and get the darshan of this Swami.
The Swami and the group came and sat a little way off from me. I was staring at Him and a man next to me asked if I believed in God Men. I told him that each individual has his own belief. Just then a young man tapped me on the shoulder and told me that Sri Swamiji wants to see me. I came to know that the young man was Sri Ramesh, the secretary for the Swami, Sri Ganapati Sachchidananda Swamiji. I told Ramesh that I was worried about leaving my bags, but he convinced me they will be safe and took me to Sri Swamiji.
I went and sat near the right side of His Holiness and He said to me that He had seen me somewhere before. I told Him that He couldn't have, for I was from Malaysia. Sri Swamiji then asked Sri Ramesh where Malaysia was, and he told Him it was near Singapore. I then told Sri Swamiji that this was my first visit to India and I had come to admit my son in the High School. He then asked Ramesh to take down my address and He told me that He will write to me.
He asked me what was my profession and I told Him that I was a police officer. I asked Him to bless me and He did.  He left for His flight to England and I went back to my seat. The man next to me asked me what the God Man said to me. I told him that it was personal and that I was very lucky to meet a Guru. I told him that it was not necessary for me to go and find a Guru, because this Guru came to me.
Suddenly a lot of people came around me and began questioning me as to how I knew this Guru and what did He say to me. I told them what had happened. Later I boarded my flight and the man sitting next to me began questioning me about Sri Swamiji. I told him that this was the first time I had met Him. He said his name was Krishnamurthy and he was travelling home to Chennai. He told me that I was indeed blessed to have met Sri Swamiji for he has been to the Mysore Ashrama many times and could not get to meet Him because of the crowd. Mr. Krishnamurthy got off in Chennai and I continued my journey to Malaysia.
When I got home, I told my family about my experience and they said that I was fortunate, for some people go searching for a Guru and a Guru had found me instead. Time went by and I kept busy with my work. Two years later, in 1981, I received a letter from Sri Ramesh who wrote that Sri Swamiji will be visiting Malaysia and He will be in transit at the Subang Airport on a particular day and time. The letter also stated that Sri Swamiji would like to see me and my family at the airport.
Being a police officer I got the necessary passes to enter the transit area of the airport. I went out to the tarmac area; there were no chutes to the planes then. I saw Sri Swamiji coming down from the plane along with a few others and as He saw me He said, "Rajasingam!" I prostrated before Him and then we all went to the transit lounge and sat down. Sri Swamiji turned to me and asked, "Where is your wife and family, I want to see them, call them." I went and brought them in. He called my wife, Prema, and asked her to sit in the empty chair next to Him. She hesitated for a moment, but I pushed her to go. She sat down and He asked her what her job was. She told Him that she was a school teacher.
He called out to Prasadi who was very young then, and told him that this person was a teacher and he could ask her any question. Prasadi asked, "What is the longest rope in the world?"  My wife did not know, and then Prasadi said, "Eu-rope" Everyone laughed. I took the opportunity to tell Sri Swamiji about my wife's terrible migraine headaches which gave her so much trouble that she used to lose her temper and scream. He took her right hand in His and said to her that in future she will not see this migraine problem again. He dropped something in her hand and told her to wear it on her neck. She kept her fist closed till we got back home. The children were curious to see what it was but she did not open her fist. At home she put a photo of Sri Swamiji on the pooja shelf and then opened her fist in front of the photo and she found a medallion. She put the medallion on her neck and since that day to now she has never suffered another migraine attack.
Two weeks passed and I received a phone call from a man named, Mr. I K Moorthy, who invited me to his house to attend a meeting concerning the Guru I met at the airport. I went to his house and assembled, there were; Major Gunasingam, Mr. I K Moorthy, Mr. Naidu, Mr. Shanmugham and another Mr. Murty, a reporter. Mr. I K Murty said that Sri Swamiji had expressed His wishes to visit Malaysia again and since we all had made contact with Him we should form a committee and group our efforts to bring Him to Malaysia.
We formed a committee which later became known as the Malaysia Gnana Bodha Sabha, which met regularly. A little handicap for us was that we had a language barrier; we spoke Tamil and Mr. Moorthy spoke Telugu, nevertheless, things progressed well. Mr. Moorthy bought a house across the street from his house for Sri Swamiji. His children were excited about Sri Swamiji's visit and they cleaned up the house.
Sri Swamiji returned in 1982. I took my wife and my sister and we went to the house for bhajans in the afternoon. He was singing along with the people gathered there. They were singing Telugu bhajans. After the bhajans, I noticed that He was looking at my sister in the crowd, He then asked, "Who is that lady?"  I said, "She is my sister Swamiji". Then my sister said, "I am Rajasingam's sister." Then He continued with His program. Sri Swamiji had His reasons for calling out my sister.
In 1936 I was a boy living in a peaceful village about sixty miles from Kuala Lumpur. We were a poor family; my father worked as a road overseer and my mother stayed at home taking care of us. Living in the same village, there was a man of medium height with a black beard. He carried a staff and a black kidney shaped bowl.  Daily He begged alms from the villagers and would bring the coins He collected and give them to my mother. He would tell her, "Amma, do me a favor, save this money to get me a ticket for me to go to India." My mother kept the money in a jar and my sister used to count it everyday. When enough was collected, we purchased a ticket for the ship, Chidambaram, to take the man to India. He left and we never saw Him again. Later on, we confirmed with Sri Swamiji that this man was none other than Himself. What an incredible thing to grasp! Sri Ganapati Sachchidananda Swamiji was in Malaysia in the 1930s yet He was born in 1942 in India. He is truly 'Kalateetaya.'
On one occasion Sri Swamiji was coming to our house for a visit. I used to smoke about fifty-five to sixty cigarettes a day. My wife told me not to smoke that day for Sri Swamiji would smell the smoke. I took a packet with me and I put it in the glove compartment in the car. I then thought to myself that I should not smoke again. I took the cigarette and threw it in a ditch and asked Sri Swamiji to help me with this addiction. From that day on I never smoked again.
Sri Swamiji came to our house and said He wanted to see the whole house. We showed Him the entire house and He said He liked it. Then He saw my roses outside and said that He wanted a rose, He took a red and a white rose. Then He saw a pomegranate tree with the fruits hanging off. He said He loved the fruit and I plucked one and gave it to Him. I had kept a Hibiscus plant in my yard for Sri Swamiji to plant. I then asked Him if He would plant it as a remembrance of Him and He planted it. We all went back inside and began singing bhajans.
While in the house Sri Swamiji saw a photo of Jesus Christ and said, "Hey, Christ, I am that." My wife is very fond of Jesus Christ. When the bhajans were over He took the white rose and blew on it and a beautiful smelling fragrance filled the room. Then vibuthi came out of the white rose. He took the red rose and kumkum fell out on the chair. He went to have His Bhiksha in a room and in my happiness I began sharing the kumkum with the crowd. He called me in the room and asked me if I got kumkum I told Him no that I gave it all to the devotees. He materialized some more and gave it to me and said that this was only for me. I then asked Him if I can give some to a friend of mine who could not have children. He said okay. I gave the kumkum to that person and after two months a child was conceived. They had been married and trying for six years. Now they have a beautiful child.
A few weeks after Sri Swamiji's visit, a lot of Indonesian house robberies were taking place in our neighborhood. We were close friends with our neighbors, only a wire fence separated us. One morning we found a hole was cut in our back fence and another hole on the side fence leading to our neighbor's house. It seems the robbers came into our yard, could not get in our house and so they went to the neighbor's house. The hole on the side fence was just pass our Audumbara tree and the hibiscus bush which Sri Swamiji planted. Our house was definitely protected by Sri Swamiji.
Our neighbor was the director of the special branch of the police service. He was robbed of his firearm, jewelry, car and money. I used to wake up early to meditate and that morning when I woke up I heard the neighbor's wife calling, Mr. Singam, Mr. Singam! I opened the door and she shouted that they were robbed and their car was gone. I got the license plate number and immediately phoned the police and told them. They found the car in the evening about five miles away.
I gave up my membership with the Gnana Bodha Sabha after two years because of the committee politics. They were having a meeting on later occasion and Sri Swamiji was present. He jokingly said that this was His first meeting. He told all the members to have an election for the different posts. My name was submitted but I lost. I went outside and I heard Sri Swamiji calling my name. I went to Him and in front of everyone He gave me a garland. I felt very blessed indeed.  On another occasion He materialized a Tulasi mala for me. I keep it in my pooja room. My life changed since the first day I met Sri Swamiji in the Bangalore Airport. Once again Sri Swamiji found me; I am His and will always be. I did not go searching for Him. He found me. This is my greatest blessing. Jaya Guru Datta