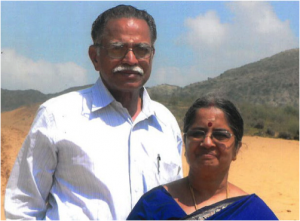 T S Balasubramaniam, Hyderabad
Sri Swamiji took my leg, places it on His lap and applied Vibuthi, saying "Tomorrow we will see what happens." In the morning, no visible mark of even a scar was on my leg, it was as if nothing had happened. Sri Swamiji laughed while exclaiming, "You wanted to go to the hospital, isn't it!"
I am T S Balasubramaniam, also known a Bala, and I have known Sri Sri Sri Ganapathy Sachchidananda Swamiji from His childhood days. In 1956-1957 Sri Swamiji actually lived as part of my family. He was very close to my mother and considered her to be His own mother. He was basically a family member to us; He ate all His meals and even shared clothes with us. In 1957 He left for His brother's place in Anantapur, but He continued writing letters to us.
After awhile we stopped hearing from Him. Then, during a cool February night in 1965, just before Shivaratri, I had just come home from our hotel and was about to go to sleep. I heard a strange voice calling my name, "Bala, Bala" from the front door. At first, I was puzzled as I did not know who this person was, and I became a little upset because of the late hour. When I opened the door I saw a Swamiji having long black hair and wearing silk clothing. He asked "Bala, don't you recognize me?"  I then recognized Him beyond His outfit and exclaimed "Oh, Satya! What is this?"
Sri Sri Sri Ganapati Sachchidananda Swamiji, our sweet Satyam, had come to our house at near midnight in a black Ambassador car. We were confused with this strange occurrence and couldn't decide what we should do; how we should accept Him. We invited Him in and everyone was amazed to see His transformation. Sri Swamiji said "I have taken Sanyaasa at Datta Kotinam from Agastyamuni." After being welcomed into the home, He prostrated before my mother and grand-mother seeking their blessings. He called my mother "Manni," which usually means brother's wife in Tamil, and He used to call my father "Manianna. He asked for some milk to drink and my mother went out to get milk from their cow and gave it to Him. Sri Swamiji stayed with us for awhile, during which time we were happy to have His company.
The next day was my birthday and Sri Swamiji called me and manifested vibuthi and an idol which He gave to me.  He wanted to go to a nearby ashram where Dr. Narasimhaya and AK Munni were. I accompanied Him to Dr. Narasimhaya's house, where they were performing Satyanarayana puja. That evening we visited the Mukti Rameshwar temple where they had the Darshanam of the Lord. Sri Swamiji put His hand by the fire and some coins appeared and fell from His hand. The priests there were puzzled by this miracle.
Once, at the Mukambika Temple, while Sri Swamiji and I were walking towards the car, a black dog was hiding nearby. That dog caught hold of my leg and bit me and I became very upset over the incident. I said "What Satyam, I accompanied you and look at what has happened!  Now tomorrow I must go to the hospital and get some shots." Sri Swamiji took my leg, places it on His lap and applied Vibuthi, saying "Tomorrow we will see what happens." In the morning, no visible mark of even a scar was on my leg, it was as if nothing had happened. Sri Swamiji laughed while exclaiming, "You wanted to go to the hospital, isn't it!"
When we arrived home for lunch Sri Swamiji started drinking some water and He asked, "Manni, don't you have tap water?" She replied "this only is tap water; this morning only we brought it." He said Lord Krishna was in this water and He gave it to Manni. He then served her the curry He had taken. A stone which He produced it from His mouth was in it. The Lord Ganapati vigraha was also there. This puzzled Manni greatly.
The next morning, Sri Swamiji went to complete His Samadhi Nishta. During this time I wanted to wake Him up, but I was cautioned and stopped. After about an hour Sri Swamiji came to a normal state and woke up. He told us, "There is a devotee who has met with an accident on his scooter in the Naya Kategola circle, and maybe tomorrow we can see him. The devotee was shouting 'Swamiji, Swamiji' so I went there and saved him."  After this wonderful visit my brother, Ramani, accompanied Him back to Bangalore. On the way the car was traveling at a very high speed. While moving on a gravel road, a child ran unto the road, was hit and thrown about twenty feet away. Sri Swamiji immediately put His leg out to protect her, and even though she had been thrown, she did not have a scratch on her. The local people had some sticks and were ready to beat up the occupants of the car. Sri Swamiji stepped out of the car, picked up some gravel, went to the girl and hugged her. He told her "don't play on the road because there is a lot of traffic and accidents can happen."  He took the gravel, and turned them into almonds and sugar candies and gave it to her. Ramani was worried that the people would try to harm His Holiness, but after seeing how He had saved the little girl, they all fell at His feet.
They went on to Mysore and then to Nanjangud where they had a bath in the Kaveri River. While there Sri Swamiji picked up a small gold Kamandalu from the bottom of the river.  He told "This Kamandalu is going to be filled with the water from this river, and it is going to serve the entire amount of people who will be attending the Sivarathri celebrations." This water in fact served all the people that gathered on that day.
For forty-one days, after the Shivaratri programs, I had the opportunity to accompanied Sri Swamiji on His tours. Every Sunday He would perform Ganapati Homam before fifty to sixty people who would gather there.  After performing the homa He would personally hand out Prasadam to all.
During this time, there was a merchant whose wife and mother accompanied Sri Swamiji to the ashram, where He would perform homa every day.  After some time, the wife asked His Holiness why He had not cured her mother-in-law who was mentally retarded. Sri Swamiji forcibly told her, "Just because I am a Sanyasi, what are you expecting of me?" The women left weeping. They were upset and told their story to everyone. That day He asked me to accompany Dwarka to the Krishna Raja Sagara Dam. We went there and returned that evening. On our return some people told us that "Sri Swamiji has become mad." He was taking sand and throwing everything and the children were afraid to go near him. Narasimham had taken Him to his home.
The next morning, Dwarka and I went by bicycle to this house. When we arrived Sri Swamiji was sitting in a chair, and He asked us why we came. We said that we had heard He was not keeping well and came to see Him. The merchant's wife and her mother-in-law wanted to repent and prostrate at His Lotus feet. His vastram that He wore on His body was torn, so He asked if I would wear it. I accepted and kept it in my possession until 2006 when I re-donated it to the Ashram.
In 1966 I accompanied Sri Swamiji from Mysore to Chennai because He wanted to meet with my grandfather. It was His first visit to Chennai. KS Ramaswami, my maternal uncle, and A.N. Vijaya Raghavan accompanied us. Sri Swamiji performed pujas at both their houses. At that time they were seeking alliances for their second daughter. Sri Swamiji advised them that they should not go anywhere, as the alliances would approach them. In one week, a judge's son, Chandrasekhar, came, and an alliance was made. Later they went to a beach, and on the seashore, Sri Swamiji found a Chamundi vigraha and gave it to my grandfather for worship. Then they went back to Mysore.
 Before this time, Swamiji kept a clean-shaven face but had long hair, which He could tie on the top of His head. After this, Swamiji started growing His beard. I also started visiting the ashrama to see Him during Shivaratri and other big occasions. One year, on the Shivaratri day, there was a huge crowd and I thought that I would not be able to have His Darshanam. At that time, the Ashram, as we know it now, was not there. It had just a single shed, in which the devotees stayed, that was filled with mosquitoes. There was a well in the middle where we took water for our bath. As I was going back to the shed thinking, I will not have His darshan, someone suddenly came up to me saying that Sri Swamiji had called for me. When I met Him, He said, "You were disappointed thinking that you would not have my darshan." I was stunned, yet happy to hear those words.
Another time, when I went for Shivaratri, I wanted some sandalwood, so I went to the market to bargain for it but I did not purchase any because I was unsure of the quality. When I got back, Swamiji asked "Did you get the sandalwood?" I said no!  He then gave me a sandalwood block about one-foot long and told me to wrap it in my dhoti. I took it home and gave it to my family. Till today we am still using that block of sandalwood in our pujas.
In 1966, while Swamiji was traveling from Mysore to visit our family in Produttur He met with Chandrasekhar and Saraswati on the way. They prostrated in front of Swamiji and He asked them "where you are going?" They said they were going to Produttur. Chandrasekhar said "I heard that you are singing some bhajans. Why don't you sing some today, in the temple?" Sri Swamiji agreed and conducted a bhajana program at the Satyanarayana Swami Temple for the first time. After the program, the Paramachari, at the temple, and Sri Swamiji sat in satsangha on Sanskrit scriptures till four o'clock the next morning. The Paramacharya said to Swamiji that he had a thorough grasp of the scriptures and the bhajans, but He still had some anger inside of him. He said that He needed to conquer that and, in order to do so, He needed to do a Chandi homam; Sri Swamiji conducted the homam and then left.
Our family considers Sri Swamiji as our Guru, and even till today we do not do anything without first consulting Him; whether it is a marriage or an upanayanam, etc. His Holiness considers us as His own family. He always speaks of us so lovingly. On His sixtieth birthday, I was recommended to give a speech about Him. I remembered with awe how Sri Swamiji would go begging for food, and now He feeds thousands of people.
Before I got married, I went to the shed at Mysore Ashrama to meet Sri Swamiji.  At that time He was plucking Tulasi leaves and there was also a mound of kumkum there. I asked Him "where did all this kumkum came from?" He asked me to search within the mound, and I discovered a Mangalasutra; which is sacred in Hindu marriages, the bridegroom ties it on the bride. Sri Swamiji gave it to me. I said "Swamiji, I will not tie this unless you are there at my marriage." Sri Swamiji attended the marriage ceremony on April 10th 1972. Ramani asked Swamiji if He would attend his marriage also, which was on May 11th of that same year.  Swamiji attended this as well.  I feel that my family is extremely blessed to be graced by Sri Swamiji.
In 1984 was the last time I went to the Mysore Ashrama after a gap of eleven years. Instead, he would see Swamiji whenever He was in Chennai or some nearby town. In 1995, Swamiji went to my house after His Singapore trip and was speaking to my mother.  He said "Bala has got such blind trust in me."  He asked why I had not been to the Ashrama. In that year, my wife underwent surgery to have her left kidney removed. I went to Him and He said "if you had come to the Ashrama, this would not have happened."  But He blessed me and my family. I feels that Swamiji is always watching over my family and feels extremely happy and blessed because of this.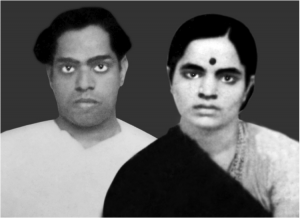 T S Subramani and Rajamma, adoptive parents of Sri Swamiji in Proddutur