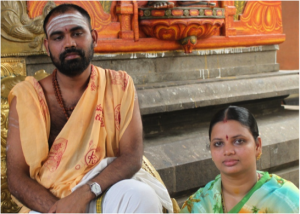 Vankamamidi Maruthi Kumara Sharma, Kochi
Sri Swamiji never talks about what He does, but surely He sketches every subtle plan of each devotee who comes to Him, with just a glance. Sri Ganapati Sachidananda Gurubhyo Namaha.
My meeting, relation and experiences with Sri Ganapati Sachchidananda Swamiji have started while I was very young. I am blessed to have parents who leaded my path to Sadguru Sri Swamiji. Our family used to participate in 'Anagha Vrata' the wonderful ritual of worshiping Datta Sadguru with Anagha Devi. And that lead us to be chosen by Sri Swamiji.
We had the first darshan of Sri Swamiji in Vijayawada during the 'Sankranti celebrations'. All our family had wonderful experience of our lifetime. During the second year darshan, my brother expressed his wish to stay back with Sri Swamiji. He went directly to Him and conveyed the same. My brother was quite young by then. He was in his seventh grade, yet he was lucky enough that Sri Swamiji accepted his request. And soon he joined the 'Veda Patashala' (the school that Sri Swamiji runs to revive the Vedic transcripts) in Mysore.
Financial troubles stood no hindrance in having His darshan every year at Mysore, and he participated in the rituals conducted in the ashram. But I felt no special connection with Sri Swamiji with all these. After I completed my tenth grade, my mother wanted me to be in Sri Swamiji's service. My brother who already was at Mysore's Veda School was learning 'Krishna Yajurveda' by then. She expressed her wish to Sri Swamiji during one of her visits to Mysore. Sri Swamiji looked at my face and as if He was reading my mind He told, "But he wishes to continue his studies. Let him finish what he wants" Wondering how He read my mind, I thanked Him a million times in my heart.
While I was trying to complete my studies, my cousin from Russia offered me a golden opportunity. That I can assist him with his work and continue my studies in Russia. It was 'a dream come true' for me since I always wanted to stay in a foreign country. For those preparations, I even spent studying my twelfth grade in Hyderabad at my cousin's place. Meanwhile my mother wished that we should have the darshan of Sri Swamiji, before we decided on anything.
We went to Mysore during my summer vacation and she expressed her desire of me being in His service and also said about the opportunity I had of visiting Russia. Sri Swamiji then said to me, "If you need wealth and possession go to Russia, but if you want to be in the service of Guru, stay back in the ashram. I will give you some time to think about this. Come back to me with a good decision" I was given five minutes to decide. Maybe it was His grace upon me that I decided to stay back in His service. Maybe His choicest blessings were on me, as a teenager I decided the best path for my life and career. I didn't know if I decided right, but some strange force led to that decision.
I went to Sri Swamiji and told Him that I want to stay back in His service. He warned me that I will not be paid for my services and I need to work hard. He added not to expect anything from my work here. But I was firm and stayed back in the ashram. He wanted me to work at 'Lakshmi Narasimha Mudrana' the first printing press in the ashram from where the 'Bhakti Mala', monthly magazine about the ashram activities was printed. I worked about a year in various capacities in that press. Even though I was working there I had been receiving offers to work in Russia from my cousin, but in my heart I didn't want that anymore. All I needed was to be in His service. That one-year had been the turning point in my life. I learned about Sri Swamiji and His mission. I was blessed to be close enough to understand what He really is! That is when I had a real relationship and attraction to Sri Swamiji.
After the one year, the printing press was about to be closed and Sri Swamiji thought about the volunteers who were working in that press. He called me to 'Guru Nilayam' and the thought of going so close to Him for the first time made me excited. He asked me what I wanted to do if the press was closed. I answered that anything of His choice is the best for me. He said, "You can continue your studies; I will pay for your education. But if you do as I say, you will have the best of everything coming your way". The presence of Sri Swamiji made me chose the best again. I am the best example to say that serving the Guru would always let you decide the best for life. So I told Him that I would stay back in His service.
Sri Swamiji suggested I should learn 'Smartham' the religious education to conduct the rituals of marriage and related things. I was taught under the guidance of Ganesha Avadhani at the Mysore ashram. I complete the course in very short time, and I was also blessed to be part of Sri Swamiji tours. All the process made me understand the rituals, formal procedures and ceremonies of the ancient Hindu Dharma. I learnt Vedas and epics. All this made my mind flourish.
In course of time Sri Swamiji made me as priest at Cochin ashram. It was around May of 1998, I came to serve the 'Siddaraja Dattavatharam' here in Cochin. Sri Swamiji Himself found an alliance for me and got me married. He educated me, He got me married to a wonderful and understanding partner, what else could I wish for. This is one of the greatest boons I received. Once a person seeks refuge at the Louts Feet of Sri Swamiji, what so ever bad qualities he may have had, Sri Swamiji tries to look at his best qualities and takes care of that person by all means. Our Sadguru revives him and takes him to highest level by a step-by-step process.
When I was told to work in the printing press, I was a little upset; thinking going to Russia would have been a better choice for me. But after I came as priest to Cochin my old working experience helped me a lot. Since there were not much of Sri Swamiji's works in Malayalam, I could translate many of them into the local language here. I was blessed to do that work only with His grace. This shows how He pre plans every person's life that comes to Him. I am blessed to have a Guru who works at personal level and takes care of every aspect of my life. Who else would think that an old working experience would come to use this way. Sri Swamiji never talks about what He does, but surely He sketches every subtle plan of each devotee who comes to Him with just a glance.
He lets us do services that ultimately are for our own benefit. One may not know what 'Moksha' is, but He knows how to lead us on a pious path that ultimately will take us to what we need. He never gives a lengthy speech, what He does and what He plans are subtle and we might not know the fruits today, but one day we would be spell bound by His way. His grace will make us practice the right way to lead our selves to 'Moksha'. He will create such circumstances and give right choices to our betterment. We will just need to be firm in our faith and our hearts will sense the right path. Our mind, heart and soul will flourish positively in that faith. All these years in His service I learnt that the positive vibrations in His presence would make us walk in positive path. That is the reason we tend to change for better after having His darshan. All the members of my family experienced this just by having His darshan. It is because of Him, all of us are better persons in terms of attitude, thinking and also in way of life.
Not only us, but every person who comes to Him would have happiness and positive attitude towards life. Spiritually I have understood that following our dharma will take us to zenith. Our ancient rituals are being forgotten in this modern day, but Sri Swamiji practically lives and shows how important it is to follow our own dharma. I understood how dutiful it is to perform an Abhishekam or a Homam. He showed the importance of 'Sandhya vandanam'. Our Vedas teaches us the best way to live, and we see our Sadguru as the living example. I understood what good results are obtained from chanting the mantra that He gave as upadesa. Sri Swamiji teaches us to follow our dharma. He tells, if you are Hindu, be a good Hindu, if you are Christian, be a good Christian. What ever you are, follow your own dharma. That is the 'Datta tattvam' and that is your completeness. Though He is a Yogi Himself, He personally does the rituals, which showed me that I have to do all those rituals as a part of my life. Jaya Guru Datta