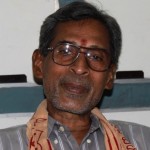 Yalamanchi Ram Mohan Rao, Vijayawada
Sri Swamiji is my mentor, Guru and everything. He is a part of my family. Once Sri Swamiji told me that I must think of Him as my family member who took Sanyasi. From childhood I followed the rules of the society, since meeting Sri Swamiji I follow Him.
I used to work with a Coal Mine Company in the Adilabad and Khamam before retiring. Between the years1979 to 1980, my brother, Nehru, who subsequently stayed in Mysore Ashrama from 1985 to 2006, began sending me the Bhakti Mala Magazine which was published at the Mysore Ashrama. I began reading the magazines as they came every month.  My interest in Sri Ganapati Sachchidananda Swamiji grew daily. Then in May, 1982 I took my parents and family to Mysore Ashrama during Sri Swamiji's fortieth birthday celebrations. At that time there was an old thatched chopuram which housed the celebrations. We had Sri Swamiji's darshan and returned to our home.
I kept on reading the Bhakti Mala which taught me a lot about Sri Swamiji and His teachings. The Bhakti Mala became my Guru. My brother, Nehru, used to contact me frequently from the Ashrama and inform me of the happenings there. The new Ashrama was being constructed around that time. My brother used to enquire about our personal problems also. In 1993 I brought my sister, who was residing in New York, to India. While she was in New York she developed psychiatric problems and tried to commit suicide by jumping off the thirty-sixth floor of her apartment building. As she was about to jump someone pulled her back, but she did not see anyone.
Because of her mental condition I brought her to India and took her to Sri Swamiji. He gave her a Yantra to wear on her neck and arranged for her to do Mrityunjaya Homa. After spending three days in the Ashrama I returned to home with her. She spent a little time with me and recovered from her illness; then she returned to the USA and joined her husband. Sri Swamiji had indeed blessed my sister.
In 1988 I developed an infection in my right ear and it was oozing fluid. I went to an ENT specialist in Hyderabad and the doctors did various tests and told me that I had a small perforation in the ear and surgery may or may not correct it. He prescribed some medicine, which I took. Later, the Dassera Festival was to be celebrated in Mysore Ashrama so I attended it. On the final day of the poojas someone announced that a temple in Mekadatu was to be consecrated and volunteers were needed for the function.
Along with seven other people I volunteered. Before we left Sri Swamiji called us and briefed us on what we should do there. When the briefing was over I began telling Sri Swamiji about my ear and He interrupted me by telling me what the doctor had said to me. He then told me not to worry about the ear for I had to focus on the Mekadatu trip. I did just that and did not think of the ear infection. After about four days, the oozing stopped and the perforation healed. Sri Swamiji healed me.
My elder son had completed his MBA degree and wanted to join the Government Civil Service. We consulted Sri Swamiji and He advised my son to study and apply for the exam. My son did the exam three times and was successful on the third attempt. He was assigned to work in the Railway Department. Before starting work I took him to Sri Swamiji for His blessings. Sri Swamiji gave him a Yantra and told him to wear it on his neck and never take it off. My son went for training in Simla, which included a lot of mountainous trekking and he ended up on top of a mountain. While standing there he lost his balance and was about to fall in the valley below. Suddenly he felt someone pull him back. He realized that it was Sri Swamiji who saved his life.
On one occasion I attended a marriage function in Rajahmundry by car. On my way back, driving at about eighty kilometers per hour, the brakes on the car failed and it was heading for a ditch. I immediately called Sri Swamiji's name and the car swerved itself away from the ditch and went on the road and stopped. Luckily no other vehicles were around.
On another occasion I was travelling by bus to Mysore. On the journey from Tirupati to Bangalore, the bus driver was driving at a very high speed and he lost control of the bus. I saw the bus heading for a big tree on the side of the road. I immediately called out Sri Swamiji's name and the bus stopped just a few inches from the tree. When I got to the Mysore Ashrama and I told Sri Swamiji about the incident, He said to me, "This is the second time you have escaped."  How blessed I am to be protected by Him, the Lord of the Universe.
Two years before my retirement I went to Sri Swamiji and told Him that after I retire I want to serve Him and I will go to serve wherever He wants me to. He told me to wait. Following this, I asked Him the same thing again about three to four times on different occasions and He would give me the same answer. On the last request He told me to forget about this request and don't ask Him again. From then I kept quiet and did not ask Him anything on this retirement matter.
After my retirement in 2002, my daughter developed psychiatric problems due to family troubles. I told Sri Swamiji and He advised me to bring her to the Mysore Ashrama. I took my wife, daughter and granddaughter and we spent one month in the Ashrama. Sri Swamiji did not do any thing for us to see, but after the month was over my daughter was much better, so we left the Ashrama and returned to our home. My daughter was completely cured and later got a teaching job. If Sri Swamiji had not changed the course of my daughter's life she would have ended up in a mental home.
Later, on the 31st of December in 2002, Sri Swamiji visited Vijayawada and was doing house visits. My daughter who lived in Vijayawada was on the list for a visit so I went to her house. My daughter and her family did Pada Pooja for Sri Swamiji; I stood at the back as it was for my daughter's home. Sri Swamiji called me and said, "Why are you standing in the distant? Come near to me." I went before Him and He told me, "You have been asking to serve for a few years, the time has come now, and your work will be here in the new Rajarajeshwari temple coming."  I was happy indeed. On His way out He briefed me on my duties at the new temple. I began doing seva at the Vijayawada Temple since that day and I am still here in His service. When I meet with difficulties I consult Him mentally and He always give me a solution.
Once there was a request by a couple to perform Girija Kalayana. I got the time set for 10.30 am on a particular day. The manager came to me with a request to do another Girija Kalayana on the same day in the afternoon. Another couple had contacted him and he made the arrangements. I told him that as per the custom I know; only once a Kalayana ceremony can take place on any given day. He consulted the Trustees and told me that I have to follow their guidelines. I was in a dilemma. I went into the temple and sat before Sri Swamiji's picture and prayed to Him to help me do the right thing. Within one hour the manager came and told me that the couple he had scheduled for the afternoon had called and cancelled. I felt relieved; Sri Swamiji helped me out, I did not disobey the Trustee and I did not go against the religious custom. In this way He guides me for my personal problems and the Temple affairs. I just pray to Him and He responds.
In 1990, I got an opportunity to serve in the Mysore Ashrama. The old Annapurna Mandir was being re-constructed and volunteers were needed to empty the old building. Seven other devotees and I left from Vijayawada and Nuzividu and went to Mysore to offer our services. At around 7.00 pm on the day we were emptying the old building, everyone left to get dinner. I had one room left to empty and I wanted to stay and finish it. I tried to get help, but no one was available. I worked until 11.00 pm and got the work done. I had my bath and went to bed. At 3.00 am my brother sent a message for me to come to attend the Bhoomi pooja. I took a bath and went to the place. None of the other volunteers were there. Sri Swamiji did the pooja and laid the first stone. He then called the manager of the Annapurna Mandir and two other devotees to lay the other stones.  Then He called me and asked me to lay a stone. I was so happy, I felt honored that He made me a part of this historical event.
 In 2009, my wife had accompanied Sri Swamiji on His trip to Kashi. When she returned she got ill with the fever and cold and it was not going away. She went to the doctor and after many tests she was diagnosed with a tumor and a biopsy had to be performed to determine whether it was cancerous. Because of the location of the tumor, the biopsy was a risky procedure. I advised my wife and son to go to Mysore. They went there for 2010 New Years darshan. They told Sri Swamiji about the situation and He advised her to see another doctor and inform Him before any biopsy is done. My wife did as Sri Swamiji said and we informed Him that a biopsy was recommended again. Sri Swamiji told us to go ahead and do it. My wife went to do the biopsy, but the radiologist could not find any tumor; the tumor had disappeared. Sri Swamiji had saved my wife. She is now at home living a happy, healthy life.
Sri Swamiji is my mentor, Guru and everything. He is a part of my family. Once Sri Swamiji told me that I must think of Him as my family member who took Sanyasi. From childhood I followed the rules of the society, however since meeting Sri Swamiji, I follow Him only. Whenever anyone comes to me for advice, I give them guidance only from my experience with Sri Swamiji, His discourses and books. Many times people tell me that my advice had helped them. I told them that it is not me giving the advice, but Sri Swamiji. He has given me this opportunity to serve, for serving others is serving Him. All this is His grace on me, helping me on the journey of life; the journey, which ultimately ends in liberation.                                                                          Jaya Guru Datta
Sri Swamiji Says:
Datta is unique. He is Guru to all. He shows no distinctions of caste, creed, race, color or gender. He is accepted by all religions. He accepts and transcends all religions. The ancient scriptures mention him, including the most ancient Vedas. The agama shastras acknowledge him.  Many saints and composers have sung about him  ncludingAnnamacharya, Purandaradasa, Kanakadasa, and Tyagaraja
Only with Saadhana, Shraddha (interest), Love and Affection, God comes out.