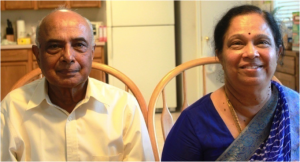 B N and Sudha Kesarinath, Dallas, Texas
"You have committed a mistake by trying to test a Guru, it is not in your best interest to test a Guru, I know you, your past, present and future, I know your soul journey. Everything about you is written here."
I am B N Kesarinath and my wife is Sudha. We met Sri Ganapati Sachchidananda Swamiji in 1973 in Srinagar, Kashmir. As a matter of fact, Sudha was the first to meet Him and she was responsible for taking me to Him.
In 1972, we moved to Srinagar. Sudha was reading the Devi Bhagwatam during the Navaratri period. We were offering our daily prayers to Guru Raghavendra Swamiji, our family Guru who lived about four hundred years ago. she prayed to Mother Goddess to send her a living Guru so that she can change her way of life and follow Him on the path of righteousness, guide her at every cross roads.
Within a couple of months, and just three months before meeting Sri Swamiji, she had a dream of Devi Charan; haldi, kumkum, flowers, adorning her holy feet a deepa burning, and a huge Ganapati, almost room size, and she was doing pradakshina to that Ganapati. The land lady who loaned her the book also had a dream. The dream was on a star studded night, Shankar Bhagawan descending into her house with Parvathi Mata.
Later one of our director's wife, who had a Guru and was very devoted to Him, was traveling from Delhi in the same flight as Sri Swamiji, who was coming to visit Srinagar. That lady advised her that a South Indian Swami from Mysore, my native city, came on the same flight that she was on. She informed her that He had such loving, luminous eyes with compassionate looks in His face, and full of Tejas. She said that she had a Guru and that she knows how it feels.
She told Sudha that she thought that she should go and see Him and even volunteered to take her. However, Sudha's mind was over-riding her thoughts and she was in turmoil; she was questioning whether she should go to see Him. Anyway, she followed her to Mr. Wanchoo's house where Sri Swamiji was staying. Mr. Wanchoo was my co-worker in an engineering company from Delhi.
When they got there Sri Swamiji had just completed the Homa and He was singing the bhajan, 'Mata Pitane Panduranga', in Kannada, our mother tongue. She was caught by His voice and the way He was singing. Then Mr. Wanchoo said that Sri Swamiji was going to have rest in the afternoon and that they should leave now and return in the evening.
Intuitively, she wanted to stay back and meet Him personally, because she felt a connection with Him, so she stood at the base of the stair-case. Then a person, Sri Chandrashekayya, came down the stairs speaking in Kannada. She spoke to him and he was excited to find a Kannada speaking person in Srinagar. She told him who she was and found out that he had actually worked for her father earlier in Mysore State. Her father used to be the chief revenue commissioner for Mysore State, in the 1950s, during the reign of the Maharajah.
Sri Chandrashekayya decided that he will take her to meet with Sri Swamiji. When she got there she saw Sri Swamiji sitting with some disciples in discussion. He was sitting and smiling with a deep sense of compassion. She looked at Him and said, "Swamiji you sing so well, I really loved your music", that's was all she said. Then He said to her, "It is not my voice, it is the Bhakti in my heart which really impresses you, which you like". Then without thinking, she said, "Swamiji, please come to our house".
He got up and said, "Okay, take me right now". Immediately she realized that she did not discuss this with me, so she hesitated for a while. Then Sri Swamiji said, "Where is your Husband, is he not with you?" she said, "No Swamiji, he is not with me, I came alone". Then He spoke again saying", "Okay, go and come in the evening with him, I will definitely come". She left and came home, however by 6.00 o'clock; she was restless because she wanted to go back to see Him.
Actually, Mr. Wanchoo had met Sri Swamiji in Delhi, at the home of his daughter, Ratna Verma, and invited Him to come to Srinagar. When he came to the office he told me that Sri Swamiji was coming
to his house and he invited me to come and have His darshan, but I was not the least bit interested. He even said that He was different from all other Swamijis. When he was telling me about the many miracles that He performs producing objects from the air and other things, I was not inclined to see or meet Him,. Even though Mr. Wanchoo kept trying for me to see Him, I kept declining his invitations.
That evening when Sudha said that she had met Sri Swamiji and that He said that we should come together, I told her that I had known about His coming for over three months but I never discussed it with her, but I agreed to go with her now to meet Sri Swamiji. When I got there and I was in front of Him, it seemed as though as I had known Him for a long time; I felt like that He was my elder brother, although He was younger than me. I felt a strong closeness; a bonding relationship to Him. Till today, I still feel that way. As soon as I saw Him, I started crying without any cause. We did pranams to His Holy Feet; He looked at me and said, "Where have you been all these years, I have been waiting for you?" We sat and talked to Him for a while and He said, "Tomorrow I will come to your house, but now you must go and prepare my evening Bhiksha, and as long as I am in Srinagar you must prepare my Bhiksha everyday".
Then He said, "From tomorrow you should take two weeks' vacation and be my official chauffeur," I had a car and chauffeur from my company and I used this car for His service, being His chauffer. We returned home and Sudha prepared the Bhiksha and we brought it to Sri Swamiji.at 10.00 pm.
The next day Sri Swamiji came to our house and we did Pada Puja. He materialized a silver Ganapati coin which He gave to me, since then I have been keeping it in my wallet. Sudha did not see these happenings so, in her mind she was thinking that she would like to see it, at least once. Immediately, Sri Swamiji reading her thoughts called her and materialized a ruby ring and gave it to her, telling her, "Keep it in the puja room, and wear it only when I tell you to." He sat down in our Puja room for His Bhiksha. He was very comfortable with the surroundings. Sudha started thinking that, in her childhood she saw saints materializing objects, so maybe, He was just one of those saints.
 After Bhiksha, He started telling us about Sri Adi Shakara Acharya's behavior with His devotees; how He would drink alcohol and eat meat with them, when the time dictates. At one time, when He went to an iron smith, He even drank the molten steel without any problems. The shishas thought they could do whatever Shankara did, but Sri Shankara drank molten lava, could the Shishas do that? Then they realized that a truly realized divine being only can do anything. She then thought that He was telling us that it took extraordinary souls to do extraordinary things. After that, whensoever she had a doubt in her thought, He would say something to clear it up. In that way, He started teaching her Guru Tattva and advised her that she must read 'Guru Charitra'.
The Chief Justice of the J & K province, Mr. Jaswant Singh, had known Mr. Wanchoo and had come to Mr. Wanchoo's house to have the darshan of Sri Swamiji. The family invited Sri Swamiji to visit their house and the next day we went there. On our arrival, there were lots of people gathered and the CJ received Him with full protocol. They had prepared some barfi sweets for the occasion and Mrs. Singh offered them to Him. Sri Swamiji took a piece from the plate and said to her, "You are a worshipper of Sri Rama, isn't it? That lady was stunned and replied, "Yes Swamiji!" To the surprise of all, Sri Swamiji broke
t

a piece of the sweet and remove

d

a silver coin with Rama Pariwara embellished on it and gave it to her. Sri Swamiji then blessed the family and we left.
In1974, we moved to Baramula. From 1974-1977, we came to Mysore for the winter months when all projects were closed. During this time we took advantage of visiting the Mysore Ashrama frequently, which was more like a Rishi Ashrama. In those days Sri Swamiji performed 'Hari Katha' Himself. He used to tell stories of Avatars, saints and Sages in a musical narration with His soulful heartfelt divine bhajans. He was a Hari Katha narrator par excellence
Once, He gave a discourse on Devi Bhagwatam and I had the privilege to record it. Sudha would listen to it over and over without having food for fifteen days. Sudha became very ill; she became very delirious and disoriented. Her condition was daily becoming worse and she was admitted to the hospital. By Sri Swamiji's grace, He sent a specialist from Switzerland to that hospital, so that she could take care of Sudha, and within fifteen days she was out from her traumatic period. Then later that year, Sri Swamiji again came to Srinagar. When Sri Swamiji learnt about this, He scolded her and threatened to take all the tapes from her.
Sri Swamiji told us to come to Srinagar so that we can take care of His Bhiksha. He gave strict orders to the priests that they should not eat anywhere, as there was a special Yagna going on so they had to prepare their own meals. Later, He advised them that they can eat from the meals prepared by Sudha. I believe that this process was a blessing for the cleansing for her illness.
I continued with my employment in Kashmir through 1977, and later, we went to Mysore to seek His permission to leave for the USA in May 1977. He blessed us, and we left. Later, when we were on our way to the railway station, Sudha decided that she wanted to go back to have His darshan once more before leaving. When we got there Sri Swamiji was preparing for His bath and He couldn't see us. However, He called us to a little window in His room and blessed us again, telling us that us that the next time we came we will bring His daughter with us. We had not thought about another child neither was Sudha's health permitting. Our son, Gautam, was already nine years old. We told Sri Swamiji about this and He said, "When I say that something will happen, it will happen." Two years later, Aparna, a girl child, was born.
In 1980 for her first birthday, we wanted to take her to Mysore, but Sri Swamiji told us over the phone that He was coming to the United States. He called us and said to tell Aparna that her Thatha, her grandfather, is coming. He was traveling alone from New York. Sri Vishwanath, Prasadi's father, who had traveled with Him had called us from New York and informed us that we must receive Him with Poorna Kumbha. Being new in the US, we didn't have all these facilities, but Sri Swamiji told us that we can take a jug and place a coconut on it and He will come. On her first birthday, July 15th, 1980, Sri Swamiji visited our home in Bay City, Texas arriving without any assistants; Instead of giving physical gifts to her He promised to take care of her and watch over her throughout her life.
Two devotees from Trinidad, David Balroop and Denise Hassanali came to help in the setting up of things for Him. We did not know who they were, but they said that Sri Swamiji advised them that they should go there and help, as they had previously prepared for Him in Trinidad. John Ramana Laird, another devotee from Pittsburg was also there and we were happy to have that privileged to host Him. We took Sri Swamiji to the Matagorda beach that was not far from our house.
David asked us to take some kheer in a flask. He and Denise had apparently come to get His permission and blessings to get married. On the beach, Sri Swamiji called them both and said, "I know that you both want to get married, so I will marry you now". First, He gave them new names; David became Mukunda and Denise became Mala. He then asked them to stand in front of each other and taking some sand in His hand, He produced two Rudraksha malas and two coins which He gave to each of them.
He went on to say that Agni is needed as a witness to the marriage, but as Agni is not here He had to do something else. He then started gulping and a spatika lingam came out from His mouth. He held it in His palm and He said, "This is Atma Linga, He will be the witness to this marriage, now exchange the malas quickly, as Atma Linga cannot stay out for any length of time". He then preformed abhishekam to the Linga, sprinkled the water on each of us and placed it back into His mouth and gulped it
Everyone present was stunned and electrified. He informed us that within a couple of days some calamity associated with water will occur,. While walking towards the car, He indicated that a particular area was pulling Him; that there was some special energy there. He went to a spot and started digging in the sand; with all His might He was trying to pull something out, and said that it was very heavy. He pulled out a Devi Sri Chakra coin, saying that it has been here for many ages, and gave it to Sudha for her prayer room. He said that people will hear the anklets of Devi Padam in the house. Till today that coin is in our puja room.
While returning home, Mukunda had lost his coin and he became very restless. When we got home, Sri Swamiji sent him to look at a plant, and to his amazement the coin was lying in the pot. Mukunda became happy and retrieved the coin. Within ten days, on August 10th 1980, a hugh hurricane, Hurricane Allen, struck the Gulf, barely missing our city. After leaving Sri Swamiji went to Washington State to collect some ash from the Mt Helen Volcano that had erupted one month earlier.
When Sri Swamiji would visit Bay City, I would normally take Him to Houston and advise my friends of His coming. They in turn would organize the programs and invite people to meet Him. On one such occasion, Sri Swamiji went to program and after the poojas He was sitting on a chair talking to those who came to Him. Two gentlemen came with a tray full of fruits and flowers and offered it to Sri Swamiji. When they made the offerings, Sri Swamiji took an orange from the tray and began rotating it like a globe with two of His fingers.
He then stuck His finger into the orange and pulled out a small copper canister; about a quarter inch in diameter and a little over an inch long. He opened the canister and retrieved a scroll about eighteen inches long and went on to explain to the two gentlemen, "You have committed a mistake by trying to test a Guru, it is not in your best interest to test a Guru, I know you, your past, present and future, I know your soul journey. Everything about you is written here." I could see the outline, but I couldn't discern the writing. Then He casually placed the scroll into the canister and put the canister back into the orange. The opening for the hole in the orange disappeared; it was one whole orange again and gave it to those men as prasadam. Those men were mystified, shocked and scared. They bowed down to Sri Swamiji, and begged forgiveness for their mistakes and left in a hurry.
Another time, a Gujarati priest invited Sri Swamiji to his house. This priest welcomed Him with full protocol and brought Him into his house. He had invited many people for the function. When Sri Swamiji was seated, He started to move His hand in a right to left twisting motion from the palm of His hand one side vibuthi and from the other side kumkum started flowing. They were collected as two separate heaps in a plate He told me that He was not in control of this once it starts flowing, and is difficult to stop it. He opened His hand and showed me a distinct line that separated the two substances. He asked for a clean cloth. He then wiped His hand and gave the cloth to the priest telling him to put in his pooja room, as it is very precious. In 1988, He held His first US 'Meditation music Concert' in Houston at the Chinmayananda Mission Hall.
In Bay City, I worked for a multinational company building nuclear plants. Sometime during the construction phase, this company quit because of contention with the owners. I interviewed with three different companies and had to make a decision between two. One was paying a lot more money than the other, so I wanted Sri Swamiji's advice. He advised me to take the lower paying position, because with the higher position, later, I would become like a fish without water. True to His words, that company was bought out be another company and after a while ceased to exist.
In the 1990s I moved to Augusta, Georgia and my company wanted to give me an overseas appointment. Again I sought His advice and He said that it was not the time, at least not yet. Later in 2004, a senior manager came into my office and said that a position in Romania has become open, and he asked, will you consider it? I asked Sri Swamiji and He said that I should take it, so I did. This assignment set the way for His first visit to our house in Romania in 2005.
When we were living in Augusta, one day our son, Gautam, had gone out and was late in coming back home. We were worried that we had not heard from him and wondered if something had gone wrong. We couldn't sleep, so Sudha was chanting Sri Lalitha Sahasranama and I was repeatedly calling Sri Swamiji's name. , I had a vision where I saw Sri Swamiji pulling a baby out from a tunnel; from darkness to light
Early in the morning we received a phone call from the police; they said that your son had met with a very bad accident and he is in the Emergency Room; you should come soon. When I got there I saw him on a gurney with multiple bruises. The policeman said, I was on patrol and I saw a car tunneling down a steep slope towards a barricade that was placed to close off a bridge. At the rate of speed and the incline of the slope, that car should have crashed through the barricade and ended up in the river. But some guiding angel was there and the car stopped at the barricade.
On the roadway, there were tire marks for more than five hundred feet, as though someone had applied breaks with great force. In the hospital a neck-brace was placed on him with the doctors fearing the worst. However, all the x-rays showed no major damage at all had happened to him; he was okay. We called the Mysore Ashrama to apprise Sri Swamiji of the situation, and we were told that Sri Swamiji had fallen in His room during the time of the accident. We took solace that Sri Swamiji had protected Gautam during a most vulnerable time of his life.
Soon afterwards Gautam was normal, as though nothing had happened. Even the junk-yard workers were surprised that the driver of the car was alive. We are totally indebted to Sri Swamiji for all that He has done for us. Even Aparna has had her share of calamities and she knows that only with His grace and blessings she is well and that we are surviving.
On May 19th 2011, we had traveled from Delhi to Bangalore and when we got there I wasn't feeling well. I told this to Sudha and she informed, my sister, who called her son-in-law, a neuro-surgeon. An ambulance and paramedics were sent to take me to the hospital where they found that I was having a multi organ failure. I became unconscious and was unaware of anything. In the meantime, Sri Swamiji was in Malaysia and it was difficult to contact Him. Sudha was desperately trying to reach Sri Swamiji and constantly praying for His grace and help. She knew that He is Datta, Smatrugami Sanovatu. He comes to your aid as soon as you remember Him sincerely with faith.
Early the next morning, I was becoming conscious and I saw her standing there very distressed. All I remembered is that I asked her if she had contacted Sri Swamiji. She said, "Yes! That she was trying. Later we learnt that during the night the heart monitor had gone flat, but the doctors were able to revive my heart. The doctors felt it was a great miracle that I survived without any damage.
After I was released from the hospital I went to see Sri Swamiji and He said, I got the message of your illness through five different sources. Pointing His finger towards the sky He said, "You went up and I brought you down, there is still some seva left for you to do, so I need you here for some more time." How great is my Master and Guru, Sri Sri Sri Ganapati Sachchidananda Swamiji? Jaya Guru Datta