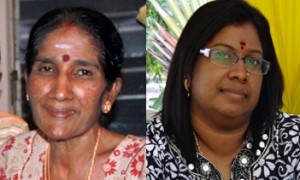 C Muthulachimi Gunasingam, G Logasundari Ravi, Malaysia
He picked up this family when we had no sense of direction in our lives and He guided us each one of us for our own benefit. He leads the way on this spiritual journey and sometimes He even walks with us.
In 1982 Sri Ganapathy Sachchidananda visited the Sri Rajarajeshwari Temple in Malaysia, upon an invitation from its committee members. Mr. I K Moorthy, a devotee of Sri Swamiji, invited my family to the functions at the temple.  At the temple he introduced us to this Indian mystic from South India. My father, Major K Gunasingam told Sri Swamiji that my mother was a heart patient staying in India, at that time. Sri Swamiji told him to send her to visit Mysore Ashrama in India. After this meeting we began attending bhajans at Uncle I K Moorthy's house
My mother, Muthulachimi, who was already in India, was told by my father to visit the Mysore Ashrama as requested by Sri Swamiji, so she went to the Ashrama for the Shivaratri Festival in the same year. There she met Uncle and Aunty I K Moorthy and they introduced her to Sri Swamiji. He blessed her and she left. She returned to Mysore later in May, In 1985 during His birthday celebrations. Sri Swamiji told my mother, "If I tell you, you will get scared, but you must return in October for the Navaratri Festival." My mother did not tell my father about this nor did she take it seriously and she came back to Malaysia.
The month of October came and she did not go for the Navaratri festival. After the first day of the celebrations she suffered a stroke on the left side of her body and became unconscious. We admitted her to the hospital and informed Sri Swamiji by telephone through Sri Ramesh. Sri Ramesh advised us that Sri Swamiji had asked her to come for Navaratri, but she did not come, anyway He sends His blessings and she will be alright. When she became conscious she had lost her memory and could not speak. Sri Swamiji advised us to play His bhajans for her to listen to, every day.
My brother-in-law Mr. Arputham who was in Mysore Ashrama for Navaratri, brought back some prasadam; a raksha, oil, and turmeric root for my mother from Sri Swamiji. With His instructions we applied the oil on my mother's tongue; she drank the turmeric water and wore the raksha on her hand.  One day while she was listening to Sri Swamiji bhajans she suddenly sang a few lines from the bhajan 'Amba Bhavani Sharade'. The words came out a little broken and the doctors were astonished for they did not expect her to speak in such a short time.
Within one month due to Sri Swamiji's grace my mother was out of the hospital. This experience gave us all a glimpse into the greatness of Sri Swamiji and strengthened our faith in Him. This time when Sri Swamiji asked us to send her to the Ashram, we sent her immediately. She was walking, talking and doing everything by herself. Sri Swamiji told her that He had given His life to her and she must be in the Ashrama every year for the Navaratri Festival. Since then to this date she has been doing that. Sri Swamiji had told her not to worry about her family and she does not. He has taken care of her husband, her four daughter's marriage.
After this experience with my mother and Sri Swamiji, my entire family became very involved in Sri Swamiji's work. My father, a founding member, became President and Advisor of the 'Gnana Bodha Sabha' in Malaysia and served diligently.
Being with Sri Swamiji we experience many miracles: In 1985, during Sri Swamiji's visit  to Malaysia, He cancelled His programs on a particular day and told my father that He wants to visit Genting Highlands. My father did not question anything and made the arrangements. Three cars were arranged; one with Uncle I K Moorthy and Sri Swamiji, and the others with my father and a few others. When they reached Genting Highland, Sri Swamiji sat down for a few minutes and then said that it was time to leave. They all left, with Uncle Moorthy driving in front of my father's car.
While driving through a tunnel suddenly those devotees who were in my father's car saw that Uncle Moorthy's car was going on the opposite side of the road and would collide with an oncoming bus. Everyone panicked and screamed.  However, somehow Uncle Moorthy's car did not hit the bus and it stopped on the side of the road. My father and the others rushed to the parked car. There they saw Sri Swamiji touching Uncle Moorthy telling him to wake up. My dad asked Sri Swamiji, "Why is Uncle sleeping, and who was driving the car?"  Sri Swamiji replied, "I don't know, maybe Datta was driving."
After a while Uncle Moorthy woke up and asked what was happening and Sri Swamiji said, "Come on, let's go." We all drove to Uncle Moorthy's house and Sri Swamiji went inside. He said to Aunty Moorthy, "Your prayers are strong; your husband has got a second life now."  Sri Swamiji blessed them both and told Uncle Moorthy that He had extended his life for another ten years.  In 1995, Uncle I K Moorthy passed away, just as Sri Swamiji had predicted.
In the following years, my father developed Glaucoma and had undergone many operations, but the problem always came back. Then, one day he went completely blind. We informed Sri Swamiji and He said that everything will be all right. An operation was scheduled and we got news that Sri Swamiji was coming to Malaysia. My father said that he wants to meet with Sri Swamiji before the operation. There was a problem in re-scheduling the surgery date, but luckily, by Sri Swamiji grace, the doctor himself postponed the operation.
Sri Swamiji came to my sister's; Sundari Ramesh, house and we all went there. My father approached Sri Swamiji and He said, "Can you see me?"  My father replied, "Yes I can." My father could see Sri Swamiji faintly. Sri Swamiji advised him to go ahead and do the operation. My father did the operation and it went well. Then later on he became blind due to problems in the other eye. By Sri Swamiji's advice and guidance we took him to Singapore and he did an operation which was successful and he gained back about eighty percent of his sight. Then he began working again and got back to his usual routine. On March 8th, 2011 my father passed away; he was 80 years old.
Sri Swamiji has become a part of my family. Over the years we have learnt to trust in His words, for He never speaks anything in vain. We listen to Him and follow Him. He picked up this family when we had no sense of direction in our lives and He guided each one of us for our own benefit. He leads the way on this spiritual journey and sometimes He even walks with us. Thanks Sri Swamiji for being in our life.
Jaya Guru Datta