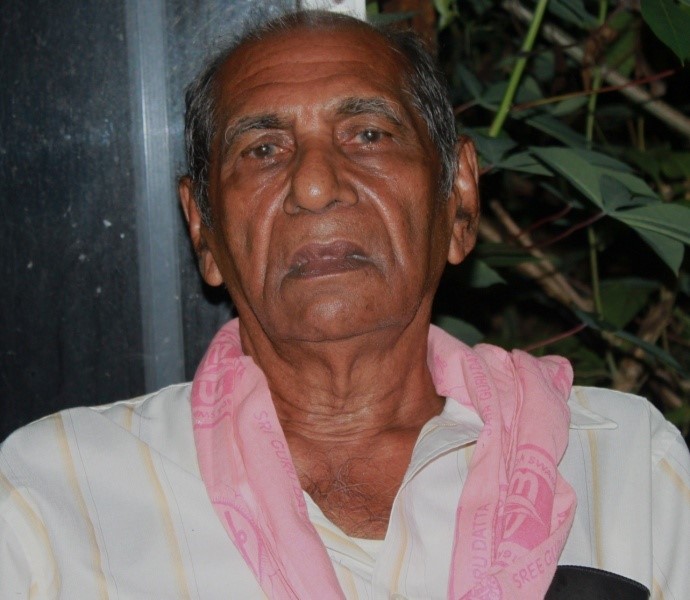 Doolchan Ramdath, Princes Town, Trinidad
"Please Appaji, wherever I am born, let me meet you…..once again."
In 1981 my friend, Mr. Peter Hinkles from San Fernando, invited my wife, Chanwatee and myself to meet a Swami who was visiting from India. Mr. Hinkles said that this was not the usual Swami and he cannot guarantee that He will give her an interview. My wife, Chanwatee, accepted the invitation and since she could not drive I took her to see the Swami. When we arrived there I saw a lot of people and I knew that she would not get a chance to meet Him.
 I found out that His name was Sri Ganapati Sachchidananda Swamiji and He was from Mysore India. I was at the back of the crowd and I saw Chanwatee and her son Mohan going into a room with Sri Swamiji. When they came out, she told me that Sri Swamiji had invited her to come to India and visit His Ashrama. I did not think that she would go to India since she did not have a passport; she does not travel anywhere by herself and she had never been on an airplane.
 In 1982 everything fell in place for her and she went to India to visit Sri Swamiji; Ganesh (Mohan) and Vishnu accompanied her. When she arrived at the Mysore Ashrama, Sri Swamiji had finished the day's program and retired for the night. She asked to see Him and the ashramites told her that once Sri Swamiji retires for the night, He will not come out. She told them that He had invited her and she came all the way from Trinidad, and she must see Him. The ashramites went to Sri Swamiji and some time later Sri Swamiji came out and met with her. She was very happy. When she returned home all she spoke about was Him.
 In 1983 Sri Swamiji visited England, and Chanwattie, Mohan and Vishnu went to meet Him. She came back very excited and said that Sri Swamiji told her that on His next visit to Trinidad He will visit our home in Princes Town. I was happy that she had found her Guru.
 During Sri Swamiji's next visit to Trinidad was in 1984. My family and I were invited by Krishna Kishore Persad, a devotee from Arima, to come and meet Sri Swamiji at his home. We all went and witnessed Him perform the Homa. After the Homa, He started climbing the stairs to go to His room; I was standing at the bottom of the stairs. He climbed two steps; then He stopped and looked back at me. He rested His hands on my shoulders and said, "Ramdath." Then He went up the stairs. I stood there staring at Him go up the stairs thinking how did He know me as I never met Him before. Little did I know; He knew me more than I can ever dream of.
 Something shifted within me that day and I felt myself getting closer to Him. A few days later He made a visit to our home; #12 Hindustan Road in Princes Town. We had a small wooden house; it was constructed on wooden posts about six feet high. We lived upstairs and the downstairs was an open area. Sri Swamiji came upstairs and sat with us for a long while. He left, saying that He will be back in a few days to perform a Homa there. I was not comfortable with this idea for my house was too small to accommodate the crowd.
 Upstairs, the area was too small to conduct the Homa and downstairs, the wooden floor of the house would be right above the fire and that was not good. When Sri Swamiji came He suggested that we do the Homa right under the house in an enclosed spaceand  put galvanize sheets below the wooden floor, to protect it from the heat.  He did the Homa and everything went well. A huge crowd came and somehow our small house accommodated everyone. At then end of the program Sri Swamiji said to all present, "I have found the root!" I did not know what He meant then, but came to realize later that He was saying that He had found the root of the Datta Yoga Center in Trinidad.
 After this visit, my relationship with Sri Swamiji got stronger and we began to live our lives according to His teachings. In 1986 Sri Swamiji came to Trinidad and He once again our home in Princes Town. He told me that He wanted a piece of land to build a temple. I explained to Him that the land in the area close to our house was undulated and subjected to landslips. He left Trinidad and I put the thought in the back of my mind. In 1989 Sri Swamiji invited Dr. Ralph Sieupersad and I to visit Him in India.
 We went to the Mysore Ashrama and He was so happy to see us, He made us feel at home and showered His love on us. We swam in His pool and He took us to visit His birth place, Mekadatu. He said to me then, "Now that you have come to my home, I will come to your home when I come to Trinidad for more than seven days."  He has kept to His word to this day.
  Time passed by and I began to think of when Sri Swamiji had asked me to find land to build a temple. I thought I should get a temple that whenever He visits Trinidad He would have a place to come to. There was some land across the street from my house, it was an undulating slope. I graded the land with a leveled area to build a temple. On His next visit to Princes Town I told Him, "Swamiji, we want to build a temple." He held me by my ears and said, "I told you this a long time ago, go ahead!"
 He called a few of the devotees and told them to assist in building the temple. After He left we began building the temple. I wanted a high ceiling structure to facilitate Homas and also a solid foundation since the land was prone to sliding. In order to build this I had to get a steel structure. I did not have any idea how to do this. By the grace of Sri Swamiji, Edward Yogi Bharath, a fellow devotee and an engineer, came and assisted with the steel construction and overall completion of the temple. The temple is still standing there to this day, with no problems of the land sliding. Later, we built a Guru Nilayam behind the temple.
 On 18 August 1997, Sri Swamiji inaugurated the building as a Datta Temple.  When He came to the temple, He told Chanwattie, "I told Ramdath to build this temple a long time ago, and what did he say? Swamiji, there is no land, no land. Look now, Datta Temple has been built, same Ramdath and same land." I asked Him what spiritual sadhana I should perform and He told me to take care of the temple. He was very happy and so were we. Four months later, on Datta Jayanti day in December, Chanwattie passed away. Sri Swamiji told me that she is with Him. She would not have wanted it any other way.
 In 1992, Sri Swamiji performed the wedding of my son Vishnu and Asha. He took the role of a loving mother and father at the wedding ceremony. In Trinidad, it is not our custom at wedding ceremonies for the bridegroom to offer a mangala sutra to the bride, so I had no idea I had to get one for the ceremony. However, Sri Swamiji gave a mangala sutra and sari to Asha.  He did not ask me anything; He took it on himself and acted as a parent. When I saw this I realized how much He loves us, the Ramdath family.
At the Datta Temple we began performing morning and evening poojas, Guru Pada Poojas, Bhajans and celebrate all the festivals like; Sri Swamiji's birthday and Datta Jayanti. Sri Swamiji visits the temple whenever He visits Trinidad and conducts various programs Himself.  When I met Sri Swamiji I was neither a heathen nor a Godly person, neither a rascal nor a saint; I was floating along in the middle of the river. Sri Swamiji plucked me out and pulled me on His side. He built the temple and told me to take care of it. I began doing Poojas to Lord Dattatreya daily and the temple became His instrument to enhance my spirituality. He has always treated me kindly like a parent would a child and for this I want to thank Him. I know in my heart that He is looking over me and I have one request to make to Him, "Please Appaji, wherever I am born, let me meet you…..once again."                                                                                                                                                 Jaya Guru Datta