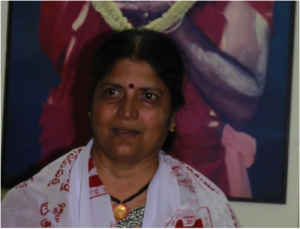 G Parvathamma, Hyderabad
"What is the specialty of Sri Swamiji? Why is my brother praying to Him in this way? Our family deity is Lord Venkateshwara; He is our God. Why can't I get these feelings from Him"
I am G Parvathi, the wife of Seethpathi Naidu of Hyderabad. My elder brother is Venkatewara Rao of Vijayawada. We came to know about Sri Ganapati Sachchidananda Swamiji through Dr. Krishna Kumari, a practitioner in Vijayawada, who treated my father when he was suffering from cancer.
In 1988 Sri Swamiji gave discourses on "Guru Geetha" which we used to listen to and try to follow. After listening to this we gave the prasadam that was offered, to our father. On completion of the Guru Geetha parayana, for forty days, my father passed away peacefully without any complications. On January 1st 1989 Sri Swamiji gave a small picture of Himself to my elder brother, Venkateshwara Rao, to inform others about the mission of Sri Swamiji.
We were wondering, how can an ignorant person, one who does have any knowledge about Sri Swamiji's mission, spread the word to others. However, my bother started talking to unknown people about Sri Swamiji and we were noticing that he was putting a lot of efforts to do this. Sri Swamiji with His grace and blessing turned a rock to a great ashram. An Ashram was built by Sri Swamiji in Gannavaram.
There was a great change in my brother's life; he started intensely praying to Sri Swamiji and he would literally cry while listening to the celestial messages music. During these periods he would go into deep meditation; such is the power of Sri Swamiji's music. Seeing my bother like this, I used to raise questions to myself, "What is the specialty of Sri Swamiji? Why is my brother praying to Him in this way? Our family deity is Lord Venkateshwara; He is our God. Why can't I get these feelings from Him" Like this only, I was thinking all the time.
Sri Swamiji says "with disease and suffering one gets close to me" I developed lumps in my breast and the prognosis was that I had 'breast cancer' a disease which has no cure. I went to many hospitals for treatment which is of no use .My mother then advised my brother to take me to Sri Swamiji. Before meeting him I performed Anagha Vratam. On Datta Jayanti day of 1989 I had the darshan of Sri Swamiji . The moment I went near Him, He told me "Go to the canteen and clean the cups; do some seva".
As per His orders I started doing seva in the canteen. Since then I have started developing devotion to Him and I involved myself in all kind of sevas. I even started accompanying my bother in spreading the mission of Sri Swamiji, with some known other devotees, to various places in Hyderabad. I am an ignorant person without knowledge, but Sri Swamiji made me to do all this; he has given me such a great opportunity. While I was doing these sevas, I never thought of myself. Then one day I noticed that the lumps on my breast had disappeared. I also noticed that my devotion to Him increased; it's wonderful to have such a Guru.
There are many miracles in my life for which Sri Swamiji has given me blessings and even saved my life many times. One is such incident occurred when I was travelling on a two wheeler and I met with an accident. I had serious head injuries and was hospitalized. After some time, the doctors found that I had tumors in my brain and I should have immediate surgery. During that time, Sri Swamiji was visiting the Dindugal Ashram. I went to see Sri Swamiji to relate my problem to Him. I could not control my grief as I went near to Him. I cried and pleaded that I can do some seva. Then Sri Swamiji said, "Come to the Mysore Ashrama for Sivarathri and you can do some seva" . This was nectar to my ears, and I went there for the Sivarathri festivals.
Near Shehadri Hills in Mekadatu, I took holy bath in the holy Sangama, performed abhishekam to Lord Shiva and stayed there for three days. After this, I returned to Hyderabad and was tested again for my disease. With the blessings of Sri Swamiji the tumors had disappeared and doctors were surprised to see that the results of the report were negative. Sri Swamiji has saved me again. I shared this experience to thousands of people and felt happy that I was able serve my Guru in this way.
I have had many great experiences with Sri Swamiji. He blessed my daughter by performing her marriage with excellence in 1996, during Dassera festival, in the prayer hall. Sri Swamiji blessed the couple and this has given me lot of bliss. And even though I have never offered anything to Him, He protected and takes care of me in every instance. Through the blessings of Sri Swamiji I was able to receive His Celestial Amrita. I would like everyone to get the same, so I talk about my experiences to as many people as I can. He has given me a wonderful life. He even blessed my younger daughter, after she got her marriage fixed, during His visit to Canada.
In 2009, when I turned fifty, everything was going smoothly and all my responsibilities were done. Sri Bala Swamiji advised that I do Datta Seva. However, I experience a bad situation when I was admitted to a hospital for body pains. Upon examinations the doctors found that there were two holes in my heart since birth. We were all surprised; even the doctors couldn't figure out how I survived and gave birth to children in spite of having all these complications. After having lot of tests the doctors said "God is great, it's a miracle that you have survived for so long. The doctors advised that I must have surgery to correct the situation.
My brother was incessant that we needed to bring this to the attention of Sri Swamiji. I insisted that we should not worry my Guru. for He has given me life for fifty long years, even before becoming His devotee. Such is His greatness; why should I ask Him to bear my karma. All I need to do is to pray to Him to give me the courage and sakthi to withstand the situation. I decided to have the surgery. In the meantime my bother went to Sri Swamiji and told Him that Parvathi was having surgery in the hospital. Then Sri Swamiji said "Who is doing operation to her? It's me, I am the one doing". Is this not enough for me to survive? .I got operated and was able to survive.  This happened just two year before.
In this way Sri Swamiji has always saved my life, and this life is for His service only. The main reason for all of this is due to the devotion of my bother. Sri Swamiji says that if the family elder is good and proper then the whole family will be correct and happy "My mother and my bother have prayed to Sri Swamiji and they showed me a way to reach my Guru. And I got the fruits from Him.
Jaya Guru Datta