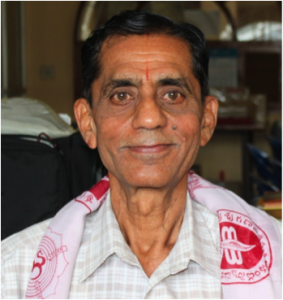 H R Krishna Ayangar, Mysore
One thing that is very clear to me is that we do not need to approach our Sadguru physically, with our anguishes. We must pray silently and with patience. Only then we can get an answer.       
In 1958 I graduated from the college of Engineering in Mysore city. After graduating, I spent seven years working in the northern regions of India then I returned to Madras, where I spent twenty years. In 1993, after about thirty-five years of service, I retired and wanted to live the rest of my life in peace and tranquility. I thought that I will move to Haridwar, Rishikesh, or Guruvayu in Kerala. I just wanted to relax and enjoy my retirement.
I went to Rishikesh, but the way of life there was not what I was looking for. Then I went to Guruvayu and found that with the exception of the Temple, there was no other activity I was interested in. So I came back to Mysore, where I had a little place. I thought that I would just relax; no consultation, no work, just plain relax.
Being back in Mysore, I was starting to acclimatize myself with the area. However, my sister, wanted to introduce my family to her Guru, Sri Ganapati Sachchidananda Swamiji, whose ashrama was in Mysore. I accepted her invitation and we accompanied her to the Mysore Ashrama. When we got there my sister introduced my wife and I to Sri Swamiji. The moment I saw Him, I got the inspiration that I should serve Him in some way. I thought I shouldn't stay idle.
I met a young priest, Sitarama, and told him of my decision. He took me to Sri Swamiji and told Him that this gentleman was interested in serving in the ashrama. Sri Swamiji says, "Maybe he can do some work outside and some seva here". I instantly responded, "No Swamiji, I want to serve you here, fully". Immediately Sri Swamiji appointed my wife as proof-reader for the Bhakti Mala, and looking at me, He said, "I will let you know".
Sri Swamiji was about to leave for a seven month global Nada Prasara tour. He told me that He got back; He will let me know further.   I became very upset, thinking that I was offering my services to Him and He did not accept. I felt like crying. I met Prema Rajasingham, a devotee from Malaysia, to whom I was trying to justify myself. Casually, she told me that I should pray silently and I will definitely get an answer. I started praying, not knowing what I was praying for. Then one day I went to a bookstore and I saw a picture of Sri Swamiji displayed on a calendar. What was so amazing was that the calendar was opened to the date of my birthday, although my birthday was not for some time.
I took this as a sign from Him and felt better. For the next ten months, I accompanied my wife to the printing press where Mr. Kailash Talwar worked. He said, "you are coming here every day and sitting without doing anything, while your wife works. Why don't you read the life story of Sri Swamiji? However, the only copy available was written in Telugu; my mother tongue is Kanada. We purchased a Kanada-Telugu dictionary and started reading the book. We took about three months to complete the first reading and this gave us a vivid insight to Sri Swamiji.
This exercise bounded me to the ashrama. When Sri Swamiji returned, He called me and said, "The time will come when you will get in". I did not understand what it meant, but I didn't question it either. Then a few weeks later, He called me again and said, "There is no one to look after the civil works in the ashrama and I am very disturbed". I immediately said to Him, "Swamiji I have offered to serve you, please allow me to do this service". He accepted and from that day I have been serving in that capacity building the major buildings on the compound.
He is an inspiring administrator; he is involved in every facet of the project. Although, I know that He knows the concept and implementation, He will talk to me to get my opinion on all matters I am working on. Sometimes He would point out minute details, some of which I missed; this shows His nature for perfection. Prasadanna has also been a great help for my relative successes. It is relative in the sense that His work is being done only through His grace.
My wife and I became very attach to Sri Swamiji. This can be an experience in itself. Once, Sri Swamiji invited us to join Him on trip to Vijayawada for a bath in the 'Durga Teertha'. After Sri Chakra Pooja that day, we joined the queue to receive the Holy Teertham from the pooja. An announcement came that the trip was cancel so I became upset. I was thinking that, firstly He invited us and then He cancelled. We stayed in the queue and when reached up to where Sri Swamiji was sitting, then turning to Vhamsy Ganapati  He said' "Please make arrangements for these two to take bath at the 'Durga Teertha' tomorrow, I will also come there.
He looked at me and asked if I wanted to say something, to which I replied that I already received the answer. Arrangement was made and we had a bath in the sacred Durga Teertha the next day. Sri Swamiji and a few devotees also came. It was a wondrous time and we all enjoyed it immensely. After this incident, I did some introspection and realize that each devotee is given tests. Once He has fully accepted us, the desire package that we came with should be dropped.
He can create and change things at His will, our interference in His Leelas can disturb the cosmic realization of things. Recently, Sri Swamiji did a nine day discourse, in Kanada, on Guru Gita. I listened with rapt attention, and on the final day I told Him, I have listened to the discourse, and what I have learnt now I did not learn in the past fifteen or more years. I have read 'Guru Gita' many times before without understanding it. If I had gotten that knowledge then I could have improved myself. I am at peace now. One thing that is very clear to me is that we do not need to approach our Sadguru physically, with our anguishes. We must pray silently and with patience. Only then we can get an answer.    Jaya Guru Datta
Sri Swamiji Says:
One must never abuse one's mother under any circumstance. If one considers one's mother's words as divine, as the gospel of the Lord, one will achieve everything good and benevolent. Shall we also be kind and loving towards the mother? Yes! Let us be like that.