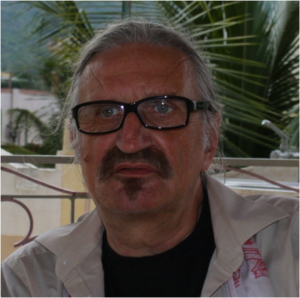 Joe Krishna (Gowda), Germany
"Many devotees speak about all kind of miracles that they have seen or experienced and how this made them sure that Sri Swamiji is their one and only guru. I can very well accept this, but sometimes I feel that while praising the guru for all the benefits that they have got, it should only be fair to tell about the "tests" also, specially when speaking to newcomers…"
"In my opinion it can be interesting for somebody to hear other peoples experiences, but I am sure that they are not transferable. If you look at the collected devotee stories on this page, your personal experience can easily be totally different. Sri Swamiji has often advised newcomers to come and see, try, make your own experiences and then decide what kind of relationship you want…"
Now, if the main question is, why do I follow Sri Swamiji, the only true answer is: I don't know! That then would be the end of this interview. Still it might be helpful to understand my relationship to Sri Swamiji if I discuss a few experiences and how I met Him. (I apologize for possible mistakes, english is not my native language)
Before meeting Sri Swamiji, I was in contact with yoga for more than a decade and had met various teachers both of good and bad qualities. However, I was not at all searching for a guru. Although I had seen some very impressive personalities in that context, I regarded Sri Ramana Maharshi as the one Indian master to whom I felt a strong inner relationship. In fact, his teachings guided and helped me through some very difficult periods in my life. On the other hand, the Maharshi died in 1950, so maybe I thought that he could not help me in the way that a living teacher would. Looking back later, I thought that from a psychological point of view, I possibly felt more comfortable with a dead guru than with a living one…
That was about to change in 1986. At that time, my girlfriend was invited to a devotees house in Antwerp (Belgium) to see a great Indian master who was recommended by her astrologer. She had collected some information about Sri Swamiji and was eager to finally meet Him in person. Til then I had never seen or heard anything about Sri Swamiji, not even His name.
We went there with the car and I regarded myself more or less as the driver that was doing her a favour. Yet, I must admit, that in a way I was also curious to see a living Indian master for the first time in my life. Still, I was very skeptical, having in my mind how much damage other "masters" from India had done to the image of the guru tradition, (specially in western countries), at least in my opinion.
After our arrival at the meeting place, it was announced that Sri Swamiji would not come down from his room, because He wanted to wait for some devotees who were still stuck in traffic. He then proposed that any new guests who do not yet know Him will be allowed to come upstairs for an interview.
Having cleared with the organizers that this did not mean interviewing Sri Swamiji and also not Sri Swamiji interviewing us, I was told that this is a great chance of an individual meeting with Him, including the possibility to ask personal questions. Waiting on the steps with some others I could not find any question that seemed important enough to ask. Finally I thought that if at all, I may ask about becoming a yoga teacher, which was an idea I had in my mind for some time.
However, when it was my turn, I entered the room to find Sri Swamiji alone, sitting on some comfort-chair looking towards the door, looking at me. I did not know what to do. I thought I should not stay standing, so I sat down on my heels in front of Him. I must say I have never been a great energy feeler, but from the moment I was in the room I felt an atmosphere totally unknown to me. It is very difficult to describe. It was like a thick, dense, intensive, strange and emotionally loaded feeling that left me speechless.
Sri Swamiji was sitting there without any movement, doing nothing, saying nothing, just sitting. As I felt such an intensive energy, I thought it would be disrespectful to look into His face or even into His eyes, but for some short moments I risked it, seeing that He was looking at me. Time was passing; mostly I was looking downwards. No vocal or visual exchange between us. No way of asking any question. After about ten minutes Sri Swamiji pointed to me and said, "I bless your work". Then again for quite a long time silence… silence… silence. I started thinking about the others waiting outside and got a bad conscience, that I was taking so much time, but also I did not want to leave that intense and peaceful atmosphere. It finally came to the point when I did not dare to stay longer. Looking at Sri Swamiji I said "It is hard to leave…". Sri Swamiji with a gentle smile answered "Yes, I know".
I then left the room not knowing what to do with my emotions and thoughts. I was happy, that the rest of the day's program did not leave me much time to think about it. Shortly after this meeting, I thought that Sri Swamijis sentence "I bless your work" was an answer to my not-asked question about being a yoga teacher, but some time later I found that much more was ment by this.
In the following weeks I felt some connection to Sri Swamiji that I could not explain, but I was willing to find out. Opportunities were provided to either see Him again on His next visit to Europe or to have His darshan at the ashram in Mysore. Maybe, there was also some curiosity within me, whether He could be a good teacher, master or even guru for me.
After about two month, there was a great catastrophy happening in my private life that made me suffer like never before. This was also a shock for me, because I thought that meeting a guru means that your life will change for the better and not for the worse. Consequently, I did not want to keep this connection.
Some time later I heard that Sri Swamiji was coming to Germany again for a visit and a small seminar. I did not want to go there, but then the organizer called me, telling he urgently needs help with the acoustic system. As he insisted and also wanted to record the seminar on tape, I ended up sitting in the comer with my equipment, watching the scenery carefully and critically. On the last evening of the seminar it was announced, that next morning there would be a chance for the course participants to have an interview with Sri Swamiji, but I did not feel like going…
The following night I had a dream. I must explain, that in those days I was very much fascinated by martial arts, specially kung fu and kendo (sword fighting). In that dream Sri Swamiji and I were standing opposite to each other in full traditional kendo dress and in starting position, holding swords upright in front of us. There is a common ritual, that before the real fight starts, each fighter shows his abilities in some powerful impressive demonstration. Somehow it was clear that my turn was first, so I took all my knowledge and energy showing all what I could do to impress Sri Swamiji. Finally, I ended my show, and trying to catch my breath I waited for Sri Swamijis reaction. To my surprise He just stepped up to me laughing and cut my head off!!
After this, I felt that this dream was to show me that I was living too much in my head, which was certainly true. When I awoke I was not scared, but smiling and thinking: "okay, if my head does not want to go to the interview, my heart wants to", and that was it. The interview itself had a similar energy like the first one. My connection with Sri Swamiji became stronger and stayed undisturbed til today, although the following years were surely not free from doubts and tests…
During my first visits to the Mysore ashram, I found that all these traditional rituals did not mean much to me, and also I did not feel like learning mantras, slokas or prayers. I told Sri Swamiji about it and He answered: "Not necessary, maybe later."
I wanted to offer some service instead and it so happened, that my musical and technical knowledge was helpful here and there, as I used to play in a rockband til some years before.
Sri Swamijis first concerts in Europe had to be organized. Seminars needed acoustic systems and had to be recorded. First professional studio recordings of Sri Swamijis music were produced in Germany. Sri Swamijis synthesizer-equipment had to be repaired and updated. In the ashram, all the old Ahuja acoustic systems were replaced by high quality western equipment. Not to forget that we built the first professional sound studio in India with all latest machinery. Until then all audio-studios were only existing in connection with film studios. After being responsible for the acoustic systems, mixing and recording, I later had the great honour to be on stage with Sri Swamiji playing support-synthesizer.
So in this context, I not only had the chance to learn about music, but also about instruments, studio technic, organising concerts and tours, transport (incl. indian customs!) etc. More than that, all these unforgettable moments with Sri Swamiji on stage, backstage, in the recording-studio, while rehearsing, etc. gave me the feeling of being privileged, again not knowing why…
I studied psychology, and after two years in market research, I finally worked as a free-lance journalist, writing psychological material for all kind of magazines. Shortly before meeting Sri Swamiji I had planned to set up my own therapist practice because my old job did not satisfy me any more. However, when I saw how Sri Swamiji is directly and indirectly working with His devotees, how He makes them learn and develop through His clever and sometimes tricky ways, I was so impressed that I gave up my intention.
My impression is that He often works like a therapist with His devotees, except much quicker and more effective, mostly not even being present. I think, the condition for a devotee is just to accept Sri Swamijis influence, trying to learn from it as best as possible, knowing that even if you fail, you will never be regarded as a hopeless case for Him. In this context, many devotees report, that from the very beginning they feel fully accepted by Sri Swamiji just as they are, without any kind of prejudice or judging from His side, including the things that they don't like about themselves. In other words you can also call it unconditional love, and if that is not the best basis for therapy, then I don't know…
When people ask me if Sri Swamiji is my Guru, I mostly hesitate giving an answer. Coming from a European background, I doubt that I will ever understand the guru-shishya relationship as described in the scriptures. Apart from that, I don't think I will ever understand who Sri Swamiji really is. So I am left with my personal feelings and experiences, which seem more responsible for my relationship to Sri Swamiji than understanding. All I can definitely say is that my quality of life has constantly become better and better during those years, of course including the ups and downs that obviously belong to every human biography. One might say this is nothing spectacular, but I am sure that my psychological, spiritual and even my musical development would not be where it is now without the visible and invisible influence of Sri Swamiji. Many devotees speak about all kind of miracles that they have seen or experienced and how this made them sure that Sri Swamiji is their one and only guru. I can very well accept this, but sometimes I feel that while praising the guru for all the benefits that they have got, it should only be fair to tell about the "tests" also, specially when speaking to newcomers…
In an early version of this interview, I have described various personal experiences with Sri Swamiji which impressed me very much, but that would take too much space in this context. Still I want to let you know about one episode that I experienced while following Sri Swamiji in a car.
We were travelling with two cars to some devotee's place in the south of Germany. Sri Swamiji was sitting in the first car and I was following in the second car, which was fully loaded with musical equipment for the next concert. It was late in the night after some other function and I felt extremely tired, almost falling asleep while driving.
Although I did not know the way to our destination I decided to leave the highway on the next opportunity to have some sleep in the parking place. I thought somehow I would find the address of our destination in the morning (mobile phones were not yet available). Then I saw the signs for a gas station and was sure I will get out there and sleep. When the exit came closer I was surprised that Sri Swamijis car was leaving the highway also, and I thought that it was for taking up fuel, but the went straight to the parking place. Sri Swamiji left His car coming to mine and said "I think for the rest of the journey I will travel with you in your car." I can surely say that never in my whole life I was so much awake as I was on that trip, driving all alone with Sri Swamiji through the night to that place…
If you read my contribution so far, you might find your own impressions and interpretations about what I have said. It may be helpful, in case you are in doubt what to think about Sri Swamiji, and then again it may not be so. In my opinion it can be interesting for somebody to hear other peoples experiences, but I am sure that they are not transferable. If you look at the collected devotee stories on this page, your personal experience can easily be totally different. Sri Swamiji has often advised newcomers to come and see, try, make your own experiences and then decide what kind of relationship you want.
As far as I am concerned I still cannot answer the question why I follow Sri Swamiji. This seems unexplainable to me, like why He calls me 'Krishna Gowda' quite often. When I try to analyse my basic feeling of this strong connection, I can, afterwards, find possible reasons for the relationship, but no real explanation. In fact I gave up searching for it. Leaving the starting question still unanswered, I can only express my gratitude, respect and thankfulness to Sri Swamiji for his guidance and for all that I was allowed to do, to experience and to learn.
Jaya Guru Datta!