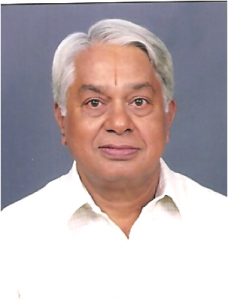 Krishnappa Siddartha, Mysore
All my mundane thoughts were being supplanted by thoughts of This Being.
 I, Krishnappa, was named as Siddhartha by Parama Pujya Sri Ganapathy Sachchidananda Swamiji, on joining the Ashrama in May 1990 voluntarily, to render my humble service. I became a devotee of Pujya Sri Swamiji since May 1976 when was an employee of Indian Institute of Science, a prestigious academic Institution at Bangalore, founded by the Tata group.  I had worked in different capacities in the Administration of the students' Hostel and was liked by both the administration and student bodies for my dedication and impartial handling of day to day affairs.
Ever since my father left for the heavenly abode when I was barely four years old, my mother became my mentor, provider and protector. With her love and care, I grew in accordance to her ideals.  Although, I had the full support from the strength of my mother, I would sometimes bow to my inner fear that something was missing from my life. Though I used to visit temples regularly, my mind was not attuned to religious acts. Somehow, the religion was not in the frontal mirror of my psyche.
In the midst of this predicament, sometime in May, of the year 1976, I was invited to attend a Bhajan session (held on Thursdays) by a co-worker, Mr. Sri Kumar, at the residence of Mr. R.R. Bhupathi, an ardent devotee of His Holiness Parama Pujya Sri Sri Sri Ganapathy Sachchidananda Swamiji. This session was conducted by the Bangalore branch of Sri Ganapathy Sachchidananda Ashrama, Mysore.  The bhajans were different from the conventional bhajans I knew. However, I was fascinated with the fact that all the bhajans were composed and rendered by Pujya Sri Swamiji Himself.  When I beheld His photograph and stared into His eyes, a serene and unconditional love permeated my whole body.
At the end of the Bhajan session, Mr. Bhupathi's wife, Mrs. Shakuntalamma invited interested devotees to visit Mysore ashrama to attend Pujya Sri Swamiji's Birthday celebrations, which were presently going on.  Unconsciously, I had decided to visit the Ashrama in Mysore to have the darshan of Pujya Sri Swamiji. I informed my co-worker that I would join him on my maiden trip to Mysore Ashrama for Pujya Sri Swamiji's Birthday celebrations. There I had the darshan of His Holiness in the living form; what a sight it was to behold.  I was actually standing before Divinity personified. There is no physical explanation for my emotions at that period. I was calm, but in awe and wonder.
Within a few months, I had the privilege of witnessing for the first time, a miraculous creation made by Pujya Sri Swamiji at the consecration of Ganapati temple in Tumkur, near Bangalore.  It was the manifestation of two-faced Rudraksha encased in gold.  My obscure mind was forever vindicated at this instant and was convinced that Pujya Sri Swamji was verily the present incarnation of the Godhead.
In February 1977, I again attended Maha Shivaratri celebration at Mysore Ashrama. During the celebrations I observed, with ignorance and reverence, the Sadguru in the perpetual form of the benevolent Lord Shiva.  He descended into the fire pit and performed Agni Puja.
On this occasion, the devotees informed me that Pujya Sri Swamiji has been doing this Agni Puja from the inception of the Ashrama during Maha Shivaratri and also during Navaratri celebrations.  The whole audience was simply unmoved and worshiped Him with tenacious chanting of Om Namaha Shivaya.  In the evening, all the devotees were permitted to perform Abhishekam to Lord Sachchidanandeshwara personally.  For the first time in my life I sat through the night into the next day, immersed in the celebrations. The nightlong rituals, pujas conducted continuously amidst Music concerts by renown artists, and Bhajans, spiritual lectures and benedictions by Pujya Sri Swamiji is etched as an unforgettable memory in my life.
My faith and my consciousness grew rapidly. And all my mundane thoughts were being supplanted by thoughts of This Being.  The ability to get my work done was becoming simpler, and I was able to lead a better life.  I was now differentiating between the limits of "No stress" versus "work stress".
In 1981, Sri Krishna Bhatt donated the land in Giri Nagar, Bangalore for the development and conducting activities of Gnana Bodha Sabha, Bangalore, which was founded by Pujya Sri Swamiji. I was actively involved in rendering voluntary services and other seva. For the small services I was rendering to the Ashrama, Pujya Sri Swamiji graced me abundantly that are in my memory all the time. I can pick a few incidents that are noteworthy to be mentioned here.
In February 1983, I met with a near fatal accident in which I suffered chest and head injuries. There were three to four rib fractures on left side of my chest, which refused to heal in spite of treatment by doctors of various disciplines including allopathic, Ayurvedic and indigenous bone setting specialists. Even after three months nothing made me better and the pain due to ribs facture remained.  In the month of May 1983, a grand function to celebrate Sri Lakshminarasimha Jayanti was organized and I got the seva to manage the chappal stand with my nephews and my sister (Mrs. Parvathi).  At the end of function, I received the prasadam offered to Lord Lakshminarasimha by Pujya Sri Swamiji's divine hands. I ate the prasadam and to my utter surprise, the next morning I was relived of the pain and the ribs were set to normalcy. I was mentally moved by His grace and had no words to thank or explain.
Another incident that I recall is the suffering from painful spondilitis since 1978.  One day in 1989, Pujya Sri Swamiji appeared in my dream in the early morning hours.  In the dream, he put His right hand on my shoulder and walked along with me.  I felt thrill as well as remorse for His inexplicable grace showered upon me.  My mind thought of submitting reverential pranams to His Holy feet. Suddenly, Pujya Sri Swamiji stopped walking.  I bowed to touch His feet and do pranam.  Pujya Sri Swamiji moved His divine hand through my vertebral column of back bone and stopped His hand at the paining spot.  His Holiness blessed me saying, `this day, I am blessing you the utmost'.  The energy passing through His hands was like a High-voltage electric shock for a second and my lifelong suffering and pain vanished in no time.
The above incident enhanced my faith in Sadguru and was actively involving in Bangalore Ashram's activities.  In 1990, I resigned my position at Indian Institute of Science with the intention of joining the Ashrama to serve voluntarily.  My superiors, administrators and co-workers tried to dissuade me from these intentions, to no avail.  I decided that I had found my calling and wanted to serve my Sadguru only.  Finally, I arrived at Mysore Ashrama May 27th 1990 and my first job was that of a telephone attender.
With the grace of Parama Pujya Sri Ganapathy Sachchidananda Swamiji, I am entrusted with the administration as a public relations officer (PRO) and also as the Manager and Trustee for Bhaktimala Trust.  In addition, I was in-charge of the developmental activities at two Ashrama branches since 1987.  The one in Mekedatu (Sangama), the holy confluence where my Master took form, is pristine nature and now houses an Ashrama with Guru Nilayam, Temple complex, halls for spiritual / cultural and social activities, kitchen and dining halls for Annadanam and accommodation for visitors.
At the Sangama, the Sangameshwara temple where Mata Jayalakshmi visited religiously to offer prayers and decorate the idol is also renovated by His Holiness. The second one is at Sogala, in the same house where Sri Mata Jayalakshmi was born. This is meant for spiritual and social activities for the benefit of the villagers. In this village, the great-grandfather of Mata Jayalakshmi, Sri Yogi Subbaiah's Adhistana is also there and people worship this place with faith to get rid of the evil effects. It was my great fortune that I was associated with the development of these holy places
The biggest miracle Pujya Sri Swamiji did in my life was mending my mind from the behavior of `Durvasa' to the level of `Siddhartha'. While at Bangalore, I was a high tempered and aggressive person by nature. Understanding this, Pujya Sri Swamiji transformed me into a calm and quiet personality, through His indirect teachings. By this, I feel relieved of the fear of taking many more births, just to nullify the deeds arising, due to wrong temperament and aggressive nature. This was possible only by Parama Pujya Sri Ganapathy Sachchidananda Swamiji, my Sadgurudeva, with His divine blessings.
Jaya Guru Datta.