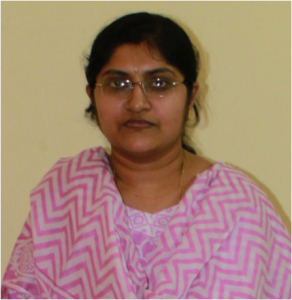 M Vineela Praveen, Hyderabad
"It is what I am, it is my Vishwa Roopa. This is what I am, not the physical person or not this beard".
I met my Sadguru, Sri Ganapathy Sachchidananda Swamiji around 1986 in Hyderabad. I need to tell a prologue about myself before I start telling my experiences with Him. I was never a religious person and neither believed that God existed. I never knew of spirituality; I just accepted life as it came to me.
I was away from my parents, in a boarding school, while I was very young; I was hardly in the first grade. It made me lonely that I had no one share my feelings with, so I befriend another kid of my age. I want to quote here an incident that changed the course of my life. One day this friend took me to a bookstore in my campus hostel, but we didn't have money to purchase anything. She shoplifted a book and hid it in her sweater. I got scared looking at that act and warned her it was not appropriate thing to do. She dismissed my words and said, "Nobody is here to watch us. You may also take something that you want". I thought I would give it a try and went near to a shelf. Just when I was about to pick up a book I had this strange sense of being watched by someone from behind. It was as if I could hold that solid presence. I felt as if it was saying to me, "what you are trying to do is wrong!" I felt scared, as I was young and was just in first grade. It was not a voice, but I knew someone was speaking to me, wondering whom could it be I left that place.
Since then, from time to time, I started hearing this voice and I regularly felt a cosmic presence. I also started getting inner knowledge about things I did not know of previously, but I didn't recognize who it was. After sometime I was back at home with my family, but mentally I was detached from them. My mother was a religious person and I heard her say many times that she wanted a Guru. She used to talk about 'Mantra' 'Moksha' and other religious stuff. However, I never related with any of those, but I still felt that presence. Once, my mother took us to have the darshan of Sri Satya Sai Baba in Ooty. For the first time I was curious, because I was about to see a God man. However, when I went in front on Him I didn't feel anything: I didn't have that attachment for Him. That was my first experience in the presence of a God man.
After few years, in 1986, my grandfather came to my house in Hyderabad and asked us to arrange for pada puja for a Guru from Mysore. We decorated the house and my mother arranged everything for the puja. She told us that we will be meeting a holy person in few days and advised us to display the best of our etiquette, but I was not much interested in all that. In those days I used to read a lot. That day I went to the library and suddenly I was attracted to a very old book, titled "The Guru". I got curious since my mother always used to say about cult of Gurus. It was a book of experiences.
I was very attracted to the experience of an Italian woman. She narrated that while she was cooking one day, she heard church bells ringing. She realized soon that those were from her own heart and not from outside. Later she saw a ray of light falling into her heart and she heard a voice saying, "I am your Guru and I know everything about you. I know your past, present and your future too". I completed reading that book and came back home. My grand-father got some books for my mother and I had to translate them since they were in English. Even then I didn't realize anything.
The wonderful day came when Sri Ganapati Sachchidananda Swamiji came to our house. To be honest I was not interested in participating in the event. He arrived and my mother took us to have His darshan. Then there was line in front of Him. As soon as I went near Him, I had a strange experience. A voice in me started saying, "Thank God! He has come. Oh my God! He has come. He knows everything". Then I realized that the presence that I had with me from time to time was none other than Him. In a matter of one minute all these thoughts passed through my mind. I got scared and went away from there.
But there was one particular chant that started repeating in me, which continues till today. Wherever I went I saw Sri Swamiji, breaking the silence in me, I started hearing His voice. After one year I realized that I couldn't escape Him anywhere. That year my family planned to visit Sri Swamiji and the Mysore Ashrama for the Sivarathri celebrations. It was a wonderful event where Sri Swamiji would perform the 'Agni Pooja'. I wanted to face my fears since I knew I couldn't escape the force. I went there mostly out of curiosity to see how the 'Agni Pooja" was performed.
Those were the days when a devotee, Smt Vasantha Mani, would come to my house with the mother of Sri Vamshi Krishna Ganapathy. She used to sing the bhajan, "Nammaradu ammo ninnu Datta Datta, Nammakunte dikku ledu Datta Datta". I like that bhajan; it is my favorite. Singing that in my mind I went to see the Sivarathri celebrations. I was awed by the way He did the Agni Pooja. Looking at Sri Swamiji getting down into burning Agni Kunda made me speechless. My mind was telling me that He knows everything about me. I made friends with Smt Vasantha Mani's daughter, Nadini who was a very senior devotee. Early in the morning she took me to have the darshan of Sri Swamiji.
We sat in front of Him and He asked us to put our hands up and chant 'Om Namaha Shivaya'. I was thinking in my mind "why should I do all these stuff", when suddenly Sri Swamiji looked at me and said, "Put your hand up and chant the mantra". I startled and did as He commanded. There was always some fear in my heart, but in those two hours of chanting, my fear just melted away. I was free of all fears. I was all a new girl. I was able to communicate with people in a better manner. I mentality changed a lot. Best of all, I was attached to Sri Swamiji. I knew somebody was there for me; I knew He was there for me. What else could I need? I had the trust that He will take care of me even after my death.
Years rolled and I got married. I want to share a wonderful experience which I had in 1993, during the early years of my marriage. Once I was home alone as everyone went to attend a function. It was a very big house. My health was not too good in those days; I was mentally ill. I was under depression and I used to cry a lot without a reason. I felt as though something was pushing me to commit suicide. However, I forced myself out of it and tried to listen to Sri Swamiji's bhajans to keep myself calm. I used to sleep for hours and not get up.
My husband got scared and called my mother and I moved to her place for sometime, but my problems increased. A bad presence used to enter into me and I would suffer from within. I knew it was not that pleasant feeling as Sri Swamiji's. I knew something was wrong with me and I started chanting Sri Swamiji's name.  I was admitted into the hospital, but the doctors couldn't find the source of my problem. All the reports were coming back negative, but still my problem continued. The doctors feared that either I will have to be taken to a mental asylum or I may commit suicide.
My uncle visited me in the hospital and said I was under black magic and need someone who can help me out of it. I was firm saying that Sri Sadguru is there to take care of me and didn't accept the notion ofvisiting anyone else. Even when the psychiatrist came to speak with me I said, Sri Swamiji was there for me and I don't need any help. My mother went to the ashram and brought me Sri Swamiji's 'Kankanam' (Copper wrist band). I wore it and within five minutes I was feeling better. Even the doctors were surprised. They said "Your Swamiji won. We failed!" And I was out of hospital in a few days.
After that I went to have the darshan of Sri Swamiji. When I went inside Sri Swamiji called me near to Him, hugged me and asked, "How are you?" I was moved with that gesture and warmth in His voice. Even my mother didn't speak to me like that. He said that somebody performed black magic on me and assured that I am fine now. He took out a raksha and said that "I am going to tie a raksha for you and nothing will happen to you" Three days afterwards He called my husband and said, "She is alive because of me, she is my daughter from now on, and now I give her hand to you in marriage" He gave my hand to my husband's and He blessed us both. He kept my hand on His head and said, "From now on you will understand everything about Sri Swamiji" After that we came back home.
A few years later, in 1995, I was blessed with a baby boy, whom Sri Swamiji says is His boy. Then as time went by, I started having small issues at my in-laws place. I started thinking that Sri Swamiji is not taking care of me and even started blaming that He forgot me. I told myself that I would not be praying to Him anymore. Meanwhile, in 2001 I happened to attend "Sammakka – Sarakka" celebrations, the worship of tribal deities near Waranagal and near to my place. There were, literally, millions of people attending the worship on that particular day and there was a humongous crowd near the sanctum sanctorum. I wanted to offer the deities a new saree and bangles, so I was holding it while trying to offer them. I was unable to move near because of the crowd.
Suddenly a person, about six feet tall, jumped from behind me unto the platform and asked me to give him the offerings that I had in my hand. He was not looking at anyone else, but me. I gave him my offerings and moved on to the second platform. He came there too and took the other offerings I had. While turning back I heard a voice telling me about the things I didn't do which I am really supposed to; like doing mantra that Sri Swamiji gave me. Then the voice said, "You didn't fulfill your responsibility, how can you expect me to complete mine?" Then I realized everything and told myself, "Yes Swamiji, I will do the mantra from tomorrow".
The next day I started the mantra and the following day while I was sleeping in the afternoon, I heard Sri Swamiji's paduka sound in the living room. I got up and tried to find Him, but I couldn't see Him. He was so transparent; it was just a presence, He told me to do the mantra He gave to me. Sri Swamiji was behind me and I was trying to do the mantra. After two minutes I was unable to do it and I told Him that I couldn't do it anymore, but He insisted it was good for me to continue. Later He said, "Sri Swamiji is not a physical person? No, He is not. Look at the real Swamiji." Everything went silent, a complete silence, I couldn't hear anything.
Then the presence spread immensely. It was as if someone opened a curtain in front of my eyes. I could see even the air. I could listen to what trees were saying to me. The sun and the clouds were speaking to me; I got so scared, because I was able to listen to trees and read the minds of other people. I could see everything connecting to each other. I could see a subtle glow everywhere. It was steady and silent; it was Gyana itself that included everything in it. Even my house was a tiny part of it. It was completely around me and completely silent. Then I asked Sri Swamiji what it was, He replied, "it is what I am, it is my Vishwa Roopa. This is what I am, not the physical person or not this beard". I knelt down there and offered my pranams to Him. This experience continued for two to three days more. I was still in a state of confusion.
There was a washerwoman who used to come to our house every day, she was simple and pleasant. One day she knocked on the door and I went to open it. She was glowing like 'Sakthi;' like fire and I realized she knew everything too. We both sensed what was happening, but we did not spoke a word to each other and she continued her routine. I knew a little bit of astrology, so after a few days she came to me asking about her future. I couldn't stop myself and asked, "You know I saw you", she smiled back and said," I know that, and for that reason only I accepted sarees from you, as you saw what no one else could see." She said that I was not supposed to live life according to the roles and regulations for the life that I was given.
I couldn't take it anymore, so I called my mother and told about my experiences. She suggested that we must have the darsan of Sri Swamiji. We went and told Him about my experience in front of everyone present. Sri Swamiji scolded me saying, "Swamiji never goes to anyone like that". But I was still having the same experience every day. My mother suggested it is better to visit Him at the Mysore Ashram and I went to Mysore with her. I went for an interview with Him, and as soon as I entered the room only Sri Swamiji was there sitting. He said, "I am coming to you in whatever way you want, but you are getting scared. Tell me what should I do?" I had no answer. It never happened to me that I have to ask Sri Swamiji for something. He always read my mind and gave me what I needed. It happened the same way on that day too.
If someone asks me what Sri Swamiji gave me till now, I can say, He gave me knowledge and understanding. Physically whatever comes will go, but I got something that never perishes. The voice from my childhood always taught me the truth in life. It taught me how to be disconnected with unnecessary things. If were getting connected to a friend more that what is needed, it used to warn me about the limits of friendships. He made me practice, practice and practice.
I happened to attend Kriya yoga classes and listening to the discourses in the class I realized, that what Sri Swamiji made me practice from my childhood was the same 'Yama Niyama'. Kriya yoga has helped me a lot in recouping my health. My husband legally got a property in a pricey area with out paying a penny for it. I knew it was only because of Sri Swamiji grace. Sri Swamiji is everything to me. He is something I can't live without. He is not separate from me. People die, things go, but Sri Swamiji will be there with me forever. Whatever the circumstances He is not going change. He is not in Mysore or on some foreign trip. He is everywhere. He is here always with me. It's a fact not a belief; He is my soul.
Once, Sri Swamiji's music concert was going on in Chennai. We were watching the live telecast on the television in Hyderabad and Sri Swamiji asked people to raise their hands. I immediately told my husband and my son, who were sitting near me to raise their hand. They laughed away saying Sri Swamiji was in Chennai and there is no need to raise our hands. I retorted saying, "Sri Swamiji is everywhere. He is in our house now. How can you say that He is in Chennai". Even before I completed saying this I saw Sri Swamiji walking out of the TV and looking around the house for five minutes and then went back into the TV. I was speechless. It's our belief and it shows.
He gives us what we want. Hearing the experiences of miracles of other devotees I wished that some had happened to me too. I was lucky to experience one of them when I went to give my first wedding card. I was standing at a little distance and He called me to come nearer. Pointed at the picture of Sri Swamiji that I had on my wedding card He said, "Look at that" and suddenly I saw a gold dollar materialized out of Sri Swamiji's picture on the wedding card. That was the best gifts I received till now.
I am short sight and have to use glasses. We went to attend Sri Swamiji's birthday celebrations and my grand-mother who left early took my glasses instead of hers. I started to cry saying I wouldn't be able to see Sri Swamiji. I went somehow in the universal prayer hall and was waiting for Sri Swamiji to come out to give darshan. The place was packed and I got a place in a far nook from the dais where He would give the discourse. I was sitting and crying badly. There was a passage in the middle and I was crying because I was not able to see Him. Suddenly He walked beside me and stood there for sometime. I could see Him so close. I could see Him clearly. I was just staring. I was very happy.
I never wanted Moksha, I just need Sri Swamiji. He guided me in so many ways. I don't go for interviews also. I don't ask Him anything, because He knows what I need. He gives me what I need. Many people are lucky to be so close to Him, but don't realize His worth. We don't need anything but Him. We also don't need the worldly things and possessions. Whatever wealth we have, without Him it is useless. We may win in politics or have the greatest positions, but all are useless. We may see a king become a yogi, but a yogi never wants to be a king since He has all possessions. Worldly possessions are a waste without this realization.
Sri Swamiji always makes us follow the right path. He does not force us to do anything, but He gives us whatsoever we want. However, it is our duty to follow Him truthfully; then only will we get to experience the real Swamiji without maya. He is the truth, happiness, love and eternity personified. Some time ago, Sri Swamiji told me that one of His devotees will visit my home and I woulg get a profound letter. I believe that this has happened when the compiler of these stories, Sri Yogi Bharath, visited my home.
That which I have written here is like a drop in the ocean when I recall my experience with Sri Swamiji; it will take a lifetime to record it all. I don't think that I have as much time to tell then all as Sri Swamiji has shown me so many miracles in my short life. Every day, every minute, I spend all my time with Him. He is always with me and everytime I experience a different Swamiji for He has so many forms. Every minute Sri Swamiji is changing me into a better person and every second of my life is divine. I see Him everywhere, anywhere and in everything. I have already gotten everything, even before I ask or want it, because He has already given it to me. With His blessings at His Lotus Feet, I offer and dedicate my life and experiences to Him.    Jaya Guru Datta.
Sri Swamiji Says:
From a shaking mirror, enveloped in smoke and kept at distance, no proper reflection can be obtained. Similarly, a mind, which lacks concentration, which is filled with ego and allured by temptations of the worldly objects, can not reflect the Lord.
Many people claim themselves to be devotees but when they are asked to something, not all are ready to do. A true devotee implicitly follows what is told to him.
If you are pleasant, you feel happy. If unpleasant, you are unhappy. Happiness and unhappiness are illusions. They are unreal to the soul.