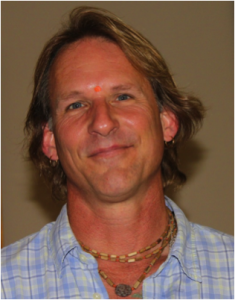 Mukunda Datta, Baton Rouge, Louisiana
After all this time and association with Him, I think mostly that what I know is that I don't really know anything. I seem less sure of myself all the time, but more sure of Sri Swamiji and His influence in my life.
From the time I was very young I was interested in the only thing that I was exposed to, the Bible. I read it over and over trying to understand those teachings. I would go to church and listen to the Priest and remember what I had read and ponder over it. However, something was missing. In the early 1970's I went to a shop that had a bottle of scented oil with a picture of a blue boy playing a flute. I was fascinated with this image and bought this oil. I would look at this bottle often and later I found out that it was Lord Krishna. This image fueled my curiosity further.
I was exposed to philosophies other than Christianity. In particular, I was very attracted to Indian philosophy and spirituality. There began a longing to visit India. For me, India was on the other side of the world and I didn't know how to get there. I began to pray to God for a Guru. I begged God for a Guru that I would be able to see every year, who is heavy into Music and who does some kind of breathing Yoga. That is our Sri Ganapathy Sachchidananda Swamiji!
In early 1993, I was reading a yoga magazine which had a full page advertisement, with a black and white photograph of an Indian Holy Man who was going to perform at a musical concert in New Orleans, Louisiana. This advertisement was put out by a Lady Guru,Kaliji; the Indian Holy Man was her Guru, Sri Sri Sri Ganapathy Sachchidananda Swamiji.  I was looking at His picture and thought "Wow! Who is this?" I was magnetized to His image and could not turn the page. I felt an immediate connection.
Finally, when I was able to turn the page, instinctively I turned the page back and continued to look at His image. I thought okay! He is going to all these places, but He will never come to New Orleans; nobody ever comes to New Orleans. Then I saw that New Orleans was one of the places for a Concert and Kriya Yoga classes. I said, "I'm there!" Chiddu, a person I knew in Baton Rouge, was listed as one of the contacts. I got in touch with him and he told me about Sri Swamiji, His Kriya Yoga programs, Sri Chakra Puja and His bhajans. I became very interested and started to feel a stronger connection to this Holy Man. I knew I had to meet Sri Swamiji. I volunteered with Chiddu and helped him put out flyers, anxiously awaiting Sri Swamiji's arrival. I called my mother and invited her to come and meet this Holy Man, who is known as Sri Swamiji.
On the day of His arrival, we went to Sri Venkateswara Rao's house, on the west bank of New Orleans. A lot of people were assembled in the living room of this house and Sri Swamiji was playing His synthesizer. I looked and saw that there was space for two people, about six feet away from where Swamiji was sitting. So my mother and I went and sat right in front of Him. I thought that this was a pretty amazing thing that there were those spaces there. Why these spaces were open? As we sat there, I was looking at Sri Swamiji playing the synthesizer. I was also looking at Him and He was looking at me; suddenly I felt what I call 'His Laser Beam of Love' going through my body and I started crying. My thoughts were that He is my Guru. Looking back and after being with Sri Swamiji for a while I realized that nothing happens without His will.
 After the Sri Chakra Puja on that first Sunday, Sri Swamiji materialized a mala for me from an orange, which I had offered. After the Ganapathy Homa, Sri Swamiji stood against the back fence and said, "Swamiji is giving interviews now." My Mother and I were standing in front of Him when He said that, but a man cut in front and he was the first to get an interview. Sri Swamiji looked so regal standing there; like a King; looking at us while the man spoke to Him.
When it was our turn, we both bent down to Sri Swamiji's sweet Pada. Tears were flowing and we could not speak. The past year had been very rough for our family; my Father had passed away in January, 1992. While I was looking up at Sri Swamiji I was crying and I couldn't say anything. Both my mother and I felt that a huge amount of the heavy burden of sorrow that was with us was being lifted. Sri Swamiji in His benevolence looked at us and simply said, "Swamiji knows", which made me cry more because I knew that He did know and was doing something to help. After that He gave His blessings to us He said, "Interviews are over."
During His stay in New Orleans I was given so many signs and signals that Sri Swamiji was indeed my Guru. However, when left I began to feel conflicted; because I knew about the concept of 'One Guru for Life' and I knew that one should never change Gurus. The reason for this conflict was; in 1983 I was introduced to Yogi Amrit Desai, my Parent's Guru, in an Ashram in Pennsylvania. I was working off-shore and was injured in an accident, so my father suggested that I should go there and spend a couple of weeks, take some yoga classes and massage and relax. While there I had some really nice experiences.
I never really met a Guru before, even though from 1974 I was initiated into Transcendental Meditation. This was a completely new experience for me, but I visited the ashram a couple of times afterwards. During these years I felt something was missing. However, the words 'Only one Guru for Life' kept ringing in my ears. It weighed heavily on my mind for two reasons. Firstly, I did not want to do anything that would cause me to accumulate more Karma and on the other hand I did not want to hurt the feelings of Yogi Amrit Desai by wanting Sri Swamiji as my Guru instead of Yogi Desai. During the three years of this almost constant inner turmoil I continued to see Sri Swamiji when He would go to Baton Rouge.
During the first two years, Sri Swamiji would look at me and smile so sweetly, but for the third year He would not even look at me. When His gaze went in my direction He would hurry and look elsewhere. I felt as though the wind was taken out of my sails. I got the message loud and clear; 'Make up your mind, stop being wishy-washy'.
After that visit I gave the situation a lot of thought and prayed to Sri Swamiji to take care of any consequences from my decision to switch from one Guru to another. I finally decided to choose Sri Swamiji as my Guru. The only question that remained was; would Sri Swamiji accept me; I surrendered all concerns to Him. I realized that my past was gone and Sri Swamiji is my future, whatever are the consequences of my action. The next year when Sri Swamiji came and He saw me, He gave me one of His enigmatic smiles. That smile resonated and lifted a huge weight off my shoulders. I knew I had made the right choice and that He would take care of everything through silent communication.
When I first met Sri Swamiji, He had materialized a beaded Mala for me. Although my mind was in conflict with my association with Him, I was wearing this Mala with gratitude and devotion. In 1993, one day while I was working on a man-lift on a busy street in downtown New Orleans, a bus hit the lift and I was tossed around in the basket. Even though I received many injuries I have no doubt that Sri Swamiji had given me that Mala to save my life.
After the accident, I was on a lot of medication and I finally became addicted to prescription pain medicine. I did not know this until I was getting ready to go to India for the first time in 1999. I went to the pharmacy to get my last prescription filled, although I already had a thirty days supply. They told me that they couldn't fill it and I got very angry and stormed outside. Once I got outside I realized I had a problem. I was addicted to prescription pain medication.
I got on the airplane taking my medicine with me. When I got into Bangalore I took a cab to Mysore. About half-way there I took out my medicine and was about to take another pill. I looked into myself and without thinking I threw the bottle out of the car. Mental panic ensued as I was trying to decide whether I should tell the driver to stop the car so that I could retrieve my medication. Anyway, I decided to keep quite. I got to Mysore, spent some time there, and everything was so beautiful. After awhile I realized that I didn't have any withdrawal symptoms from the medications and I knew that Sri Swamiji was helping me.
Every day I would go to the big Hanuman Murti that was standing in front of the gardens, grab His Feet and ask for strength, but I didn't tell anybody what I was doing. One day, I went for an interview with Sri Swamiji and while I was sitting in front of Him, He leaned over and put His thumb on my third eye and said, "Swamiji is giving you strength."  After that interview, when I was walking around the ashram I realized that a limp I had for many years was totally gone; I was not limping anymore and my knees were not giving out from underneath me. Sri Swamiji had helped me again!
On my third trip to the Mysore Ashram, in 2000, I decided that I was fed up with smoking cigarettes and I would ask Sri Swamiji to help me to quit. I was smoking since I was ten years old and by then I was forty years old; thirty years of addiction to cigarettes. I spoke to an ashramite, Ramesh, and told him about my problem. While I was in the Sri Chakra Puja darsan queue, I observed Ramesh saying something to Sri Swamiji. Ramesh then came back and told me to explain to Sri Swamiji about my problem when I got in front of Him.
I told Sri Swamiji "I want to quit smoking. I have quit so many times before, but I go back to it. I am afraid that I will go back to it when I get to Singapore on my way back to USA." Sri Swamiji said, "So you keep going back to it?"  I answered, "Yes Swamiji. Please help me. I don't want to smoke again." I was begging for Swamiji's divine assistance. Then Sri Swamiji said quite simply, "You can control it." When His Holiness said this seemingly simple phrase I felt a click in my brain and then a release. I could smell and taste whatever was released; like some chemical being removed from my brain. At that moment I knew that I would never smoke again. I folded my hands in Pranams and thanked Sri Swamiji.
A few days later I was on my way back to USA and stopped in Singapore for a few days. Before even leaving the Singapore airport I got a craving for cigarettes. As soon as the craving came I heard Sri Swamiji's voice saying those same words. "You can control it." I heard this in the same way that one would hear the voice of another person with which they were having a conversation.
For more than a year I would have cravings which became less in intensity as time went on. As the severity of the cravings went down so did the volume of Sri Swamiji's voice until it was, at last, barely a whisper. Since then I have been cigarette free. Sometime later, after I quit the habits, another devotee told me that Sri Swamiji had told him that He had a hard time getting me off drugs. Sri Swamiji has done so much for me. There is not enough gratitude for me thank Him properly. I don't know why He does it. I don't deserve it, but He gives it to me anyway.
After all this time and association with Him, I think mostly that what I know is that I don't really know anything. I seem less sure of myself all the time, but more sure of Sri Swamiji and His influence in my life. And that is something you can't tell someone about. Everybody has his own experience and even if you tell it, no-one will really understand.
Jaya Guru Datta!!! Jaya Veera Hanuman!!!