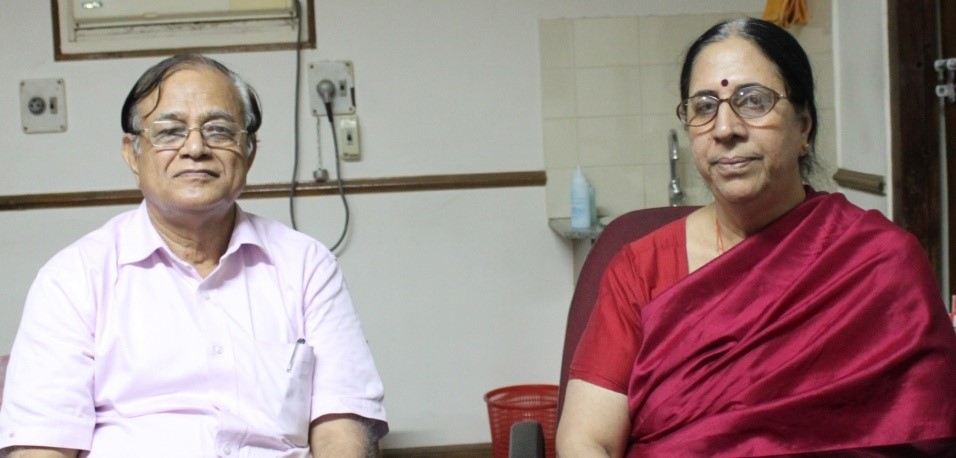 N P Vijayalakshmy and Padmanaban, Cochin
N P Vijayalakshmy:    Anything we needed would come. Anything He says, it becomes true, whether through us or through someone else, even if we don't have the capacity. His words will not go waste.
I met Him for the first time on December 26th, 1990.  Even that date and time I remember very well, because that was a turning point in my life.  I was a medical college teacher who had a lot of problems. Because of family circumstances, I was forced to take leave. At that time, my daughter, Kunju, was only three and a half years old, and my husband held a very senior position with the Trivandrum Police Department, so he could not get leave to join us.
I secured a new job in Ernakulam and someone was helping and guiding me to find a house where we can live. One day we ended up at Navaswami Datta's house; his eldest daughter–in-law happened to be my relative, and I mentioned that I was looking for a house. He said, "Why don't you take this house?" I thought he was joking, but he said "No! I am seriously telling you, this house is for rent. I have built two houses, and our Guru, Sri Ganapati Sachchidananda Swamiji said, that we should rent this one to a vegetarian. I know you are a vegetarian. Sri Swamiji has done a lot of poojas in this house, so a lot of good things will come to you.
I also liked that family, and I was very happy. I told him I could not give him the rent that he was expecting, because that house was quite close to the centre of the town, and close to all the important places. He replied, "Don't worry, you give whatever you can." Then he invited us to their house-warming ceremony on the 26th Dec. 1990. He told us his Guru was coming and so we went to their new house.
When we got there, Sri Swamiji was conducting bhajans and my husband and I suddenly felt that there were some answers to our anxieties and problems. Afterwards, we requested the elder son of Tata for us to have the darshan of Sri Swamiji. He took us upstairs and as we were climbing up Sri Swamiji called out to us saying in Tamil, "I have already given you answer in the bhajan." He knew what problem we had and from that first moment we never turned back.  We had searched for different gurus, but found only Him, Sri Swamiji. We had all kinds of problems; mental, physical, financial, and otherwise, and we got the help we needed.
For example; in around 1991, I had a small growth in my brain. We were trying to reach other gurus also, but could reach only Sri Swamiji in Mysore. He assured my husband and said not to worry, He would be doing all that was needed and everything would be alright. I had done a CT scan on a Saturday.  On Sunday, Swamiji performed the Thaila Abhishekam, and on Monday I went for result. The man said "This is a calcified tumor, only in an autopsy you will find this." We were very happy and came back and narrated this to Sri Swamiji.
With His blessing, I started practicing, and later I got this hospital. My husband got a transfer, and my child got into a good school, and we were together as a family. Many years later, another growth started and about ten years later, I was becoming partially blind. The MRI showed a tumor about four centimeters or more. In our life, we consult with Sri Swamiji before making any decision or doing anything. Though I am in the medical profession, for us, He is the greatest physician and surgeon for our entire family.  My Sadguru said, "Go ahead, do what the neurosurgeon says; I will be with you in the theatre."
That gave me confidence, that I would not be alone in the theatre, and the surgeon had said it would be difficult to remove it completely, and the procedure could take up to ten hours. He discussed this with my husband and child telling them how it would be. But Sri Swamiji who was in Anantapur said they would be starting about 10.00 am and by 1.30 pm everything would be over and it would be completely removed. "And exactly like that it happened.
I had the operation and about four days later, I was out of the hospital. My vision is perfect, I am working very well, and I feel that every minute He has given me is to serve Him. Anyway, I probably do not know how to do this, and I think in due time He will tell me how to serve humanity. One thing I know, and it is imprinted in my mind, from His discourses is; Manava seva is Madhava seva. I always feel that service to man is service to God. If you help your fellow man, you get His blessings. And we have taken Him not only as Guru but as God.  My husband always says that Sri Swamiji is his God, because that is what He has told him. And so we continue to serve Him. And we always feel that He is omnipresent.
            My child, Kunju, is lucky to be close to Him, and gain more experience with Him. They were watching National Geographic and she must have asked Him about omnipresent, and He said suddenly, "look, look there is the fish" and in the fish eye she saw Him. So she always tells that He is omnipresent, that you can see Him when ever you want.  He is omniscient and omnipotent too. Very true!  You want to see Him, you can! You want to feel Him, His Presence, you can!
In my profession, I sometimes say to Him when I am going to the theatre, very stupidly, "Swamiji, I am going to the theatre, you have to look after my incubator, you have to look after my theatre, my patients; everything, because in Kerala you know there is the highest number of power failures and we need power, to conduct our embryological work without any failure. Sri Swamiji told me once, "You think I am your watchman, I am not."  We feel that even in small things in our mundane life, we should tell Him because we feel mentally so close to Him. We know that He will look after us.
Kunju is now a doctor. She was hesitant to write her final year surgery exams. She said, "I am not prepared, I am not going to write these exams." I had to cajole and fight with her and finally I prayed to Sri Swamiji for His help. The next morning she came and said, "Okay Mom, I will write it."  She got the highest grade in the exams.  Sri Swamiji has been looking after her since three and a half years, and He says, "She is my younger sister."
It is a great privilege for us. We start our day praying to Him to do the right things, and not to harm anyone. The changes in us are phenomenal. Now we think its okay! Enough is enough. We don't have to have everything.  Now, my dream is to do service and have a Specialty Hospital to serve all.  He has already blessed us, and we have certain plans to make her dream come true.
Sri Swamiji normally does not like any one person to contribute for a single project; He likes many devotees to contribute. After many years, He said, "Padmanabhan, you can do." And now He tells everyone to see this Guru Nilayam before building any other. Anything we needed would come. Anything He says, it becomes true, whether through us or through someone else, even if we don't have the capacity. His words will not go waste.  Hundreds of stories we can tell.
There is one lady from Germany called Savitri. She was sitting in the Ashram, had met Sri Swamiji in Germany and had brought an invalid child with her. She could not talk freely in English, but had brought her grandson whom she was taking care of, and who was in a wheelchair. She wanted an audience with Sri Swamiji. I told her, "Have faith He will take care."
Years later, I met her in Germany and we both remembered each other. She said, "You remember my grandson? There he is, playing the keyboard and singing for Sri Swamiji. He is standing and no longer is in a wheelchair." Sri Swamiji had told her to chant Lalitha Sahasranama, and other things, and had given her the name Savitri. You can see how He takes care of His disciples; once He accepts you and you accept Him. He even takes care of my patients also
 N P Padmanabhan:   The next day the doctor told us that they see this kind of calcified tumor only during autopsy.  If it was a growing tumor, things would have been different; it takes about thirty or forty years for such calcification. 
During the time that she had her first meninjioma, in 1991, my father had died in Bombay, but we were both in Kerala. The first day's rituals, before the body was taken out, were to be done in Bombay. She was supposed to be there but she could not, and so I told her to come on the tenth day. She had to travel, all by herself, with our young daughter. Being a doctor, the growth in her head was such that she could understand that it could make her blind, unconscious, or as a matter of fact anything could happen, so she had to have the surgery as instructed by her doctor.
While traveling, she carries a small slip of paper on which she had written, "if anything happens to me, do not rush me to the hospital before telling my husband; he is Mr. Padmanabhan and he is waiting for me at the Bombay airport. I am accompanied by a small child who does not know anything. Nothing happened to her." With this conviction she arrived in Bombay on time.
After the tenth day's ritual, we got an appointment with a good neurosurgeon. We went to him and he said that she needs a CT scan. The next day I am supposed to go to Hyderabad, and be back in a few days, but they wanted to inject a dye to see the whole brain, and fully understand the extent of the tumor's growth. She did not want this procedure done, so they took me inside with her and showed me the tumor which was very large, in the middle of the brain. She also did not agree for surgery to be done on that day, so we left. In those days we were devotees of Singeri Shankaracharya Swamigal. I wanted to contact Him but because telecommunications were not that much developed in India, I couldn't.
In May, we went for the Kumbha Abhishekam, for the first time, after seeing Sri Swamiji in Setu Raman's house. While standing in the line for His darsan, Sri Swamiji said, "Pani Tha, Pani Tha" which means give me water, give me water. I could not understand exactly what that meant. Later one His senior devotees said, "They have built a small kuteera for Him, but He needs a water tank, otherwise He would not be able to take His bath.  He has devotees who would build a palace if He wants it, but He wants to take some of your karma."
I spoke to Swami Manasa Datta, in Mysore, by phone, who said that Sri Swamiji said that He had to perform Thaila Abhishekam the next day, and when that is over, your problem would be over. I told my wife, "some miracle would take place and nothing would go wrong."  The next day, Sunday, I called Swami Manasa Datta again about nine-thirty, in the morning, and he said that Sri Swamiji said that we should be patient and that only after one o'clock the Thaila Abhishekam would be over.
About ten past one, I called again and I was informed that Sri Swamiji had said that everything was over.  My wife told me, "That the weight on her head that was blocking her nose has disappeared. I can breathe better now, everything is fine." The next day the doctor told us that they see this kind of calcified tumor only during autopsy.  If it was a growing tumor, things would have been different; it takes about thirty or forty years for such calcification.
Afterwards, we went to Mysore, to see Sri Swamiji there for the first time. He said, "I have given another life to your wife because you need a wife and your child is small. Your wife is a doctor. She has to serve the community. Go and pay for the Thaila Abhishekam."  I went and paid a small amount.
When the second tumor came and she was becoming blind, Sri Swamiji was not there. From the United States He told to do the surgery; "I am with you."  We had to find a good neurosurgeon to perform the procedure. One of her patients, a neurosurgeon told her that there was a doctor from Veluur, a nearby town, who was qualified to do that surgery. That doctor advised us that they would do their best to clear it.
By then Sri Swamiji was in Anantapur, and told us, on the phone, that the surgery would start and be completed in the afternoon only and I will see her eating and drinking something afterwards. It turned out to be true.  Everything was removed, and no extra blood was required. A short time later, she came back to her office and started working, and at every step of our life, when we have a problem, He is there. .
In my job, things were not always fair for me for a long time. Some people wanted to hurt others, so they trump some unfounded charges and tried to frame me. I came and cried before Sri Swamiji about the situation. He said, "Padmanabhan, don't cry.  I am here. Nothing will happen to you." Later, a big propaganda, about the situation, was started in the newspaper, so I went and cried again before His Holiness. This time He said, "I am declaring kurukshetra; good wills always come."
Incidentally, nothing happened to me, but all those officials who were joining to malign me, got into difficulty one after the other, because of their own karma. The one, who wanted to become our government cabinet secretary, suffered the most. The second thing that happened was; t they all joined to conspire against me so that I would not get what was due to me. However, because of Sri Swamiji's Grace, I became Director General of Police, and went to the top ranks of the service.
The week before I was told about the promotion, I was with Swamiji for His Birthday Celebrations. The call came from the ex-chief minister that I was appointed Director General of Police. Sri Swamiji had gone for Biksha when I tried to tell Him. When I was leaving, coming from somewhere He saw me and said, "So you have become DGP." He already knew. I replied, "Yes, Appaji, but I need Your blessings."  He said, "Nandani, needana," meaning that, "I am you, you are myself." My mind became peaceful in spite of all problems.
I occupied that office for many years and did the service proud. On my retirement I was given a lot of felicitation and wishes for the future. The day I handed over the office, my successor had to face big communal clashes. In fact, the call came to me as if I were still the DGP. I said, if we are in the right, He will protect us.
The present Pontiff of Singeri Mutt was camping in Mysore, and He was invited to our Mysore Ashram. Sri Vhamsy Krishna Ganapathy called me and told me that I also had to go to invite Him, so I went. When He saw me He said, "You are my disciple." When I came back to the Ashram, Sri Appaji was coming from somewhere.  I prostrated to Him and He told me, "I am God for you."  Till then, He never said that He was God, but for me, He is saying that He is God. I checked with senior devotees, and they all said they had never heard Him say that to anyone; that He was God.  Bur for me, I don't have to look for God He is present in front of me. If it is just one instance, we can say it is a coincidence, but hundreds….how can we figure? Jaya Guru Datta