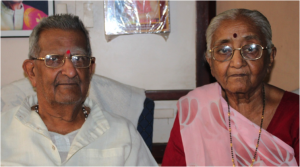 Neelakanth Shastry, Surat
When I looked at the form there, I was amazed to see the physical presence of my Guru, Sri Ranga Avadoot Maharaj, although He had entered into Samadhi a few years earlier.
In my early years, I was trained in the footsteps of my father and forefathers, who were Vedic scholars. In the year 2011, I am eighty five years old and I am still practicing and living in Surat, India. In those early years, there was a boy Mahashankara Dave, who lived in Sagrampura and was taught by my father how to pronounce Vedic mantras. After awhile Sri Dave left for Kampala, Uganda. Later on he made his home in London, UK and was known as 'London Kaka'.
During those years, Sri Ranga Avadoot Maharaj, a disciple of Sri Vasudevananda Saraswati Maharaj, was making waves as an incarnation of Lord Dattatreya. In Gujarat, Sri Ranga Avadoot moved freely and had set up His ashrama on the banks of the River Narmada. Sri Dave was a leading priest for the followers of Sanatan Dharma.
While living in the UK, Sri Dave was visited by another incarnation of Sree Guru Dattatreya, Sri Ganapati Sachchidananda Swamiji. Sri Swamiji would travel the globe and sometimes visit London as part of His tour. During one such tour, Sri Dave invited Sri Swamiji to visit Surat in Gujarat State. He was keeping a house at Jamnanagar, Surat. Sri Swamiji agreed and in 1989 He made an inaugural visit to Surat.
As a friend of the family and an upholder of dharma, I was invited to have the darsan of the divine personality. When I arrived, Sri Swamiji had completed performing the Sree Chakra Archana and was giving a spiritual discourse while rendering some divine bhajans in His mother tongue. Sree Radhakrishna, Swami Manasa Ananda Datta Pada Renu, was translating in English, and an ordinary matriculate local person was translating in Gujarati.
When I looked at the form there, I was amazed to see the physical presence of my Guru, Sri Ranga Avadoot Maharaj, although He had entered into Samadhi a few years earlier. Later I was introduced to Sri Swamiji and He elected and selected me. The next day, the film Datta Darshanam was being projected and Sri Swamiji directed me to sit just next to Him and narrate the episodes in the local Gujrati language. Silently, in spirituality, He lifted me up.
Lord Dattatreya had taken sixteen Avataras. Sri Swamiji had taken a sankalpa to build sixteen Datta Kshetras throughout India, all from the proceeds of the Film, Datta Darshanam. In 1991 Leela Vishvambara Datta was installed at the Surat Ashrama, in a beautiful temple situated in the hinterland of Surat. The inauguration ceremony and Kumba Abhishekam was done with pomp and glory, and everything was gracious and splendid. Today, that hinterland has become a mega metropolis with an international airport.
Sri Swamiji knows His devotees, He has said that when He is ready He goes to their place and finds them, and I am fortunate that He has found me. In my family, there is a linage of Datta worship. In 1914, my late father was fortunate, in Garudeshwara, to have the darsan of Sri Vasudevananda Saraswati Maharaj, an incarnation of Sree Dattatreya, who gave him the Saraswati mantra, in writing. This is our wealth. Then later on I became a devotee of Sree Ranga Avadoot Maharaj, another manifestation of that great Lord.
I was initiated by Sree Ranga Avadoot Maharaji who was benedicted by Tambe Swamiji at Narsobavadi. He was born in Godhara, Gujarat, and a staunch devotee and aspirant, the one who propagated the Datta-cult in Gujarat. It is a unique instance, where my father and I were honored by the Gujarat Government as Shukla Yajurveda Pundits and given a special award with Certificate of Merit by the Central Government at New Delhi Rashtrapati Bhavan. I was also awarded the title of Asthana Vidwam by Avadoota Datta Peetham. My wife, Kalawati, whom Sri Swamiji calls 'Amma' and my whole family, believes that Sri Ganapati Sachchidananda Swamiji is the personification of Lord Dattatreya.
Sri Swamiji knowing that my father was Poorna Abhishilita in Sree Vidya Sect, has blessed me in the cult of Rajarajeshwari Tripurasundari Lalitamba. It is a great privilege for me to have the blessings of this great Mahapurusha Sri Sri Sri Ganapati Sachchidananda Swamiji. Jaya Guru Datta