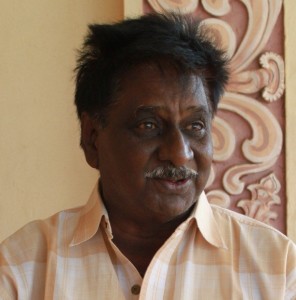 P Kondala Rao, Pithapuram
There Sri Swamiji was sitting, giving us His darshan. I have never seen Him like that. Looking at the radiance in His face I wondered, is He human or Angel?
Initially we did not know about Sri Ganapati Sachchidananda Swamiji. It is a miracle to know about Him. I met Him for the first time in 1992. We used to worship Shiridi Sai Baba, and every year we would take Ayyappa Swami Deeksha. The entire year of 1992 was full of heavy rains; it flooded everywhere. But still, we were determined to make our trip to Shiridi. We started Sai Parayana also, chanting of Sai Baba life history. Then, there appeared a line on the picture of Sai Baba. It gradually extended into the form of zero. Everybody saw that. We were all surprised.
That program got cancelled. We could not make it to Shiridi, because of those rains. Then we said to ourselves, Sai Baba, we could not have Your darshan now, but if Your Avatar exists anywhere on this earth, You have to show Him to us. So we prayed, and prayed and prayed again. Then the line again appeared, but this time it's not in the form of zero, and we did not know what it meant. In that year, all road transportation got cancelled, because of floods. We started our trip to Shiridi in a hired private bus. We just crossed Kurnool and reached Mantralayam where the journey got interrupted, our bus was stopped. The people over there stopped our bus and said the way ahead was totally flooded and that we could not go any further. Villages like Ballari were full of water, and they told us to go back. We wondered perhaps this is what the meaning of the line that appeared on the picture of Sai Baba might be. We decided to take a different route now, and came to Mysore, through Bangalore.
There was one Post Master Swami in our troop, he said "There was a person who used to work in our department who has attained many powers and He has become a Saint. Shall we have His darshan? "We were on the quest for a spiritual Guru, someone who is an incarnation of Sai Baba. So we sent the rest of our team to hotel and entered into the Ashram for the first time. It was about 4 .00 pm, and at that time, Janaki Garu was at the counter. She told us to come back at 7.00 pm to have darshan.
We went back to the hotel, brought the rest of our team along with us and we had our bath and everything in the ashram, we also performed Ayyappa Swami Sarana Pooja then and there. There Sri Swamiji was sitting, giving us His darshan. I have never seen Him like that. Looking at the radiance in His face I wondered, is He human or Angel? That's my experience. He received us with a beautiful smile, and invited us as if we are known to Him since long ago. We went in, sat on the floor in front of Him and He continued to look at us with a cheerful, pleasant face, smiling beautifully at us, giving us a wonderful darshan.
Then He sent a message to us, stating we could take leave as it was getting late for our next day program and gave permission to have pada namaskarams. We could not take our eyes off of Him while doing the pada namaskara, he was literally glowing. Thus we had a wonderful darshan of Swamiji and came back, successfully completing our trip. We were glad that we could make a successful trip and return, but never expected that our relationship with Him would be such a deeply bonded one.
Later on, I would see Sri Swamiji in my dreams. I wondered why He was appearing in my dreams, what is this attachment? He had no devotees around in this area. I inquired around, and came to know that there are two business persons, Smt. Vijayalakshmi and Sri. Narasimhamurthy, who are His devotees, close by. There was one person, Gouda, in the village of Vedurupaka and who initiated Datta Homam in the Kukkuteshwara temple of Pithapuram. I decided to attend the Datta Homam, where I also happened to meet the devotee couple, Vijayalakshmi and Narasimhamurthy. They gave me a few pamphlets and invited me to their house the next day.
I visited them, and they gave me a huge bound book, a Biography of Sri Swamiji. They said I would know more about Sri Swamiji if I read it. I finished reading that book in about five days without stopping, except for taking meals and attending nature calls. After this I began to understand a little about Sri Swamiji, I thought that He was a great man; a celestial personality and thought He is one among the Gurus. I still did not gain complete faith though.
Whenever Narendra, another devotee, from Gokarnam came to Pithapuram I would visit him. Once, in 1993, he looked at me and said "Sri Swamiji is looking for you, go to Mysore immediately". I was extremely surprised, how could someone so great like Sri Swamiji want to meet someone like me; a very normal, simple person? I did not even know how to take a train to Mysore, I only knew bus routes. However, I went to Madras, and from there I took the Brindavan train to Mysore. I met a person on the way who took me all the way to the Ashram and left me there. That is how Swamiji's arrangements are going to be for us, making things smooth.
I went inside and saw Sri Swamiji. But then, He would not look at or talk to me. A few days went by like this. My wish was to get an Ayyappa Mala from Sri Swamiji's hands, i.e. that I should take the Ayyappa Deeksha from Sri Swamiji. When He is not even looking at me, where He is going to grant me the sacred garland (Ayyappa Mala)? After searching throughout Mysore I found one small chain of Rudraksha, a very small and delicate one. Then I got the opportunity to take Sri Chakra Pooja Prasadam from His hands. Everyone left, and His Holiness was about to leave also.
There were some discussions going on between some other individuals and Sri Swamiji told them to take it inside. Then He called us near to Him and asked us "What do you want"? I said "Swamiji, I would like to take this Ayyappa Mala from Your hands, I want to take the Ayyappa Deeksha from You". Sri Swamiji took the mala and my wish was granted, I got the Ayyappa mala, the Rudraksha chain from Sri Swamiji's hands. This chain is so delicate, it could break very easily, but it remained intact, around my neck, for the forty days that I was in the Deeksha. I did not change it.
I realized then that Sri Swamiji is so powerful; I started worshipping Him through His picture. In 1994, we asked Him to bless us with His Padukas. Swamiji said, "Which town are you from?"  We said we are from Pithapuram. Then He said, "I want a temple in Pithapuram. That is the place where Sripada Sri Vallabha Swamiji was born. Could you acquire some land for that purpose?" We replied that we would do our best in acquiring the land. Then He said, "You go ahead and be on the job, the others also will join." To get a good piece of property we needed three to four lakhs of rupees. Each of us contributed little by little and bought about one and a half acres of land. Ten individuals, all 'non government officers' from the surrounding villages of Pithapuram formed the first 'Board of Trustees'.
There were a couple of temples already in Pithapuram, and they were telling us, why you need one more temple, why can't you just join with us. They were questioning as to how we were going to construct the temple, as it would cost a lot. With confidence, we said, "Sri Swamiji, our Guru will take care of that." We traveled around asking people from different villages to contribute, even if it is for one cent of land, maybe two thousand, three thousand rupees. In those days one cent of land, (436 sq. ft.) would cost about two to three thousand rupees.
We traveled like that through twenty-four townships, and whatever one contributed, as per one's own capacity, we collected. During those days, not many knew about Lord Datta; only a few folks who were into the business profession knew about Him. In every village we would conduct a session, gather people and explain about Lord Datta. Finally we collected eight lakhs and seventy thousand rupees. We informed Sri Swamiji about this and He said "Very good. You will always be in my heart. The elders will come and take care of the other things". We were extremely happy. What more do we want, if we could be in His heart?
We all went back to our homes happily. Till then we only had a society registered, but not a trust. Once, the manager, Mr. Subbarao, called me and said that Sri Swamiji would like to see me urgently. I went to Him and He said "you form the trust and register it". I said there was not much time to do so, but after He insisted, I came back, and with some of the old and new members formed a trust and registered it. After this, Sri Swamiji said, "Now, the one who is going to construct the temple will come there. You be on your jobs". We thought Swamiji again put a responsibility on us.
Each of the trust members contributed between ten and eighteen thousand rupees each and the construction began. During the construction, 1999 Sri Swamiji arrived in Pithapuram. During that session He addressed the Inspector General of Police, and said: "Ramanamurthy, all these are my devotees. They have love, and devotion, but they don't have money. You too are from Pithapuram and for a long time it is your wish to serve. So be here and offer your services, be part of the temple construction".
IG Ramanamurthy called all the trustees to Hyderabad and we discussed the temple construction, planning. Everything was taken care of. Construction costs were estimated at forty lakhs. IG Ramanamurthy pledged twenty lakhs, and the trustees would take care of the rest, and we were happy about the developments. We then traveled to Vijayawada with all the plan documents to show them to His Holiness. After seeing the plan He said it is too small, He informed us that it should be a big bungalow type of construction, and proposed His plans.
Again we spoke to IG Ramanamurthy and he came up with an estimate of one crore rupees for the construction. We were wondering where the money will come from. In His wisdom Sri Swamiji made a public announcement for the people to contribute, what all we trustees did was in meager amounts. In this way, everybody got a chance to serve for a good cause and the amount got gathered. After the construction was complete, there was no Guru Nilayam.
Rajahmundry Ashram has a Guru Nilayam. They thought that since Pithapuram Ashram does not have a Guru Nilayam, when Sri Swamiji comes He would stay there and both the Ashrams would share the expenses. We were disappointed. After constructing such a huge temple, what if there is no place for our Guru to stay? IG said, "if you buy the land, I will construct the Guru Nilayam." We purchased a piece of land, literally overnight, from a person who lives in Vishakapatnam and started the construction. The Prana Prastitha and Kumba Abhishekam were exceptionally wonderful and colorful, amidst shimmering lights. More than two lakhs of people came for the event. That is the relationship I have with Sri Swamiji.
I should also tell you how I came to believe in Sri Swamiji. In the initial days, a great miracle happened. Such miracles we watch only in movies, but not in real life. One day, in December1994, Mr. Narendra came to me and said that Sri Swamiji asked him to convey this message to me, that my son is in danger. He informed me that I should chant the Datta Stavam nine times a day for nine days, keeping aside one fistful of rice for each chant. After nine days, I must prepare prasadam with that rice and distribute it to small children, and the negativity will be wiped off.
I did not believe it then, but since Swamiji said so, we did. In April 1995, while I was watching some workers, a huge coconut tree, of about thirty meters, fell on my son and he was trapped under it. About thirty people tried to lift the tree without success, it was that big. Then miraculously my son just got up as if nothing happened, uninjured without a single scratch. What a miracle? After this incident, I began to pray that this great 'Uplifter of the downtrodden' should come to Pithapuram. Everybody should receive blessings from Him. Sri Swamiji should move around in this area, this place should be blessed with His presence. In order for Him to come to here, a temple has to be built. Please, my Appaji, You should definitely bless us with a temple here in Pithapuram; so we prayed. Then Sri Swamiji said: "I will grant your wish". So He granted us our wish.
In 1999, I was scheduled for a back operation. Swamiji told me not to worry, that He will be with me during the operation and I could bravely go for it. During that time, the Lord Datta Venkateshwara Temple was being inaugurated. I couldn't go for the program for I was in bed. However, with His grace Sri Swamiji showed me the entire scenes, from the program live, in my dream. It as like watching a movie; I could see the Conch, Disk, and the Crown of Lord Venkateshwara clearly. Such is the compassion and mercy of Sri Swamiji. His is an unfathomable compassion. Usually, we pray to God, and only if He grants us something, we would offer Him something in return. But Swamiji is Sadyo Jatham. If He grants something, it will happen at any cost.
In my astrological chart, it is said, there is no house in my destiny. I may have money and everything but they said there is no house. I bought farms, earned a lot, but could not construct a house. I never asked Swamiji though. However, recently in Ganagapur, I took the interview. I requested Swamiji to grant me a house. Swamiji said, you don't have a house in your destiny. "But still Swamiji," I requested. I prayed to Him and when I got back, I bought two houses. This is the latest miracle in my life. What more do we want? God is not located elsewhere. In my perception, He Himself is God.
I used to listen to Swami Suprabhatham, Dattatreya cassettes. He brought me in line gradually, on the spiritual plane. After He entered into my life, He consolidated my devotion towards Guru. Actually the one who showed me my Guru Ganapathi Sachchidananda Swamiji is Sai Baba. Carrying Sai Baba's picture we went to Him. I feel that there is no difference between the two. In that life time it's Him, in this life time it is Sri Swamiji. It is only one soul; it is the Datta's incarnation.
Since then, very importantly, I have lost fear. There are no fears about what is going to happen in life. There is only one assurance; He is there, no matter how much losses are incurred, no matter how much we gain in business. He gives, and if it is lost, He has taken it away, and it's for some reason. This kind of detachment and courage I have achieved. All these folks around here are also part of it. There are many experiences to share, its going to be a big episode. There are many incidents, small, small ones.
He gave me rebirth and He gave my son rebirth. The other materialistic things are there, also given by Him. After meeting Him, I have not been deprived of anything in my life. No tensions. Life is going smooth, happily.
Jaya Guru Datta