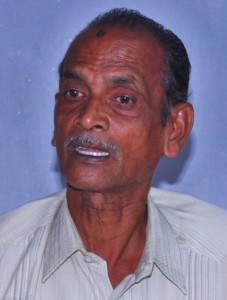 P S Venkateshwaram, Produttur
Then Swamiji said, "I am Satyanarayana. I am Satyam, I am truth, and I truly came here".
I am P S Venkateshwaram, a childhood friend of Sri Ganapati Sachchidananda Swamiji whom He calls Vengudu. Sri Swamiji and I were studying at the Produttur Municipal High School when He was in seventh or eight standard. He used to study very well. He used to visit my uncle's hotel and play with us there, with me and my uncle's sons. If we were sad or something, He would go into meditation, materialize a banana, a laddu or something nice, and He would give it to us. That would make us very happy; we were just kids, did not know too much. But still we used to play around together happily. When we were with Him, there was no fear, no suffering and we used to be very happy. We were always playing, totally immersed into it. No other thought when we were in His presence. There was nothing else we did. That experience cannot be put in words, it is illimitable.
His name was Satyanarayana, but we used to call Him as Satyam. Each day would He accept food from a different house in the area. On Mondays, He would have meals in one house, on Tuesday in another, on Wednesday in another, and so on and so forth. Also, in that area, there was a temple of Lord Eshwara. Satyam along with His sister, Varalakshmi, and paternal aunt, Venkammattha used to stay there in those days.
Chandru, my uncle's son was His dearest friend. He had such a good heart that he used to help them a lot. It was merely out of his friendship to Satyam that he was helping them. He was such a nice person that he did not even feel that he was helping. It was a kind of affection he had. Even now when Sri Swamiji sees us, He receives us in the same manner, addresses us the way He used to do when we were young. He calls Chandru by his name, and his elder brother Bala as Mr. Bala.
Satyam was one among our families. He used to move around as part of our families. We used to play different games like glass balls, stick and ball etc. He would also run chores in the house in which He would take Bhiksha (meals), foresee some good things for them, make the household folks happy, only then He would leave. In this manner, He would cheer us all up in many ways. As long as He was in Produttur, it was so beautiful.
After He became Sri Ganapati Sachchidananda Swamiji, He came back to Produttur one night, in the early 1960s at around midnight; He came to my uncle, Subba Mani's house. And He was calling for Bala, in a loud voice. We all wondered who He was, especially coming at this hour of the night. None of us knew who He was, we were all confused. Then Swamiji said, "I am Satyanarayana. I am Satyam, I am truth, and I truly came here". He repeated these words to everyone there, and later we realized who He was, He was none other than our childhood friend, Satyanarayana. We were so surprised to know that our Satyanarayana had become a Swamiji.
There were many cows in my uncle's house. But none of those cows gave any milk at all since that morning. That night, after Swamiji arrived, the cow gave milk. This surprised everybody. We offered that just milked, warm milk to Swamiji and He gladly accepted it. We were all so overwhelmed with joyful surprise. He granted us a blissful experience with that incident.
In this way Sri Swamiji blessed each one of us; Bala, Ramani and myself, whom He calls Vengudu and Hanumantha Reddy, with joyful, divine experiences. At this time we were all together again and started conversing with each another. We all have beautiful experiences with Him and full faith in Sri Swamiji. He alone is our anchor, our companion, and our shelter. For anything Sri Swamiji is there for us. He pampers us so much. He says: "Okay, go, I will take care of it, I will do it". No matter what the task is, it gets accomplished.
My marriage, my begetting children, and my son's vidyabhyasam (start of education) ceremony, all these happened with the grace of Sri Swamiji's blessings only. My son, V. V. Arun, studied well, did MCA, got very good grades and is in a very good position with Cognizant Technologies. When he got married, we prayed to Sri Swamiji, and he got a very good bride, who works for Sathyam Computers. Everybody is doing great. His grace is immeasurable. There are no bounds to it. If we trust Him wholeheartedly, He would show us the way in one form or another, He does well for us, everything is going to be great. We have been experiencing this since childhood, feelings cannot be described, they are beyond words.
We were close to Him when we were children, would address Him as "Satyam". But after He became Sri Swamiji, even though we would keep ourselves at a distance, He calls us near Him. When He sees us He says: "Vengudu! How are you doing? Take this". My father would make halwa (a sweet delicacy). Sri Swamiji calls him "halwa Mani", He is so close to us, He is nearer and dearer to us than our relatives, He is our Soul-Relative. In this way He brought us close to Him.  We all have close ties with each other, happily living together. Now I work in His Vellachery Ashram which is located in Bibi Nagar, Chennai. He blessed me to be here, He Himself instructed me to be here in this ashram. With Swamiji's grace, I am doing well.
I was re-introduced to Sri Swamiji by Ranga Rao, as a relative of Ananda Rao, proposing to let me stay here in the ashram. Then Swamiji said "He is not Ananda Rao's relative, He is my relative, My Vengudu. Let him be here, he will look after the ashram". My father's name is Mani Iyer. He meditated all the time. He used to walk to Ramana Maharishi Ashram everyday to meditate, located about 2 kilometers away. The Shiva temple where Swamiji, His sister Varalakshmi, aunt Venkammattha were living is one of the oldest temples. His aunt Venkammattha used to be extremely strict. She was an advocate of Hatha Yoga. She would wake up Swamiji very early in the morning to practice Hatha Yoga.
As a child, He was a very good boy. He would give a chocolate or something. We were always playing the game of glass marbles. It is a game where the player hits one marble with another, similar to baseball. Suddenly He would give something to the one playing; a chocolate, a laddu or something else, and the one who is about to hit the marble goes unvigilant. In this way He always won, however, at times He would also let others win.
An early indication of His future was that Sri Swamiji was not too interested in academic studies, but He would recite a poem, whether it was in Sanskrit, Telugu or any other language which He may have just heard once, without any mistakes. He would solve, a just given, mathematical problem in front of the entire class, confusing even the teacher, such a problem that requires some work from someone else. He would give the answers right away.
Every year we keep meeting Him and I am blessed with good fortune and a good life. This is all out of His merciful grace. There is no me, without Him. Even today, He affectionately speaks with me, and whenever He sees me, He inquires, "How are you doing?"                 Jaya Guru Datta