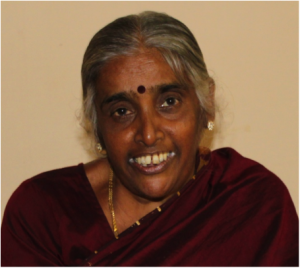 R Ramamani, Mysore
I saw Sri Swamiji sitting, under a tree, with a snake around His body. He called me and had me touch the snake's body; it felt really cold. At that I experienced Him as Lord Shiva.
When I was about thirteen years old, my mother used to visit a young swami in the electric colony of Kesare, a suburb of Mysore. My mother, Jayamma, love for this boy knew no bounds. Everyday she would visit Him and perform whatsoever service she could do. On occasions I will accompany my mother there.
My first remembrance of His Holiness Sri Sri Sri Ganapati Sachchidananda Swamiji spectacular life was in July/August, 1964. There was a serious drought in the area, and no rains were in the long term forecast. Then, for the first time, Sri Swamiji asked us to do Ganga Pajanya. We started saying the mantra which he gave us; "Om Sri Shiva Ganga Medha", and within a short period, the rains came pouring down. Although Sri Swamiji was not present in the Ashrama at the time, I knew that He was a person with supernatural and miraculous powers. Since that time Mysore and its surroundings have not suffered from any major calamities.
From that day, the whole family started visiting the little ashrama in the electric colony. Lots of people started coming to see Sri Swamiji, and the once sheepishly alcove became a very busy place. People from all walks of life were seen coming seeking the Blessings of Kesare Swami or Satyananda Swami, as He was called then. Then on June 6th 1966, the ashrama was shifted to the present location on Ooty-Nanjangud Road.
The ashrama was made to look as the abode of Lord Indra, and all the senior devotees were present. However, when His Holiness wanted to move to this ashrama, devotees were skeptical; they thought that this place was not suitable for Him. The little area was densely forested with a lot of wild animals and snakes. There were snakes everywhere, and Sri Swamiji will actually catch-a-hold of them and place them in baskets.
He would sometimes use this as a therapy to cure the visiting children from their fears of snakes. Under His direction and protection He will have them touch and play with these snakes. During my first visit to the new ashrama, I saw Sri Swamiji sitting, under a tree, with a snake around His body. He called me and had me touch the snake's body; it felt really cold. At that I experienced Him as Lord Shiva.
After completing my BA degree, I applied for a position in the Government Service, when the list came out my name did not appear on it. His Holiness learnt about this and traveled to Bangalore, on a Saturday, to meet with a fellow devotee, Padma, and asks her, "Have you taken the responsibility of the children of my mother, Jayamma", she said "No Baba, when you are there you are the person who takes the responsibility, how can I do that?"
He then told her, "Do not interfere in anybody's family matters, you prostrate before and don't take any responsibility for them". She replied, "Only Swamiji can help us". A few days later, on Tuesday, I received a appointment to an ordinary post in the service. I immediately went to the village to where I was posted, and by the time I got there it was late in the evening. I was advised to stay overnight and start work in the morning.
At about 9.00 pm, at the Ashrama, my sister told my mother that I did not returned home as yet. My mother became worried, went to Sri Swamiji and told Him about the situation. He advised her that she shouldn't worry as the girl had gone to submit some paperwork for a new job in that village, and she will return tomorrow. Without anyone telling Him anything, Sri Swamiji knew, exactly, all that was going on. The next day I came to ashrama to tell Him about the appointment, and He said, "Yes I know, you went there yesterday". From that day, we no longer worry about anything; He takes cars of all our affairs. Even though we have been with Him for more that forty years, each day is like seeing Him for the first time.
My mother was diagnosed with cancer which was set in the third stage. She had been using ayurvedic medicines for her ailment. Sri Swamiji told her that she should go for surgery and that she should stop using those medications. During the surgery, Sri Swamiji called the ashram's manager, Mr. Bhagwat, and asks him to sit with Him at the Sachchidanandeshwara Lingam for some time. After awhile Sri Swamiji told Mr. Bhagwat that all is well, the operation is successful, and now she will live for many more years. We were so happy to see the ways in which He takes care of His Devotees.
My mother stayed with us for another eighteen years after this incident, without any other treatment. She saw the marriage of both my sister and I and was very instrumental in raising our children. She received the guidance and strength necessary from Sri Swamiji, and He sometimes visited her in dreams. To her, He was the beginning, the end and the continuation. We can never express enough gratitude to Him.
Once a relative had consumed some poisonous substance and then came to the ashrama to tell this to Sri Swamiji. His Holiness threw him on the Narayana Peetha and had him stay there for about half an hour. When he came down he was feeling better and Sri Swamiji allowed him to leave after some admonishment. Later he was married to a wonderful lady and had a few beautiful children. This shows that even if you err and than seek His presence, He will definitely help.
Sri Swamiji guided us through these times, even without asking. He knows what each devotee needs and when to give it. He is more that a family member to us; He is everything. We cannot serve Him as much as He serves us; we do not know how to be grateful to Him. We know that He is not only protecting and guiding us, but the whole universe. He guides and protects each and every devotee. What can we give to Him, except to offer our service to His Lotus Feet?  We pray that His physical frame stays with us for a long time. Jaya Guru Datta
Sri Swamiji Says: 
Some people go to a cinema theater and during the interval they get a doubt whether they have locked the back door of their house. How can they enjoy the show when such doubts and fears pester them? This is thenature of an unsteady mind.