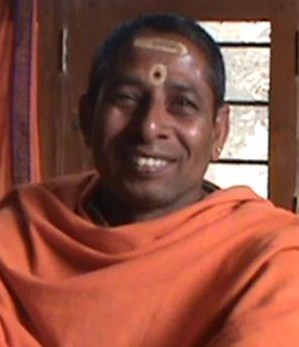 Swami Sahaja Datta Pada, Mysore
"Swamiji, you give so many things to your devotees, how come you never give me anything?"  He looked at me and said in the most compassionate voice, "I don't give you anything, for I have kept you in my heart."
In 1970 I was residing in the city of Mysore in a place about one kilometer from the Mysore Ashrama. A devotee from the Ashrama, Mr. Nagaraj, used to come to my town to play tennis with my brother and other friends. One day he invited me to come and learn yoga at the Ashrama. I went to the Ashrama and began learning yoga and meditation. I grew to like it very much. I saw Sri Swamiji at the Ashrama; He used to conduct the yoga classes.
I used to go to the Ashrama around 4.00 o'clock every morning, prepare myself and wait for the class to start at 5.00 am. Sri Swamiji demonstrated the yogic postures Himself while teaching us. At times when I struggled with the postures He would come and help me and push me to do it, assuring me that no harm will come to me. My family did not like me going to the Ashrama and they scolded me a lot. Despite all the scolding and abuse I received, I never stopped going to the Ashrama. Over the course of time I left my home and went to live in the Ashrama. Even to this day my family has no contact with me. Yoga attracted me to Sri Swamiji.
In 1974 Sri Swamiji took me along with Him to Vijayawada for a Yoga Camp. It was held at the Venkateshwaram Swami Kalayana Mantapa at Labbipet. At the camp, He trained me to teach the Yoga. So I began teaching and practicing on a larger scale. I would meditate for long periods of time. One day in the Ashrama I went to my room, bolted the door, sat under a mosquito net and began meditating. Six hours passed and I was still meditating, I was unaware of time, suddenly I felt cold water falling on me. I snapped out of my meditation and saw a devotee with a bucket standing next to me. He said that Sri Swamiji was calling me a while now and they were searching all over the Ashrama for me. He said my room door was locked and he had to break the door down to get in. When I went to Sri Swamiji He said to me, "Don't do this practice until I tell you! Just do physical service for now!"  Thus I began doing chores around the ashram.
In those days the Ashrama had a lot of scorpions and snakes. I used to clear the ashram grounds by removing the bushes to ward off the animals. One day Sri Swamiji told me to start learning how to do handy-man work around the Ashrama. I started doing electrical works, helped with the water supply and buildings little things. Gradually I learned to perform these tasks like a professional. I did some foolish things in the process also, but Sri Swamiji was always there to protect me.
One day I fell down from the fourth floor of the Rama Shankara Kuteera. During that time, Sri Swamiji was in Vijayawada and He was about to offer a plate of prasadam in the pooja He was performing. At that moment, the plate fell from His hand and crashed on the floor; He stood motionless for a few seconds. When He composed Himself He told the audience there that something had happened to a devotee in the Mysore Ashrama. He was referring to my fall. He took all my injuries and pain and so nothing happened to me. Such is His love for His devotees.
On another occasion I was working on the electrical system in the Rama Shankara Kuteera. I sat on the stage working with some electrical wires. All of a sudden all the wires began to spark sending out electric shocks. I was thrown back and forth a few times until I fell into a pit in the middle of the stage. As I landed in the pit the shocks stopped. Under normal circumstances I should be dead, but under the protective hand of my Guru, I was saved.
At one period of time, I began eating a lot of food; buckets and buckets of cooked rice. Somehow I used to digest it. I was possessed with the spirit of a Brahma Rakshas, who was a dead Scholar of high birth who had performed some evil misdeeds in his life or did not impart his spiritual knowledge. This was a very powerful spirit and can only be liberated by God Himself. As Sri Swamiji is seen as God incarnate, He exorcised me of the Brahma Rakshas and freed the spirit.
In the early days Sri Swamiji used to go in the fire pit during the Shivaratri festivals. On one such occasion after He performed the very elaborate Agni Puja, He jumped into the fire pit and stayed for about twenty minutes. There was a foreigner sitting in the audience with doubts in his mind about Sri Swamiji bringing out things from the fire pit. He thought maybe it is a big trick and Sri Swamiji has planted the items in the fire pit. When Sri Swamiji came out of the fire pit, He had in His hands a lingam and a saligrama. He called out to the same doubting foreigner and asked him to open his palm. Sri Swamiji then thrust the hot saligrama into his palm. It burnt the palm of his hand. He was astonished to know that Sri Swamiji knew what he was thinking. He became one of Sri Swamiji's angels. Thereafter, Sri Swamiji rubbed sandalwood paste on his burns and it was healed.
In those days, the poojas for all the festivals were more elaborate and went on for longer periods. For the Navarathri Festival Sri Swamiji would sit for the nine days in the Peetham and perform the poojas. We had the good fortune of lifting Him bodily and shifting Him in different directions for the performance of the poojas. One grand festival was when Sri Swamiji performed the Purnima Feeding. On every full moon day He would feed all the people gathered, including myself, and then He would eat. In order to eat with Him we used to have seconds. Those were some of my cherished intimate moments with my Sadguru. This Purnima Feeding still goes on today at the Sri Datta Venkateshwara Temple. Even now, sometimes the students in the Veda Patashala get the great opportunity to eat with Him on this occasion.
Over the years, as time passed my entire life became Sri Swamiji's. I lived and served in the ashram, which is my home. The Datta devotees became my family. Sri Swamiji used to take me along with Him on His trips to numerous places in India. I had the good fortune in 1995 to accompany Him to Mount Kailash. Then ten years later I went back to Mount Kailash with Sri Datta Vijaya Ananda Teertha Swamiji.
For the celebration of Shivaratri in 2000, I was with Sri Swamiji in Haridwar, North India. A few days before Shivaratri, He told some devotees that He will give them Deeksha on Shivaratri day and He instructed them to perform various religious rituals to prepare for this event. The morning of Shivaratri came and Sri Swamiji asked me, "Will you take Deeksha?" I told Him, "I will do whatever you want Swamiji." He then said, "OK be prepared to take it." Later in the day He initiated me into Sadhana Deeksha. He gave me orange clothes to wear and He gave me the name Sahaja Datta. The name Sahaja came from the first of the scale of musical notes Sa, in the musical scale of the notes Sa, Re, Ga, Ma, Pa, Dha, Ni. These notes are the shortened forms of the names, Shadja, Rishabh, Gandhar, Madhyam, Pancham, Dhaivat and Nishad. The name given to me by Sri Swamiji was formed from the base word of Sa in Sagara, (ocean) referring to the Samskara, the ocean of birth and death. I became Sahaja Datta on that day and my life changed directions. I took the path chosen for me by my Guru, Sri Ganapathi Sachchidananda Swamiji.
I used to be close to Sri Swamiji when He interacted with His devotees. I saw Him materialize many trinkets, talismans, puja items, idols etc. Observing this over a period of time, the thought came to my mind that He had never given me anything. I nursed that thought until one day I could take it no more I asked Him, "Swamiji, you give so many things to your devotees, how come you never give me anything?"  He looked at me and said in the most compassionate voice, "I don't give you anything, for I have kept you in my heart."  I stood there frozen, until He said, "If you want I can give you something…." I quickly interrupted Him and said, "Swamiji, I just want to be at your feet and serve you, in all my births." He said, "You just chant Guru Deva; that's all." I was humbled by His nectarine words. Those words still echo in my heart, even to this day. "I have kept you in my heart." Jaya Guru Datta