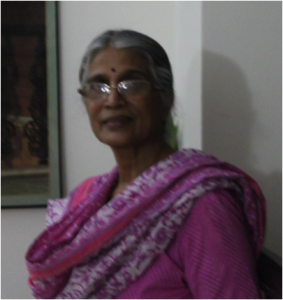 Usha Darshi, Delhi
Once, I was crying and telling Sri Swamiji about my friend's problem, He also began crying and then He told me that Hecannot do anything for that person, for that is their karma. He said this and then He kept on crying with me. Such is His love for His devotees.
By 1971 my husband, Darshi, was already a devotee of His Holiness Sri Sri Sri Ganapathy Sachchidananda Swamiji, and he encouraged me to meet Him when He was visiting Hyderabad. We traveled to the airport and welcomed Sri Swamiji with aarti. Sri Swamiji gave a pendant to my husband, for protection and, for the first time, I had His darshan. I was happy, and felt honored to have His darshan. This meeting was the foundation for my spiritual journey with Him. For the next few years I would listen to devotees speak about Sri Swamiji, and how He changed their lives. Darshi would talk about Sri Swamiji and I was happy that they were being taken care of. Although Darshi's relationship with Swamiji started before I came into contact with Swamiji, gradually I too developed faith and became His devotee. With all our three children we made frequent trips to Mysore Ashram during their school vacations. Every time Swamiji came to Delhi, we would all go for his darshan.
In 1984 Darshi left his job with the air-force and we started a business. Problems started and the business was not doing very well. We were having financial problems. During this time, at a Satsang in Delhi Ashram, Sri Swamiji was giving a discourse on 'dukha" (sadness) and how we should look at it. In the session, he mentioned, "Darshi has hundred and ten dukhas and yet he has a smile on his face". The smile was there because of his total faith in Sri Swamiji, that no matter what, Sri Swamiji will not let him fall. This is the faith that continues in our family. Sri Swamiji always puts us back on the track with our faith intact.
Due to the financial problems we faced in the business, family and friends were advising Darshi to go back to the Air Force. Around that time he invited Sri Swamiji to come to our house for Pada Pooja. When He came, we performed all the poojas and sat down with Him for a private interview. My sister was with us and she told Sri Swamiji about our failing business. We discussed with Him the option of Darshi going back to the Air Force.  Sri Swamiji then told my husband to wait for another five months.
Exactly after five months Darshi's friend, unaware that we were considering rejoining Air Force, came to our house with the paper work for him to fill out so he could return to the air-force. Darshi was hesitant, saying that he has to get permission from Sri Swamiji. I reminded him that Sri Swamiji had said that we should wait for five months. I understood that when He said wait for five months, something was coming our way. Understanding this as Sri Swamiji's blessing, I convinced Darshi to apply for rejoining the Air Force. Our life became better. We moved into a new house and were all quite happy.
Darshi was satisfied with this turn of events. It also gave him opportunity, many a times, to make trips to Mysore to have Sri Swamiji's darshan. On one occasion Darshi asked Sri Swamiji what was the reason for him leaving his job at the air-force and then re-joining five years later. He said that for Darshi's own good, He kept him away from the Air Focre for those five years.
I had developed a skin problem which the doctors said was due to stress. I used to worry a lot about Darshi's safety on his job. Because of my shyness I was hesitant to tell Sri Swamiji about my skin problem. One day He visited our house in Delhi, and He himself asked me what was wrong? I told him about the psoriasis I had on my neck and hands and showed it to him. He looked deeply at my neck for a few seconds and then asked me what medicine I was using. I told him I was using a prescribed medication but had stopped it and started using coconut oil. He advised me to go back the medicine I had stopped. I did that and all the Psoriasis cleared up from my neck and hands.
One evening, I was sitting at home reading, when I had this vision of Darshi with bandages on his head, legs and hands. That day Darshi was expected to be on a flight. The vision scared me because I thought that Darshi might be in an air crash. Soon afterwards Darshi arrived home covered in bandages. He had been in a road accident, which could have been fatal. He was knocked unconscious and had several injuries all over his body. It took him several weeks to recover. Some months later we met with some devotees who were with Swamiji in Germany attending Kriya Yoga class. They told us that one day; Sri Swamiji told the class that Darshi had just been in an accident. They were asked to perform a special yoga for him and Sri Swamiji then told all the devotees that Darshi would be fine. That day was the same day that Darshi had the accident.
I was awed and humbled by this. I experienced Sri Swamiji's love for us. These incidents developed my intense faith in Sri Swamiji. As time went by I did not need to have miracles from Sri Swamiji to feel His love for me. Just by being in His divine presence I used to get this spiritual upliftment and felt quite contented in my heart.
In 2004, Darshi was diagnosed with Parkinson's disease. He suffered for six years and all through his deteriorating condition he had full faith in Sri Swamiji. We would ask him if he wanted to convey any message to Sri Swamiji and he would smile and say that Sri Swamiji already knows all, no need to ask Him. However, whenever Sri Swamiji visited Delhi, Darshi would make full effort to travel all the way to the Delhi Ashram to have His divine darshan. Dr. Sudharshan Kumari, Darshi's sister, asked Sri Swamiji why Darshi's condition could not be improved. Sri Swamiji comforted her by saying that he was taking care of Darshi in a way that was best for him. Towards the end of 2009, Darshi developed pneumonia and had to be hospitalized in the ICU. Sri Swamiji instructed us to chant Hanuman Chalisa, which we did so diligently. Two weeks later, Darshi passed away. My children and I prayed to Sri Swamiji. We were convinced that this was His way. We accepted this humbly.
I understood by then that everything happens with His grace; not only good things, but even the bad ones. Either way, it is His 'prasad'. He alone knows what is best for us. Later when our family visited Mysore, Sri Swamiji kept his hand on his heart and told us that Darshi had come to Him ("aaram se mere paas aa gaya"). We were all relieved
Our older son Tanay is hearing impaired. Swamiji once chided me for using the word 'disabled' for him. He explained to me that Tanay was not disabled and that he has abilities and he uses a hearing aid just as some people use spectacles. Sri Swamiji's immense love, kripa and grace have always been with Tanay. Today he is working in an advertising agency in Malaysia.   Tanay met his wife, also hearing impaired, through the internet. During Sri Swamiji's visit to Malaysia, Tanay sought his blessings for them. They are married now and are both devotees of Sri Swamiji.
Bringing up Tanay gave me an insight into the difficulties faced by other challenged children. As a teacher I worked hard with these special children. I see them as beautiful souls and am thankful that I have been given an opportunity to serve them, with Sri Swamiji's blessings. In my daily sessions with these special children, I pray to Sri Swamiij and get His guidance in some form or the other. In 2000 I received two awards, one was the millennium award for teaching and the other was for Hindi.  When I told Sri Swamiji about the awards, He gave me a flower and said to me that this was His award. I was so happy for that was the highest award I could ever have received.
My brother was having marital problems and was going through a divorce where he could lose his daughter. I was worried about him. I was not able to visit Mysore to tell Sri Swamiji and He was not visiting Delhi either. A friend of mine told me to meet her Guru who was visiting Delhi. I went to visit the Guru with the thought in my mind that all gurus are one and if I speak to that Guru it is like I am speaking to Sri Swamiji.
I told the Guru about my brother's problem and He asked me if my brother chants the Hanuman Chalisa, I told him no, and he then told me to chant the Hanuman Chalisa for three months and keep fast on Tuesdays. I went home and began doing this sadhana. Before starting the chants I would pray to Sri Swamiji. I had a dream where Sri Swamiji came before me and I asked him if I should do the Hanuman Chalisa as instructed by the Guru. Then he told me to do it.  As the days went by I grew to love the chanting and it gave me so much peace. I thanked Sri Swamiji for the opportunity I had received to do this.
At the end of the three months my brother's divorce was finalized and he got permission to visit his daughter on every Tuesday. I've grown to love Sri Hanumanji and I know that He and Sri Swamiji is one and the same. Before my husband passed away he had written a Hanuman bhajan (Hai Hanuman Bahu Balwaan) and Sri Swamiji sang this bhajan at the consecration of the eighty-five feet Sri Karya Siddhi Hanuman in Trinidad West-Indies.
In our life there are no dos and don'ts, there is just Sri Swamiji; we just, "Jaya Guru Datta, Sri Guru Datta." The situation may not change but our hearts are changed. Once, I was crying and telling Sri Swamiji about my friend's problem, He also began crying and then He told me that He cannot do anything for that person, for that is their karma. He said this to me and then He kept on crying with me. Such is His love for His devotees. From this experience He showed me that He is in charge and not us. We, Darshi's family, lovingly accept all of Sri Swamiji's 'prasads' to us; our pranam and salutations to our divine Satguru, Sri Ganapathy Sachchidananda Swamiji.Jaya Guru Datta
Sri Swamiji Says: 
The gems and the creatures existing in the depths of the ocean can be seen by a man. If he applies anjana (a special collyrium) to his eyes, he can see the treasures lying hidden in the earth. But the secrets of his inner most thoughts cannot be assessed even if he applies anjana millions of times to his eyes.
It is necessary to learn, but book-knowledge does not lead to liberation. Only silent prayers, joining with God in our heart leads to that Goal.