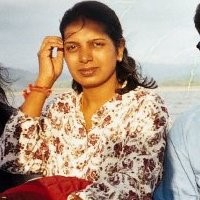 Varalakshmi Rajkumar, Chennai
Sri Swamiji is not a Guru whom I ask for things (materially and spiritually), for me He has come to teach us how to eradicate karmic bonds, to lighten our sorrow, misery and pain and when we are ready, He reveals the knowledge of 'Who Am I'.
My father, C.K. Rajaram Naidu, an Industrialist, was an ardent devotee of His Holiness Sri Sri Sri Ganapathy Sachchidananda Swamiji from 1974. He later became a member of the Jnana Bodha Sabha Trust. The members of the Trust were a conglomeration of minds, ethics and professionalism. Anyone looking at this group and how they interacted with Sri Swamiji couldn't help thinking that they were a group of friends with a bond flowing from many births. The most salient remembrance which a few of us have, of this wonderful bond, was the way Sri Swamiji treated each of them and the absolute love, affection and commitment with which this group worked.
Our relatives were perplexed with this new found friendship and asked my father why he wanted to serve a Guru when he was so well placed in life. My father saw Sri Swamiji as one being worthy of love and respect, and that love grew into an atmic bond between them. The trust performed seva not only for the Madras Ashram, but extended its dedicated service to the Mysore Ashrama. My father was instrumental in arranging the first trip of Sri Swamiji's abroad in 1976. They included; The United Kingdom, The United States and Trinidad.
This was the beginning of many trips for Sri Swamiji, and for the devotees abroad it was the blessed moment in their lives when they would meet their beloved Sadguru once again. This event in Sri Swamiji's mission will always be linked with my father, Mr. Rajaram Naidu and we are extremely touched by this wonderful opportunity that was given to our family by Poojya Sri Swamiji. Sri Swamiji was everything to him and to us and He became the centre of our family.
Soon turbulent times visited us and our world around us collapsed, my father tumbled and fell so far that friends and relatives lectured my father that he was fine before his meeting with Sri Swamiji and running after the Guru had brought him to his knees. Sri Swamiji became the center piece of mockery from our family and friends.
My father never bothered to reply; neither did he ask Sri Swamiji for help, he felt he had no need to tell Sri Swamiji anything for Sri Swamiji would take care of all our problems without us even asking, as He was one with us. When my father hit rock bottom financially all his friends and relatives turned their backs on him, but the only one who stood beside him like a pillar was our beloved Sadguru Deva.
My father had lost his health by then and my mother approached several people whom my father had helped but of no avail. One day Sri Swamiji came to our house unannounced with a pouch containing money and a car, He said to my father, "Rajaram, I cannot watch you struggling without a vehicle, you are the person who introduced me to cars and flights, here is my car; take it! You have debts and problems, I cannot see you suffer, please take this pouch. As a brother and friend it is my duty to stand by you." Thus Sri Swamiji showed us that a Guru is mother, father, sibling and friend. I would firmly say that if Sri Swamiji was not in our lives, life would have defeated us. I also saw the transformation in my father, who had learned from his bond with Sri Swamiji "Atma Gnana".
I was extremely fortunate to spend most of my childhood days along with my brother with Sri Swamiji in the Mysore Ashrama. Around the age of ten, with the other children in the Ashrama we had the blessed opportunity to spend our summers with Sri Swamiji. We were some of the most fortunate ones who got the opportunity to bathe Him, eat all His left over food and sleep in His room. We were a bunch of kids fighting to bathe Sri Swamiji and hence He would give His right hand to one of us, left to another, right leg to one, left to another, scrubbing the back was for another and shampooing the head was the most coveted part of all. At nights we would lie on the ground all around His bed. He would tell us stories, sing songs, play with us and make us laugh. Next morning if He found any of us still sleeping when He woke up, He would roll with all His might from the bed straight upon the one sleeping, waking us with a fright. He gave us candies and chocolates, He taught us yoga, bhajans, various sloka and introduced us to satvik Ashram food. We learnt to be contented with what we received and He indirectly taught us not develop taste nor demand for anything more.
He was our mother and our father and when we were with Him; we never missed the comforts of our home or our parents. He would scold us when at fault, He would make us cry and laugh and in His unique way taught us to become good people through play.  He was our playmate and our father and for those who watched He may have seemed like Sri Krishna with His playmates. Today as a mother of two, I recollect those wonderful memories and re-live them by telling them to my children. Blessed were we.
When my younger sister was a few months old, my mother brought her and placed her at Sri Swamiji's feet. He picked her up and called her, "Deepa." My mother told Sri Swamiji that her name was Dhanalakshmi and not Deepa. He asked my mother what was the meaning of Deepa? My mother said, light or lamp. Sri Swamiji told her that Dhanalakshmi also meant light or lamp. He then called my father and said to him, "There is something I have to tell you about this little one, she is the one who has brought you to me."  My parents looked puzzled and Sri Swamiji continued, "There is a devotee named Krissan Kumar who lives in Delhi, this child has come from that home. I need your help to propagate and teach to the world and she is the angel who has brought you to me."
My parents did not understand what Sri Swamiji was saying and asked Him to explain. He then said, "Mr. Krissan Kumar's second daughter was named Deepa and she died of cancer. Her parents were shattered by her death, they came to me and I consoled them by telling them that Deepa will be here again, and that they will see her, so here she is now. I must call Mr. Krissan Kumar so that he can see his Deepa again."
My father then remembered a photograph he had seen in the old Annapurna Mandir at Mysore. It was that of a little girl. He was attracted to it so much that one day he asked Sri Swamiji for it. My father took the photo and kept it at home in the pooja room. My relatives told my father that the photo did not belong on the altar, for the child in the photo was dead. My father did not listen to anyone and he kept the photo. Later on he learned that the girl's name was Deepa. So that day my parents found out that my little sister, just born, was none other than Mr. Krissan Kumar's daughter, Deepa. Until this day Sri Swamiji calls her Deepa. When my sister got married my father had passed away already so Mr. Krissan Kumar came and performed the role as her father in the wedding ceremony. This is one of the many miracles of Sri Swamiji.
While growing up Sri Swamiji blessed me always with the word "Strength". I wondered why. When troubled descended upon me, the only words He uttered were "why have you molded yourself like this. Am I not there?" Those words remain in my mind to this day and I learnt that good, bad, joy and pain were all a state of mind and once we realized the truth behind our existence and our bond with our Sadguru for Janmas, we can break free of all feelings. I took Sri Swamiji's word as my life's lesson and I have changed as a person and my entire outlook towards life has completely changed. All I had to do was make the effort and He did the rest. I have also learnt that serving Him eases the pains of life. We don't have to talk to Him or get His darshan to feel better, we only need to serve; He knows how to cure. With the loving grace and guidance of Sri Swamiji I have grown up and am married with a beautiful family and hold a profession as an advocate.
Being associated with Sri Swamiji all my life, I have learnt to correct myself in many ways from observing Him. He wants us to conduct ourselves and live our lives in a good manner. Sometimes He instructs us verbally and sometimes by actions. His life is His message. His noble actions, benevolent characteristics, dynamic personality and overall sweetness speak for themselves. The most wonderful quality of Sri Swamiji is that He never forgets a single help extended to Him, however insignificant and blesses such devotee with abundance, never ceasing to forget that little help rendered.
Sri Swamiji is not a Guru whom I ask for things (materially and spiritually), for me He has come to teach us how to eradicate karmic bonds, to lighten our sorrow, misery and pain and when we are ready, He reveals the knowledge of 'Who Am I'.
To show my love, devotion and gratitude to Him, the best thing that I can do is to follow His command intrinsically and strive to be His best child. He is my past, present and future.
Jaya Guru Datta