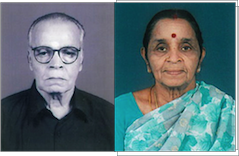 C N Parameshwaram, Coimbatore
During one of His trips he had a long discussion with the Senior Kanchi Shankarcharya in the Amavar Sala Temple at Proddatur. The discussion lasted throughout the night.
Before narrating my experiences about Sri Ganapathy Sachchidananda Swamiji, I have to give a brief history of Proddatur Manni's family, with whom Sri Swamiji stayed during His school days at Proddatur, Andhra Pradesh, India.
My brother-in-law, the late Sri T.S. Mani Iyer and my sister the late Smt. C.N. Rajammal (Subbulakshmi) were living at Proddatur, a major town in Cuddapah District. (A.P.). My brother-in-law was a leading hotelier in Proddatur, owning two big hotels. He was very generous; helping a number of persons with free food every day. The people of the town held him in great esteem for his unassuming character, simplicity. He extended charities to temples, schools and children; by providing them with fees, books and clothing. He even helped with the marriages for poor people. He is remembered, even today by the elderly people in Proddatur.
Sri Mani Iyer's children were studying in the Municipal High School in Proddatur. During this time, presumably in the year 1955, I was told that a young boy, G. Satyanarayana, also known as Sri Satyam, now universally known as Sri Sri Sri Ganapathy Sachchidananda Swamiji, enrolled in the Municipal High School, where my nephews were studying.
Satyanarayana was staying in a small room at a Siva Temple with his sister, Varalakshmi and aged aunt, Srimati Venkamma. As they had no means for their daily food, Satyam used to approach selected families, in the town, for their 'Bhiksha' every day. This was caller Madhukara Annam. Also Satyam was a regular visitor to the Siva temple, Aurobindo Circle and Sri Ramana Ashrama.
Sri Satyanarayana was a classmate of my nephew, T.S. Sarangapani 'Chandru'. The children of Sri Mani Iyer took pity on this boy and used to help Him out now and then. One day Chandru informed his mother about Satyanarayana and the sufferings He encounters. My sister conveyed this to her husband, since he was helping poor students and performing charitable deeds in the town. He asked Chandru to bring Satyam to their Hotel where He can have food, free of charge.
Satyam agreed to this, but at the same time He insisted that He must be allowed to take 'Bhiksha' from selected families for the sake of His aunt and sister. Seeing His benevolent attitude and good manners, my sister asked the boy to come and stay with them in their house. She also treated Him as one among her children. Sri Satyam also mingled with the boys as one among them without any differences.  The children used to call their father as 'Anna' and their mother as 'Manni'. Satyam also followed this and used to call them in the same manner.
Normally, everyday Manni would send more than enough food for the children's lunch, but later she decided to send some extra food that was required for Satyam also. As was their custom, the children will go to bed early, but Satyam will wait for Manni to finish her daily works, which may extend up to 11.00 pm. and then only He will go to bed.
Later, around 1957, Satyam left Proddatur for Anantapur to stay with His elder brother, Nanjundayya. Much later we came to know, through letters from Sri Swamiji's to my nephews, that Satyam was living in Mysore City and was employed at the Postal department. We also got information that His sister, Varalakshmi, had gotten married.
In 1962, my brother-in-law, Sri Mani Iyer, suddenly passed away at the premature age of fifty-one, leaving behind a bundle of young children. He, like Manni was very close to Satyam and he used to call him 'Sadhu Peyyan' (Innocent Boy).  On hearing the demise of Sri Mani Iyer, Satyam was shaken and wanted to see the affectionate Manni and her children immediately to console them on their bereavement. He wrote a very touching letter on this sad demise. Earlier, Satyam had written letters to Bala and Ramani, the two elder brothers, about their responsibilities that they have to take in the absence of 'Anna'. They were to make sure that Manni, whom Sri Swamiji had mentioned as His adopted mother, should not feel uncomfortable, on any account.
One day, the family received a phone call, saying that Satyanarayana was on His way to Proddatur to see them. Sri Swamiji reached their new house, with much difficulty, along with four other members arriving around 11.00 pm. After arriving and settling down, Satyam narrated to the family about Him acquiring spiritual power from Lord Ganapathy and that He is now known as 'Sri Ganapathy Satyanarayana Swami'.
During this trip Sri Swamiji stayed for four days and visited His old school, class teachers and friends and then He left for Mysore. Sri Swamiji visited Srimati Manni's family several times after this visit. During one of His trips he had a long discussion with the Senior Kanchi Shankarcharya in the Amavar Sala Temple at Proddatur. The discussion lasted throughout the night.
At the beginning of 1966, we received a letter from my sister about Sri Swamiji's sudden visit to Proddatur and His desire to meet our family members in Madras. Later that year, in the month of June, Sri Swamiji met our family members at Madras. After travelling throughout the night from Mysore, He arrived early in the morning, on a Friday, with my nephew Bala, the eldest son of Proddatur Manni, Sri Swamiji was dressed all in white then.  All the members of the family were delighted on seeing Him after such a long period. Satyam was very happy and considered himself a part of our family and was welcomed as such with great warmth and happiness.
On the first day of His arrival, Sri Swamiji indicated that He wished to have a bath in the sea, because on that day there was a Lunar Eclipse. As per His desire, Sri Swamiji was taken to the Santhome Beach in Madras and everyone had a bath along with Him.  Then, Sri Swamiji visited the Sri Padmanabha Swamy Temple at Adyar.
The next day, the first Pada Puja and Bhiksha, in Chennai, was arranged at my uncle, the late Sri Ramasamy Iyer's house. In the evening, Sri Swamiji also had Pada Puja and Bhiksha at another uncle, the late Sri Vijayaraghavan's house.  Sri Vijayaraghavan requested Sri Swamiji's blessings for a suitable match to his second daughter, Rukmini.  Sri Swamiji gave him a lingam and told him and asked him to perform abhishekam for forty-one days, by which time the alliance would materialize. A suitable match materialized through Sri. Swamiji's wishes and blessings within three weeks to none other than Chandrasekhar, who was from a respectable family and whose family members are ardent devotees of Sri Swamiji. At this time, the great violinist Sri T N Krishnan was also introduced to Sri Swamiji here.
In 1967, Sri Swamiji visited Sri K P Chandra Rao's house for 'Grahapravesam' of their new house at Purasawalkam, Chennai. A weeklong program with full rituals and elaborate arrangements was conducted then.  Sri Swamiji asked that I should be there whenever He visits Chennai.  By His orders and as a form of respect for Gurudeva, I was prepared to accompany Sri Swamiji to all the places He visited in Chennai.  Sri Swamiji selected Sri Chandra Rao's house for His stay whenever He was in Chennai until alternative arrangements were made. Sri Swamiji remained in this area of Chennai from 1968 to 1971. In 1972, He attended the marriage of Bala on April 10th and Ramani on May 11th, at Chennai.
During that same year, a devotee, Sri Venkatachallam, offered a suitable piece of land, very near to the devotees' house in Mylapore, free of cost, to Sri Swamiji for the construction of an Ashram in Chennai. The devotees arranged a weeklong program on this land, erecting a pandal. There were morning puja with musical performances by leading artists. Pada Pujas and personal interviews were given to all devotees. The first Gnana Bodha Sabha in Chennai was inaugurated at the IIT Temple, Adyar; for which the arrangements had been made by Sri Venkidiraman, Security Officer at IIT, Chennai.
In 1973, Sri Koshi and Dave arranged a four day program at the Gujarati Mandali in Chennai for Sri Swamiji. During this period, Sri Swamiji's Bhajans was also conducted at Padmanabha Swamy Temple in Adyar. Later, Sri K J Yesudoss and Sri Viswanathan Ramamurthy met with Sri Swamiji, at Sri Chandra Rao's house and both agreed to give performances to raise funds for the Ashram at Kutchery Road.
In 1974, Sri Swamiji visited the Sri Ayyappa Temple at Mahalingapuram, Chennai and His first LP Records of His Bhajans were released. The first record was presented to the violinist, Sri T N Krishnan. On the same day, there was a performance by the students of Kalakshetra, Adyar on the Saptaha Rishi Ramayana, This was held under the patronage of Smt Rukmini Arundale at the AVM Rajeshwari Kalayana Mantapam.
In 1975, the music performance of Sri Dr. K.J. Yesudoss and Sri Viswanathan was over.  The amount realized, by way of collections, from the programs were utilized for the construction of the Chennai Ashram at Kutchery Road. In 1976, the Chennai Ashram was inaugurated. Sri Swamiji was taken in a procession from Sri Kapaleeswarar Temple to the new Ashram at Kutchery Road and Sri Swamiji was received with Poorna Kumbha. In the Ashram, the first Yoga Class was arranged for four days with Yoga Teachers from Mysore. Sri V R Gopalan took over as the Secretary of Chennai Ashram from Dr. Nityananda. In the same year, Sri Swamiji's began His first Foreign Tour. In 1985, a new ashram at Vellachery was inaugurated.
In 1981, Sri Swamiji visited Tiruvannamalai and Palani temples. Sri V.R. Gopalan and I were asked to accompany Sri Swamiji with our families.  At Thiruvannamalai, Sri Swamiji went to see the 'Nadi Josyam' and took the 'Ola Chavudis' for study in detail.
I cannot and will not forget two important incidents in my life that was only possible through the gifted association of being the devotee of our Gurudeva, Sri Swamiji: When I was sixty-eight years old, an astrologer informed me that I needed to perform a Mrityunjaya homa to ward of the evils. When I told this to His Holiness, Sri Swamiji, He told me to come to the Ashram and that He would arrange for everything. I went to Mysore and performed the homa in Sri Swamiji's presence and sought His blessings.
Then in 2003, for the sixtieth birthday celebrations of our Gurudeva, Sri Swamiji, all my family members were present for the big occasion. We were sitting in a corner for want of space. Our Sadguru, called us to the platform where He was seated and introduced each member of our family, narrating the early days to the gathering of thousands; in the presence of the late Sri R. Venkataraman, ex-President of India and the late Sri P V Narasimha Rao, ex-Prime minister of India. Our family was very surprised at such a welcome and felt very blessed to be loved by His Holiness, Sri Swamiji.
Finally, with tears in my eyes, I have to inform that my sister Srimati Rajammal, affectionately called as Proddatur Manni by our Sri Swamiji, left this world in August 2006.
Let the good services, warmth and blessings of Sri Sri Sri Ganapathy Sachchidananda Swamiji continue to benefit the society. Sree Guru Datta, Jaya Guru Datta