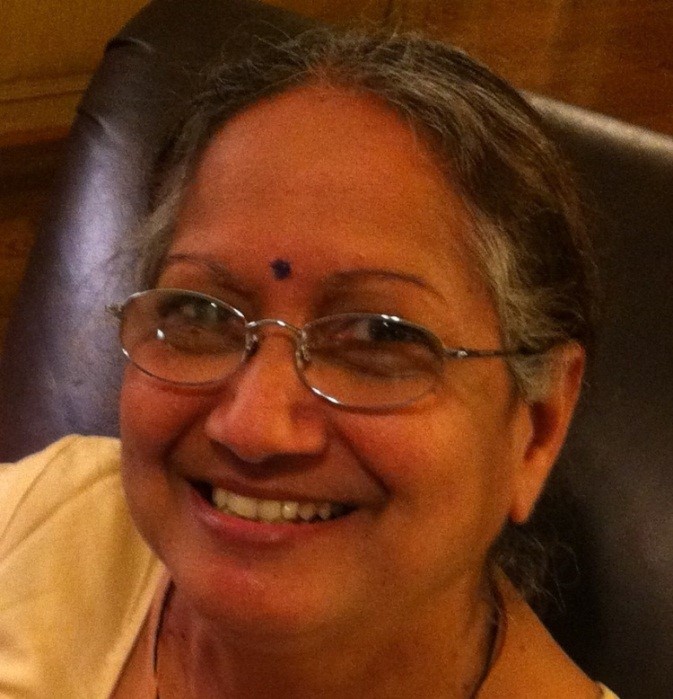 Hira Duvuri, Baton Rouge, USA
'There is neither bad nor good, none of this exists, this whole creation is a fabrication of your own mind, it is not real.
I met Sri Swamiji for the first time in 1998 at the Baton Rouge Temple. I love children and as a young girl growing up I thought that I would have many. My main reason for getting married was to have children. Nine years went by and we did not have any children. The doctor advised us to adopt. We adopted a baby girl and I was very happy. When she turned three, we decided to adopt a baby boy and to our surprise I found out that I was pregnant. I gave birth to a baby boy. I got very attached to my children because I had waited so long to have them. I fulfilled my dreams through them by having them receive training in music, dance, and for our son, even training in chanting from the Vedas. The children excelled in everything that they were taught.
 They did a dance performance in Houston of which people still talk about. When I saw them perform, I felt very happy. I spent every waking moment thinking about them and doing things for them. While still in college, my daughter met someone she liked, got married and moved away to California. I missed her a lot. Our son moved away also to go to college. I missed him and I began to feel a void in my life. I had focused all my energy on the children and in the process forgot about me. Now I was left with me, a stranger to myself. I became vulnerable to stress and depression.
 I had all the material comforts in life, but I felt very lonely. Unpleasant incidents occurred with people close to me and it hurt me a lot. I was not able to cope with the pain and my depression grew. My condition grew worse daily and I got to a point where I would not talk to anyone, even on the telephone. I did not want to live. Thinking about how unjustly I had been treated, I would seethe with rage, burn with anger, and found it very difficult to forgive. I convinced myself that I would never see their faces again.
 One day a man, who is a devotee of Sri Ganapati Sachchidananda Swamiji, called my husband, talked at length, and told him to take me to his house. My husband convinced me to go and I went. This man was a psychiatrist and wanted to talk to me about my condition. He said that I needed treatment or else I would harm myself, perhaps even commit suicide. He convinced me to go to his office the next day. I went there and after an examination he put me on an anti-depressant medication.
 In course of time the dosage reached the maximum that he could prescribe. He told me not to miss taking the pills for even one day, for it would be detrimental to my health. He said that I had to take the medicine for the rest of my life. I could not drive because of the severe side effects of the pills. I begged the doctor many times to put me in an institution, but he refused saying that once I go in, I will never get out. I had to live my life like this, depending on the pills to protect me from myself. I felt this void within me, like my life was missing something. I did not know what it was.
 Then that blessed day came when I received a flyer in the mail advertising Sri Ganapati Sachchidananda Swamiji's visit to Baton Rouge for the Guru Purnima Celebrations. I went to the program and when I looked into His eyes I knew instinctively that He was my Guru. I felt that we had a connection from the past and that He knew everything about me. I did not feel the need to tell Him anything. There was no need for words. Then my mind jumped in and demanded some logical reasons for trusting him with my life. In the months that followed, He made it easy for me to surrender to Him and accept Him as my Guru by giving me verification and proof of who He is.
 Within a couple of months, the connection that I had felt with Him drew me to His ashram in Mysore, India. He did not talk to me there, but just by His presence, He gently blew away the dark clouds of my depression and I felt relieved. The heaviness left me. I began to laugh again, something that I had not done in years. In silence He removed the afflictions of my mind and heart. I was mesmerized by this silent power. I threw all my medicines in the garbage; I did not need them again. I owe my life to Sri Swamiji. He saved my soul.
 I returned to India two months later. I performed Pada Puja to Him and He said, "Tell me about you." I told Him, "I am happy, I have a daughter who has a wonderful husband and my son is in college." That was all that I spoke. On this trip I attended the Kriya Yoga course in Mekedatu. It really helped me spiritually. My husband also met Sri Swamiji and he also grew to love Him. For us to be together with Sri Swamiji is a great blessing indeed.
 My husband and I became involved with the Baton Rouge Temple and began participating in the events. Our son, when he came home from college began to notice that our lives were now centered on Sri Swamiji, and I in particular had shifted my focus from him to my Guru. He did not know how to deal with this situation. He became rebellious. He verbally abused Sri Swamiji in front of us. We could not handle his tantrums. He felt that Sri Swamiji had taken his place in my life.
 One day we had a big argument about Sri Swamiji and he left. I prayed to Sri Swamiji in my heart, "Swamiji, I don't want this obstacle between you and me, it is making life hard for me. Please remove this barrier."  Sri Swamiji heard my prayers, for He removed my son from my life and put him on another path. I was happy for my son to follow his own path but emotionally I had problems letting go of him. Sri Swamiji helped me through this very difficult process. He told me, "Let him go. I am your son."
 After some time I realized that this was Sri Swamiji's training for me in detachment. I never questioned His wisdom in this situation for I knew that He gave me what was best for me and He gave our son what was best for him. Our relationship with our children became strained for a while, in order for us all to grow spiritually. Now, we as parents have learned to let go of the emotional leashes on our children and they have in turn learnt to grow as independent individuals. We now have mutual respect for each other, all by His grace.
 My husband and I came to the USA many years ago with two suitcases each. Since then we had increased our possessions with houses, cars, money and other material things. Now, after meeting Sri Swamiji, we have lightened our burden of all those things and Sri Swamiji is all we have. Our relatives and friends think that we are mad to have done this, but we tell them that when we have Sri Swamiji, we have everything.
 Sri Swamiji has revealed to me that this world is just an illusion. There was a residue of guilt left in me because of my past mistakes. In one of my meditations He said to me, "There is neither bad nor good, none of this exists, this whole creation is a fabrication of your own mind, it is not real."  I replied, "I accept that this is not real, but what about this 'I' that is talking to you right now?" He replied, "Even that is an illusion, it is not there." At that moment I experienced the 'I' evaporating and all that remained was Bliss. After this experience, how can I ask for anything, when He has shown me that there is nothing?
 I began translating Sri Swamiji's speeches into English because of an experience I had. One day I sat down to listen to Sri Swamiji's live program being broadcast on the web. I grab every opportunity to hear His nectarine words. I sat and listened, but could not understand a word of what Sri Swamiji was saying. The audio quality of the webcast was so bad that day. I became frustrated and suddenly realized that this is how the devotees must feel when they cannot understand the language that He is speaking. Since that day I try my best to do this service. In reality, I am just the hollow flute and He is the melody.
 Sri Swamiji found me and lifted me up; He gave me a new life, filled with meaning and purpose. I thank Him for all those people who gave me pain, for it was that pain that propelled me to reach His lotus feet. I live each day as directed by Him and everything flows according to His divine plan.       Jaya Guru Datta