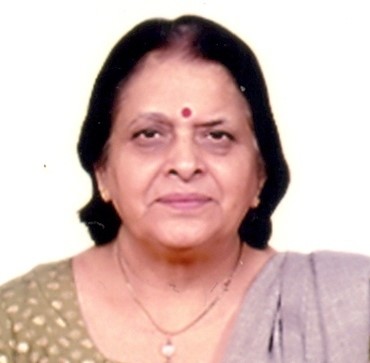 Ratna Verna, Kashmir
Not realizing what was happening, we found Sri Swamiji slowly emerging out of water with a Shankha (conch) in His hands, studded with jewels. From this Shankha, milk was flowing and He appeared to be in trance
All that the devotee needs to do is to have complete faith and devotion to the Sadguru; then there is no need to plan. All actions will be guided by Him and Him alone. All you need to do is to be guided by your heart; it is only the heart and not the mind which makes it possible to get the glimpse of unity of spirit. Sadguru manifests Himself in your heart when it is purified by love and devotion. Spiritual understanding is an outcome of harmony between mind and heart. Heart, when purified with the blessing of Guru makes it possible for God to manifests in you as your own self. He alone can reveal to you that there is no difference between you and Him. Hari Om Tat Sat.
I originally belong to a Kashmiri family; my father Sri P N Wanchoo was an engineer by profession. I shifted to Delhi after I got married.  It was in 1969 that I came to know about Sri Ganapathy Sachchidananda Swamiji through one of my colleague and friend, Sri Prof. Krishan Kumar. He had an opportunity of having Sri Swamijis darshan at Mysore, seeking His divine blessings. He was very impressed by the miracles he had witnessed at the ashram and thereby developed full faith in Sri Swamiji's divine powers to heal his ailing daughter, Deepa. Later, it was on his insistence that I, along with my son and a few other friends, decided to visit the Mysore Ashram for Sri Swamiji's darshan. The ashram, at that time was very small; it had a room with a basement where Sri Swamiji used to meditate. Besides that, there was a big dining hall which was used for sleeping by the devotees at night. The rest of the space was open land, fill of trees and wild grass.
During that first visit, though I was fascinated by the soul starring bhajans sung in a simple style by Sri Swamiji and also a few miracles that happened during our short stay at ashram, it did not attract my being as much as it did later on, after we left the ashram. One such event that I need to mention here is about the narrow escape we had for not taking Sri Swamiji's words seriously. We had combined a sight-seeing tour of Mysore city before we left for our next destination, with this trip to the ashram and we told Sri Swamiji about this. He, however, instructed us not to leave the ashram campus until He permits us to do so. Since we had nothing to do, during the day, we decided to go to the city. As soon as we stepped out of the main gate and were looking for transport, a truck suddenly appeared from somewhere and somehow we escaped an almost fatal accident.
Remembering His warning, we returned immediately to ashram and informed Him about the matter. Ever since then, whenever I go to see Sri Swamiji, I do not break my journey in between and do social calls only after having His darshan. My son, who lives in Bangalore, at times gets angry with me because of this habit and affectionately complains that my primary purpose to visit South India is to see Sri Swamiji only.
My first interaction with my Sadguru, Sri Swamiji, did not have as much effect on me as the experiences that followed later, after we left the Ashram for our next destination, Hyderabad. These experiences continued even after I returned to Delhi. Since I did not have any concept of the importance of Guru in one's spiritual life and with very little personal interaction with a Guru, I began having a series of divine experiences, which served as a turning point in my life; I suddenly became contemplative and meditative. I found myself being very secure and confident about facing the challenges of life.
I would travel to my work place, which was almost twenty-five kilometers away from my residence, in a local bus without showing any reaction and resentments.  I began taking life as it was. This not only improved my life-coping skills, but also made me a peaceful and pleasant person. I also began having spiritual and philosophical dialogues with myself and began to find answers to my queries within myself. These experiences made me feel wonderful and I gradually started attributing all this to Sri Swamiji; this helped me to develop faith in my Sadguru.
Later, as time permitted, we began sharing our experiences invariably and we enjoyed those satsangs, bhajan singing and listening sessions immensely. It was through these experiences we became aware of the invisible influence of Gurudeva on us. Inspired by the changes experienced within us and the sense of this new bonding that were taking place, five of us who have had the good fortune of meeting Sri Swamiji earlier, decided to invite Him to Delhi in 1970. We contributed a meager sum of Rs. 500/- each to meet the travelling expenses and raised additional funds to meet other costs. Pujya Swamiji came and stayed with our friend, Srimati Bala Sriram. She belonged to Chennai and her family had known Sri Swamiji for quite some time. Since she belonged to South India, we thought that Sri Swamiji will feel more comfortable in her house.
My husband and other family members were apprehensive of my new spiritual interest and tried to dissuade me from getting involved with religious activities, which they thought will result in my disinterest in worldly affairs. However, in spite of these difficulties, my association with the activities surrounding Sri Swamiji continued. We started organizing regular bhajan sessions and satsangs and tried to explore the possibilities of having an ashram in Delhi; since Sri Swamiji's visits to Delhi was becoming more frequent and the numbers of devotees were also increasing. It was during one of these visits that the first official forum of Mysore Ashram entitled 'Sri Ganapathy Sachchidananda Gyana Bodha Sabha' was started.
Because of my domestic and official responsibilities I was not able to visit the Ashram often, but I was fully associated with the activities of the Delhi Sabha. During one of the visits of Pujya Sri Swamiji, we had an opportunity of organizing a visit to Haridwara. During this visit, while taking a Holy Dip in the River Ganga, Pujya Sri Swamiji suddenly went into some deep waters and a few of Ashramites who were accompanying  Him rushed toward Him. Not realizing what was happening, we found Sri Swamiji slowly emerging out of water with a Shankha (conch) in His hands, studded with jewels. From this Shankha, milk was flowing and He appeared to be in trance while Sri Bhagwat and others were trying to support Him. Later, while sprinkling water on all of us, we had an opportunity to see the jewels studded conch. We were also made to listen to the sound of 'OM' pulsating through the Shankha. We were all spellbound by this experience. This experience not only strengthen my faith in my Sadguru, but also helped in creating more opportunities for me to come in closer contact with Him and serve Him
After returning from Haridwara, I narrated the incidence to my family and this inspired my parents to attend the Pada Puja, which was arranged in my house, where they met Him for the first time and a loving relationship with my parental family developed. As soon as my father, Papa Wanchoo, met Sri Swamiji at my residence, he immediately requested Sri Swamiji to visit his house in Delhi. Sri Swamiji graciously accepted the invitation and this marked the beginning of lasting relationship between Prabhu Sri Swamiji (That is how Papa Wanchoo addressed Sri Swamiji) and my father.
Later, I was told that long before they met, Sri Swamiji, while pointing to the map of India, He put His finger on Kashmir and mentioned that He wishes to, one day, visit Kashmir. At that time little did I know that I will be instrumental in making this possible. The whole episode served two different purposes: Firstly, my father came into contact with Sri Swamiji and played a major role in establishing the Kashmir ashram and looking after it until he breathed his last. Secondly, it provided me an opportunity to serve assist Him in organizing various programmers during Sri Swamiji's visits to the valley.
It was during these visits that I had the good fortune of looking after His welfare. These rear opportunities were like Gurukul to me, where I began to understand the meaning of true and selfless love and service. Being a social worker by profession, such exposure changed the meaning of social service. My practice of helping got a new dimension and I began to enjoy teaching and practicing. It is difficult to describe in words as to how blissful I felt. Consciously or unconsciously I began experiencing love and harmony which entirely changed me as a person.
During my years of association with Sri Swamiji, I realized that it is not essential that the Guru should be physically present to give verbal guidance and instruction. During all these years, I did not have many opportunities to speak with my Sadguru personally, as by my temperament, I am an introvert; a quiet and non-communicative person. However, I have the firm belief that Sri Swamiji knows what is best for me and makes me perform whenever and whatever is needed and expected of me. So why should I worry? Leave everything to Him. Once He accepts you as a devotee, He will guide and take care of all your requirements and will protect you. To illustrate this, I wish to share the following experience.
During one of the visits of Swami Manasa Datta to Delhi, I inquired about the significance of "Nava Avahana Puja" performed by Sri Swamiji during the Navaratri Festival as this festival was going to take place in the same month. Instead of directly replying to my query, he simply stated that "Only through Sri Swamiji's grace, can this be explained to you; so just wait." I was not satisfied with this reply and felt he was not in a mood to reply my question.
On the first day of the Navaratri festival, while going for my morning walk, I found myself asking the same question to myself.  To my surprise I entered into a dialogue within myself as if I was in a classroom and I was being taught the characteristics of the different Swaroopa of Devi. This appeared to me akin to a teaching given to a disciple by a Guru. This happened during my regular morning walk for all nine days of Navaratri. Though I do not remember the lesson now, I still vividly remember the experience. Such is the grace of Sadguru. Such are the ways of Sri Swamiji to make you understand that He is always with you.                                                                                                                                           Jaya Guru Datta.
Sri Swamiji Says:
 "Undisturbed calmness of mind is attained by cultivating friendliness towards happy; mercy and compassion towards the unhappy; delight towards the virtuous and indifference towards the wicked."