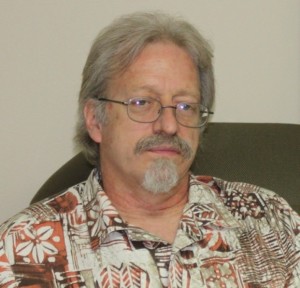 William Chidananda Bertolette, Baton Rogue USA
I just observed everything. Sri Swamiji certainly possessed the looks and personality of a real Guru, in my estimation, and I felt fortunate to be initiated into Kriya Yoga by a true Master.
Before meeting Sri Swamiji in the summer of 1988, I had been practicing Hatha Yoga and experiencing wonderful results.  If the physical practice did so much for me, I thought; then meditation would bring similar benefits on a spiritual plane.  At that time, Transcendental Meditation was available in Baton Rouge, but it was too expensive. One day I saw a flyer which advertised 'Sri Ganapati Sachchidananda Swamiji and the Celestial Music Troupe' performing at LSU (Louisiana State University).  The flyer also noted the availability of a Kriya Yoga class. The opportunity to learn Kriya Yoga, which I had read about in 'Autobiography of a Yogi' by Paramahamsa Yogananda, led me to call Mr. Narendra Dave who confirmed my idea that this would be a very reasonably-priced instruction, by a genuine Guru.
I went to the Dave's house the evening before the class and felt some relief on seeing a sign on the door which read "Jai Guru Datta, Hearty Welcome." A small gathering of people sat in the living room and began chanting the Datta Stavam in Sanskrit – all of this was new to me. When Sri Swamiji entered, He received a flower from a devotee and tapped it a few times. It disintegrated before my eyes into holy ash!  He then blew on the flower and filled the room with delightfully fragrant vibuthi. Later I saw the Homa fire in the backyard, but had no clue as to what it meant. I just observed everything. Sri Swamiji certainly possessed the looks and personality of a real Guru, in my estimation, and I felt fortunate to be initiated into Kriya Yoga by a true Master.  After the class and Sri Swamiji's departure from Baton Rouge, I continued practicing Kriya Yoga.
 A year later I received an invitation from Nalini and Narendra Dave to visit their home and watch a video of Sri Swamji during the Shivaratri Festival at the Mysore Ashram in India.  Sri Swamiji stood in a fire pit and brought forth various objects including, a mercury Shiva Lingam.  This impressed me and sparked a desire to visit the Ashram.
In 1990, Sri Swamiji visited Baton Rouge for the second time and the Daves' suggested that my jazz band play for Him at the reception.  We played, and seeing Sri Swamiji again after two years I felt a wave of love for Him. At the end of the performance He called me up and presented me with beautifully scented sandalwood Ganapati, which in my eyes seemed to be smiling and beaming rays of energy. I felt honored to receive such a gift from Sri Swamiji. I participated in another Kriya Yoga class and kept practicing.
In 1991-92 I decided to go to India for a three-week stay at the Mysore Ashram, partly out of curiosity, but mainly in hopes of spiritual growth. I made the trip to India, but remained in a state of ignorance about religious customs and rituals. Someone had told me that I must do Pada Pooja to Sri Swamiji when I got there, so during an interview I asked His permission and He said to come the next morning by 9.00 am. The next day I went over to wait outside what was then the Ashram office.  I saw no one, except the Ashram deer, which I began to pet.  Suddenly, Sri Swamiji's car pulled up and the driver shouted, William, Sri Swamiji is calling you! I joined Him in His car and we drove to the Cauvery River area where He was shooting the film, 'Yoga Brahma.' We did not talk much beyond exchanging pleasantries.
I am a very practical person and I tend to learn from my experiences.  I did not try to analyze Sri Swamiji, but observed Him at the film shoot and in many other contexts over the years.  Through His humor and other subtle messages I gradually became more certain of His guidance.  From my several experiences in India, whether pleasant or difficult, I have learned valuable lessons about the importance of following a spiritual path and staying focused on the Guru.
In an interview with Sri Swamiji during the 1990s I asked Him to give me a spiritual name.  I had put this off for fear that I would not like the name, but people kept asking me, so after seven years I finally asked.  He said that He would think about it and I left the interview resigned to the idea that I would not get a spiritual name. I forgot about it. Sometime later, while attending one of the Ashram functions, Sri Swamiji unexpectedly called me up to the altar and announced that my name was 'Chidananda, to a Temple full of devotees.'  Then He suggested 'Chidu' as a nickname.  In my excitement and confusion I really did not hear the name at first.  Later, one of the senior Ashram devotees explained it to mean 'Knowledge of Bliss.'  Needless to say, I was very happy.  I felt that Sri Swamiji had acknowledged a kind of blissful waking dream I had previously been fortunate to experience through His Grace.  I wrote about that mere taste of a higher reality in the first edition of 'Wonders of the Holy Master.'
One of the many subtle experiences that convinced me of Sri Swamiji's extraordinary powers occurred when I attended His programs at a devotee's house in Baton Rouge.  During announcements after His discourse I noticed a pool of water on top of an outdoor canopy which had been set up over the makeshift dining area.  I thought to myself that if that water comes down it will certainly give someone a good shower. Just then my eyes met with Sri Swamiji's and I felt He knew what I was thinking.  Sri Swamiji moved His foot slightly and immediately the water on the tarpaulin came pouring out in a neat stream, as if someone had simply reached up and pulled the edge of the tarp down until the entire 'lake' had drained.  Another time He manifested a Ganapathy ring from a flower garland and gave it to me.  Witnessing such spontaneous physical miracles often seems less important than the accompanying feeling of love and joy that wells up in the heart.
I have been to India fourteen times since Sri Swamiji came into my life. I have listened to His numerous discourses and concerts, read His biography and other books, had personal interviews, dream darshan and guidance.  I once asked Him how I could help His mission in the US and He gave me the chance to serve on the committee of the DYC in Baton Rouge in the capacity of secretary.  I greatly appreciated that opportunity and have seen DYC grow in America through the efforts of many dedicated devotees.
Western and really all modern society focuses primarily on attaining material happiness in addition to social, political, artistic, intellectual, comedic, or even spiritual goals.  Reconciling the aims of this world with an eternal spiritual reality presents a major challenge.  Statements in Vedic scripture about the need to detach from the senses and ego in order to overcome the "disease" of birth seem to counter all that one learns growing up.  In resolving this dilemma Sri Swamiji provides marvelous guidance and truly fulfills the Guru's role as one's 'closest relative.'  Through Sri Swamiji I have become wiser, more open-minded and desirous of attaining real Chidananda.                                    Jaya Guru Datta