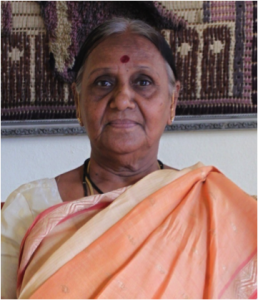 I V Vasantha Rao, Hyderabad
I know I was just only an instrument: He was the one doing it. This was an example to show that ordinary stone shines like a precious stone in the hand of best craftsman.
I am married to I V Rao a retired employee of Indian Airlines. In 1977 his company transferred him to Mysore. So our family, including three children by then, moved to Mysore. Also during that time, as with most families, my family too was having some problems.
In Mysore we got living quarters in the city and started to make the best of our situation. Periodically, I use to see a saint in my dreams and He would tell me to visit His ashram. I was confused and scared not knowing what those visions meant. And after few days my husband also got the same type of dreams, but we never knew who the person in our dreams was.
Once, I went to a neighbor's, Lalithamma, house and I saw the picture of same saint that appeared in my dream, in their house. I asked her who He was and she replied, "He was Sri Ganapathy Sachidananda Swamiji and He has a small ashram in the outskirts of the city." She then invited me to visit His ashram, but I refused saying that I am scared of following a Guru.
In 1979, when it became the time for Navaratri festival, as we were interested in Annadana, we went to Sri Swamiji's ashram to participate in the Annadana program. We were blessed to have darshan of Sri Swamiji. He said to us, "You have a relationship of previous birth with me. Keep coming to the ashram; I will take care of your problems."  During those days, the ashram was a small hut away from the main city. People used to go there walking in groups or one can take a Tonga to reach the place, anyhow we had to leave before it was dark.
During one of my visits I suggested to my husband that we must leave before dark, I had a gold chain around my neck and I was afraid that someone would snatch it. My husband agreed and we started to leave. We came outside and found that out scooter would not start. Just then, Sri Swamiji was walking near to us, He looked at us and said, "Oh, you believed that someone would snatch gold chain, so your scooter chain is broken," then He left. This incident really taught us a lesson. It showed us to keep our minds clean.
From then I became a regular visitor to the ashram, especially every Sunday. I use to take my kids to the ashram too. They resisted coming to the ashram initially, but Sri Swamiji has a sweet way to mould kids. He taught them discipline and perseverance. At that time, the Ashram had so many mango, coconut and tamarind trees. All the kids who came to ashram were so disciplined, that they would clean the mess, collect all the fruits that have fallen down and give them to Sri Swamiji. Sri Swamiji used to give them the fruits to eat. He used to play short films in the evening. So all these attracted the children and Sri Swamiji molded them beautifully.
Every Sunday and every festival was spent in ashram. Six years passed like this and ashram started to develop. We were taught silently by Sri Swamiji; how to take care of the ashram and what His mission was all about. Once, I told Sri Swamiji, "It would be good if we could have ashram like this in Hyderabad." Sri Swamiji said, "Your wish is very big." Ironically, within six months after this conversation my husband was transferred to Hyderabad. Then the next year, Sri Swamiji visited Hyderabad.
It was the divine plan of Lord Datta to bless the people of Hyderabad, and thus His mission in Hyderabad started. Sri Swamiji gave me the duties of performing Anagha Vratam, starting the Mathrumandali, doing Nagara Sankeertana and taking care of ashram construction. I know I was just only an instrument: He was the one doing it. This was an example to show that ordinary stone shines like a precious stone in the hand of best craftsman.
In August 1998, with permission and blessing from Sri Swamiji my daughter, Nandini, got married to Jagan Bukkaraju. Later they migrated to Chicago, USA. About four years later, she started complaining of severe headache and was taken to hospital. Doctors performed an MRI and advised that she should have an immediate brain surgery. At the same time, we found out that she was pregnant. The operation was performed, but there was no improvement in her condition. We informed Sri Swamiji about her situation and He said that we should not worry; He would take care of her.
Six months passed like this with our lives in chaos and eventually she gave birth to a baby girl on April 20th, 2003. It was a miracle as to how a person of unstable mental and physical health could give birth to a beautiful and healthy baby; it was all the blessings of Sri Swamiji. I took up the responsibility of taking care of both the mother and child, but soon after the delivery, Nandini went into coma.
When the baby girl was three months old, Sri Swamiji visited Nandini's house in Chicago and advised us to take her back to India. It was toughest of times for my son-in-law Jagan. He took all the pains of bringing her back to India in such a critical state. My daughter is really blessed to have a husband like him.
With the blessings and ordain of Sri Swamiji we brought Nandini back to India, but the very next day her condition deteriorated and doctors wanted to perform another surgery. We informed Sri Swamiji about the same, He said "Don't worry, this will be the last surgery" and so the surgery was performed.
In the meanwhile, Sri Swamiji visited Hyderabad for the Ugadi celebrations and advised us to get Nandini to the ashram. She was taken to the ashram and Sri Swamiji fed her with two grains of rice from His bhiksha and whispered a mantra in her ear. Miraculously, soon after that, Nandini started to show signs of improvement. Eventually, she began saying a few words and ultimately she started taking small steps. The person who was in wheel chair for the first birthday of our granddaughter, Yamini, is fully recovered and was walking on her own by the second birthday.
Sri Swamiji had given our daughter and a loving sister of my sons back to us. Especially, He gave back the mother to Yamini and the family to my son-in-law, Jagan. Sri Swamiji is the ocean of love and compassion. Once we surrender to Him, He takes care of our problems as though they are His. We may forget Him, but He never forgets us. Not in this birth alone, He is with us from many births. What else can I give to Sri Swamiji; except my devotion? Jaya Guru Datta