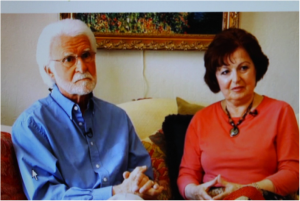 Joseph Chandra and Patricia Lalitha Panebianco, Arizona, USA
'Oh! I have to tell my husband; guess who is coming to dinner?'
We are currently residing in Scottsdale Arizona, but previous to this we lived in Lakewood, New York. Sometime in the early 1980s, my wife Patricia was told by a spiritual medium that she would meet a spiritual Indian Guru who will teach her about breath control that would awaken brain cells. He also told her that we would be involved in a lot of work in planning His future visits and programs. She was informed that this Guru's mission will grow and that we would finally step aside to allow others to take over. She was also informed that this Guru's mission would expand.
Sometime later an acquaintance handed her a photograph of clouds over a lake. To our amazement the photo looked exactly like a scene across the lake from where we lived. Looking at that photo Patricia could discern a clear outline of a figure that looks like a prophet from Old Testament of the Bible. She brought it home and placed it in the library in front of the 'Masters of Far East' books.
Later, another casual acquaintance of Patricia asked her to accompany her to Pittsburgh to meet a holy man from India. Without hesitating she agreed to go. She also asked if she could drive as the acquaintance was tired and didn't sleep the night before. Patricia called me at the office and told me about the invitation. I quickly responded to her "Go," not knowing all the details.
When they arrived at Padma's house, where Sri Swamiji was staying, they had to go up the stairs to meet with Him. At the base of the stairs, Patricia experienced a dense energy in the area. When she entered into the room where Sri Swamiji was sitting, she automatically prostrated before Him without any thought of what she was doing. They stayed overnight at Padma's house and next morning they were able to sit at the feet of Sri Swamiji in a private conversation.
During the interview, she asked Sri Swamiji if He would come the following year to teach a course in Ayurveda. He responded that He will come to teach a class in Kriya Yoga and He will stay with us. Patty thought "Oh! I have to tell my husband; guess who is coming to dinner?" Then He put his hand on a flower and materialized a pendent that He gave to her saying, "Don't worry everything will work out and everything will be alright." At that moment she realized that figure in the photograph in the clouds above that lake was actually that of Sri Swamiji. The picture was actually saying that He was coming to our house.
When Sri Swamiji came to our house, we showed Him the photo and He calmly told us that it was Him. He then passed His hand over the picture and manifests a medallion with His picture on it. He said that He was here before and because of the connection from the past, He was again coming to this place. He also informed us that there was connection with us from the past births.
In 1987 we were invited to visit Mysore Ashram for the Shivaratri festival and we were placed in the front row. While sitting there we were amazed at what took place. We saw Sri Swamiji dressed in a regal apparel programming all the pujas associated with the program. There was a fire pit about five feet deep, bellowing fire from within. All of a sudden, Sri Swamiji jumped into the pit and stayed in there for about twenty minutes, after which He then brought out a Shiva lingam out from the pit.
We thought, how could we discuss this phenomenon with others who didn't understand the context of spirituality? We understand that He can do anything from His level of consciousness; many people think that we are only in a single dimension of reality, but our knowledge shows us otherwise. In this physical dimension there are boundaries and limitations, but in other dimensions, these boundaries and limitations do not exist. We know that Sri Ganapathy Sachchidananda Swamiji is here in this physical plane, but He does exist in other planes also. After attending the celebrations of Shivaratri we were asked to travel with Sri Swamiji all over south India to visit other Datta temples. This experience will always remain with us.
Our observation of Him is two-fold. Firstly, when He is in front of a crowd; there He is as the super human persona who has the energy to take the universe into His palm. Then secondly, He is the humorous adolescent whom He is with a small group. In the first instance, He is that gigantic shadow that protects everyone and everything. In the next He exhibits the mother, father, friend and intimate Guru Images.
My first experience with Sri Swamiji was at Padma's house in Fredericktown, Pennsylvania. When I entered the room, I looked into His eyes and experienced an unconditional love. If there were any negativity that was present in me at that moment, it was gone. There was complete peace in His presence.
The first lesson we learnt from Him was, that we should stop thinking as that would get us into trouble. When His Holiness first came to our house, devotees came a few days ahead to help with preparations. We were amazed to see everything being done with out any effort. When Sri Swamiji came to our house, our son, Steven, couldn't understand what was going on and why we were making all this fuss. However, when he met Him, Sri Swamiji materialized a medallion, with medical insignia on it. Steven quickly changed and became a devotee as he was going to become a medical doctor. At this particular time, Sri Swamiji honored my wife and me with Indian names; Chandra and Lalitha. We were truly blessed.
In 1986, two years after Patty met Sri Swamiji; He wanted to start a center in USA and installed a board of directors. Padma was installed as president and I as vice president. We understood that those chosen were connected to Sri Swamiji in previous incarnations. This group with the guidelines of Sri Swamiji was called the Datta Yoga Center.
Sri Swamiji told us, He had a dream in which He saw three rocks. These rocks were calling out to Him, as they represent the cosmic reality of Brahma Vishnu and Shiva. Padma's father had given her, six acres of land in West Sunbury, Pennsylvania. We then showed the land to Sri Swamiji. Examining the land, He identified the three rocks that He saw in His dream and said that these are the rocks He saw in His dream. He then said, that this is where He wanted His center in the USA and blessed the land and the rocks.
The next year we visited the land to start developing plans for the center and took pictures where Sri Swamiji standing next to the rocks the year before. When pictures were developed, the saffron dresses that He wore were in the photos. His energy was still present a year later. Later Lalitha and I bought the adjoining six acres and deeded them to Datta Yoga Center.
During the periods being with Sri Swamiji, He exudes unconditional love that is difficult to separate you from Him. He is the mirror that reflects your persona, which allows seeing yourself from within. He makes you get in touch with your true self.
When we were moving from Lakewood New York to Arizona, we were undergoing a lot of pressure. Lalitha walked into the master's bedroom to find the room filled with Vibuthi. She called me into the room to get my impression of the aroma. I quickly realized what it was and He was omnipresent. And that He watches over us. Realizing all this we remained calm and continued on what had to be done. Sri Swamiji had told us, He would appear to us through shining pennies and vibuthi. He tells us that He is present, which had happened often. We feel very blessed to have this connection with Sri Swamiji, and are forever indebted to Him. Jaya Guru Datta